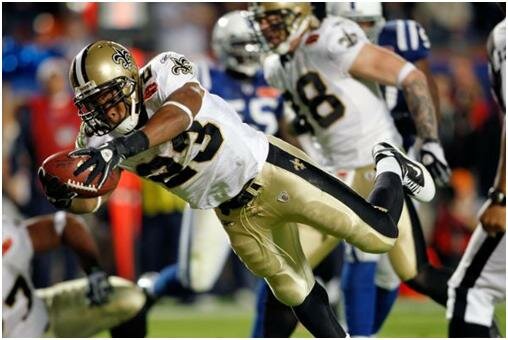 From Miami Gardens, Florida
"This is about so much more than just the game. This is so much more than a win. This is much, much bigger."
Linebacker Scott Fujita said this over and over again after the New Orleans Saints surprising 31-17 victory over the Indianapolis Colts to win Super Bowl XLIV at Sun Life Stadium.
It was a theme repeated time after time by the victorious Saints. It was something that was talked about during the days leading up to championship Sunday. There was a tangible sense of the power of belief and this football team believes a Super Bowl victory was their destiny.
"We never doubted we were going to win," Fujita said. "We felt that back on Tuesday when we first walked into this stadium. There was just never a doubt because we were playing not just for ourselves, not just for each other, but for an entire city and region. All we wanted to do was give New Orleans a championship.
"I can't wait to get back home. I wish we were leaving tonight, but this is going to be one great party, and let me tell you, this team knows how to party and we live in a city that knows how to party."
They also know how to play football, something they proved all night against the favored Colts and QB Peyton Manning. They trailed by 10 points in the first quarter, hustled back to just a four-point deficit at half-time and then came out and executed an onside kick to open the second half. That led to a 16-yard touchdown catch by RB Pierre Thomas, and then later a two-yard scoring toss to TE Jeremy Shockey and a two-point play on another pass.
The Saints defense put the cherry on the Super Bowl sundae by getting its own touchdown, as CB Tracy Porter picked off a Manning pass and returned the ball 74 yards for a touchdown.
The game's MVP was New Orleans QB Drew Brees, who threw for two touchdowns and two-point conversions while completing 32 of 39 passes and finished off his remarkable season with a championship. He too, wanted to talk about the game's outcome and its effect on his adopted home.
"Four years ago, whoever thought this would be happening?" said Brees, talking about his signing with the Saints in 2006, the same year that head coach Sean Payton took over the football team. "Eighty-five percent of the city was underwater. Residents were evacuated all over the country. Most people did not know if the organization was going to stay or even if there was going to be a comeback for New Orleans.
"To start from scratch building a team, building a mindset and helping to build a new city, we played for so much more than just ourselves. We played for the entire Gulf Coast region. So many players came in, and we decided we are going to rebuild together, we are going to rely on each other. Tonight, is the culmination of all that."
As far as football was concerned, the victory was built not just the MVP Brees and the offense. The Saints defense worked hand-in-hand taking on the vaunted Colts offense and the special teams contributed three FGs of more than 40 yards from Garrett Hartley. Defensive coordinator Greg Williams hit the Colts and Manning with multiple looks.
"In the first quarter we were almost all 3-4," Williams said. "In the second quarter we went back to the 4-3. In the third quarter, we mixed it back in fourth, and in the fourth quarter we mixed it back and forth. That was kind of our plan to make sure that we didn't show everything we had early in the game. We had a first-half game plan, we had a third-quarter game plan and we had a fourth-quarter game plan. We were able to stick to what we were doing because the score kept us in it.
"Our offense kept us in it and we were able to execute the plan. If the score dictates, we've got to abort that plan and go with whatever we had to. But we were able to do it. It unfolded the way Coach Payton and I thought it was going to unfold on our first day after the NFC Championship, on keeping this kind of game on offense and defense together."
That plan worked perfectly in this fashion: Manning and the Colts had just eight possessions in this game, with 64 plays, but only those two touchdowns, a 19-yard pass to WR Pierre Garcon and a four-yard scoring run by RB Joseph Addai. Indianapolis had 432 yards in total offense. But their offense had a disjointed feel. From the 9:34 mark of the second quarter until there was 6:15 to play in the third quarter, the Colts had six plays that produced 15 yards and no first downs. On the game clock it was just under 15 minutes. But in real time, it was close to 45 minutes because of the extra long Super Bowl half-time show with The Who.
"We probably never got into a great rhythm," Manning said. "We got the ball on the first drive and had a good drive, then the second drive went down there and scored and then it was strange. I think maybe we had six plays in the second quarter. It was big to hold them there at the end of the first half on that goal-line stand and it was a disappointing possession on that next series not being able to maintain the ball and run the clock out. It gave them three more points, and then we let them have the onside kick on that first series of the second half. That was disappointing and certainly made it tough."
And the Saints were able to take advantage thanks to head coach Payton's willingness to gamble, whether it's on third down, a replay review or calling for the onside kick to open the second half.
"We were going to be aggressive," Payton said. "We've seen the onside kick all week and guys executed it well. When you do something like that, you just put it on the players and they were able to execute. It turned out to be a big change of possession and ended with a score."
Added Brees: "That's the type of team we are. We play with a very aggressive mentality; we play with a lot of confidence. We came to this game knowing we had to play loose and take a chance in order to win and we did."
Did they ever! The Saints became the 18th NFL franchise to earn a Super Bowl championship. It was their first in the 43-year history of the franchise. They were the first No. 1 seed from either conference to win the title since the New England Patriots in 2003. Payton became the 28th head coach to win a Super Bowl and it was the fifth straight year that the winning team was coached by a first-time Super Bowl winner.
The streets of South Beach and the highways and byways south Florida were dominated all week by the Who Dat? Nation. The scene around the stadium was four-to-one Saints fans over Colts fans. And when the game was over, all the Saints wanted to do is celebrate with those fans and the thousands who crowded Bourbon Street like it was Fat Tuesday.
"I was getting text messages and e-mail all week from people and they said the same thing: you are playing for New Orleans and we are with you," said Fujita. "I got texts from Italy and England. So much more was going on here.
"And now we get to celebrate. It will be a Mardi Gras that never ends."