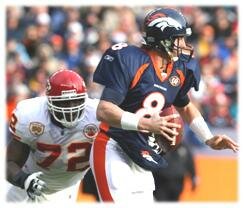 From the Truman Sports Complex

No one involved with the Chiefs has ever said that Glenn Dorsey was going to become a nose tackle.
Yet that subject has great legs among the media and fans who love to dissect all things red and gold, even if the imagines might be a mirage.
Dorsey has heard the talk; he's not one of those players that says he doesn't read the papers, or the internet or watch television.
Glenn, have you heard you are supposed to be moving to nose tackle?

"Yeah, I've heard that," he said. "People have told me they heard that."
Has anyone in the organization talked to you at any time about moving to nose tackle?

"No, not a word," said Dorsey. "Nobody has said anything about that."
Would you be surprised if they asked you to move there?

"I'll do whatever they ask me to do," Dorsey said.
So how does all this get started? Well, the guy who opened the door on this story was GM Scott Pioli.
He was asked before the draft about rumors that Dorsey was moving to the nose. Pioli didn't confirm or deny those rumors, he just talked about the versatility of Dorsey, calling him "a unique player" with the "physical skill and body type to play numerous positions." When asked specifically about nose tackle, Pioli again didn't say yes or no. "He can do a lot of different things," Pioli said.
That's kept the chatter up that Dorsey who doesn't quite fit the 3-4 scheme at DE, might move to the other position on the line, one he seems even less suited for physically. If that doesn't seem to make sense, then join the club. At 6-1, and just under 300 pounds, Dorsey is not the classic nose tackle for the 3-4 defense.
But Dorsey says the talk about whether he's a zero tackle, a three-technique guy or a five-technique guy misses the point.
"I really don't think there's that much of a difference between the positions on the defensive line," said Dorsey. "I think too much is made of that. There are some different keys and different reads, but it's all football and it's all defense. Inside the game's a little faster, but you still have to use your hands and your feet.
"Whatever they decide to do, I'm with it."
There's little doubt why the Chiefs might ponder the possibility of moving Dorsey, given the fact they got less production out of the nose tackle position in 2009 than any of the 13 teams in the league playing the 3-4 defense. Last year there were 27 players who got significant playing time at the nose. They were an average height of 6-feet, 2.8 inches and 324.7 pounds.
However, some of the smaller and lighter nose tackles were the most productive. Both Pittsburgh's Casey Hampton and San Francisco's Aubrayo Franklin are 6-1 in height. Hampton had 42 tackles and 2.5 sacks, while Franklin had 88 tackles and two sacks. The lightest nose was New England's Mike Wright, who was 295 pounds and had 48 tackles and five sacks. Pro Bowler Jay Ratliff of Dallas is 303 pounds and he had 83 tackles and seven sacks.
"I don't feel like I have to be overly huge to play on the inside, or have to be really small to play outside," said Dorsey. "I like playing both inside and outside, so whatever is cool with me."
More than physical characteristics, it's the mentality of playing the nose tackle that is the toughest part of the game for a player adapt and learn. It's constant double-teaming, it's constant contact, there are not a lot of big plays that draw attention.
"It would be an adjustment," Dorsey admitted. "But you get used to it after awhile. All I want to do is win. I desperately want to win. Whatever they see fit, I'm going to do it to the best of my ability."
Head coach Todd Haley would rather talk about Dorsey's improved physical condition compared to last season.
"He's a potentially versatile player, there's no doubt about it, but right now he's where he is and he's had a very good off-season," head coach Todd Haley said of Dorsey, who has played at end in the standard 3-4 and then what amounts to a defensive tackle spot in the 4-3 when the Chiefs go to a nickel defense. "He's light years ahead of where he was last year, at least from the physical conditioning standpoint and that's given him a chance to be out there and really work hard at trying to be an impact player for us."
Right now, Dorsey is trying to get in the best physical condition possible and trying to assimilate the third defensive system of his three-year career. As a rookie, he played in the Gunther Cunningham defense. Last year, was the shift to the 3-4 as run by Clancy Pendergast. Now, he's adapting to the 3-4 scheme as coordinated through the eyes and experience of Romeo Crennel.
"At this point, some of the stuff carried over from last year and some of the stuff does not," Dorsey said. "Right now, we are working with basic stuff and I'm sure we will start doing more and more in the coming weeks."
Dorsey said that so far Crennel's approach and personality is quite a bit different than what he's experienced in the last few years with Cunningham and Pendergast. "He's been around championship football teams, so you know he's not just talking; he's been there and has seen what works," said Dorsey. "The stuff he's telling you he has seen it in action; he's been there, done that. That gives us more motivation.
"He's got a sense of humor and he's good with words. He's able to break it down, to get you to grasp the concept. He slows it down for you on the field and then we'll speed it up."
Whether he plays inside or outside, Dorsey will be as healthy in 2010 as he's been since being selected by the Chiefs in the first round of the 2008 NFL Draft. During his senior season at LSU, Dorsey took a cheap shot block across his lower legs. From that point on, he's battled a lower leg injury of some kind. Neither Dorsey nor the Chiefs have ever provided details over the last three years and he's missed practice time. But he's only missed one game in his first two years.
"It's feeling good," Dorsey said on Wednesday. When asked if progress had been made, he said: "No doubt, no doubt."
More than anything else, a healthy Glenn Dorsey has a chance to be a productive player for the Chiefs defense, no matter what position he plays.
NOW STEPPING INTO THE ROLE OF LARRY JOHNSON …

Remember Larry Johnson? How quickly he's been forgotten around Arrowhead Stadium. We all remember that L.J. had the bad habit of sticking his Reeboks in the general vicinity of his back molars on many occasions.
Since his departure, the Chiefs haven't had a player who we could count on to say the wrong things at the wrong time. That is until now. Say hello to Dwayne Bowe.
Apparently in the newest edition of ESPN the Magazine, Bowe had plenty to say about his teammates, road trips and women, or in more understandable terms, groupies. Anybody that played with Bowe during his rookie season of 2007 will more than likely wish to throw the WR under the next bus to return the favor.
Here's what Bowe is quoted as saying:
"My rookie year, we were playing in San Diego. You hear stories about groupies hanging out in hotel lobbies, but some of my teammates had it set up so there was a girl in every room. The older guys get on MySpace and Facebook a week before we go to a city; when a pretty one writes back, they arrange to fly her in three or four days in advance. They call it importing. Younger guys don't have the money to do it.


"Anyway, these girls had the whole top floor. They know everything about us — first and last names, sisters and brothers, salary. This one girl was talking to me like she'd known me for years. 'Hey, D-Bowe, how's Grandma?' I'm like, 'How do you know my grandma?' She knew that I talk about her every time I'm interviewed for a story. I told her I had a girlfriend, but she didn't care. She was wearing my jersey, sitting in my lap, making it look like we knew each other. Then she took a picture and put it on Facebook. That almost got me in trouble."

Bowe hasn't seen trouble like he's apt to get from teammates and former teammates. This is a double major violation of the "code of the road" and the sanctity of the locker room. That professional athletes are meeting with female fans while on road trips is something we've all known since the publishing of pitcher Jim Bouton's ground breaking book Ball Four back in 1971.
That one of the players is talking about it so openly is unusual. But then, it fits the profile of what Bowe has shown everyone since he was the team's first-round selection in the '07 NFL Draft. He's a very immature young man, who has not done a good job handling his place on the team, in the league and within the game.
This is just another example.
CHIEFS ANNOUNCE PRE-SEASON BROADCAST TEAM FOR TV

The Chiefs introduced their broadcast crew for the 2010 pre-season games that will be broadcast on the Chiefs Television Network, that's 10 stations throughout the Midwest led by KCTV, Channel 5 in Kansas City. They will broadcast all four games: at Atlanta, at Tampa Bay and against Philadelphia and Green Bay at Arrowhead Stadium.
Mike Kelly, the long-time voice of the Missouri Tigers for football and basketball will handle the play-by-play and former Chiefs QB Trent Green will provide the color commentary. Serving as a sideline reporter will be Channel 5's sports anchor Michael Coleman.
PERSONNEL FILE/WEDNESDAY, MAY 19

BEARS – RFA S Danieal Manning signed his tender offer – a 1-year, $1,176,000 deal; signed 4th-round draft choice DE Corey Wootton to a 4-year contract; released QB Brett Basanez, moving rookie Dan LeFevour up in the depth chart.
BRONCOS – G Matt McChesney retired after suffering an ankle injury that was made worse when a golf cart ran over the repaired joint last week.
PACKERS – released QB Chris Pizzotti and signed QB Graham Harrell – the former Texas Tech passer did not make it anywhere in the league last year, but will now battle for the No. 3 spot in Green Bay with Noah Shepard.
RAVENS – signed ERFAs ILB Dannell Ellerbe, DB Cary Williams, DB K.J. Gerard, DT Kelly Talavou and WR Justin Harper.
SAINTS – signed UFA LB Clint Ingram (Jaguars) to a 1-year contract. He spent four years playing in the Jacksonville defense.
SEAHAWKS – signed TE Michael Allan, a 7th-round pick of the Chiefs in '07 – he knocked around the last two years in the UFL and Arena Football; released WR Victor James, TE Patrick Devenny and QB Mike Teel. Devenny was a rookie free agent out of Colorado and Teel was a 6th-round choice of Seattle in '09 after his college career at Rutgers.
TITANS – moved LG Eugene Amano to center, where he replaces Kevin Mawae, who remains unsigned. Leroy Harris will get the first chance to start at LG.