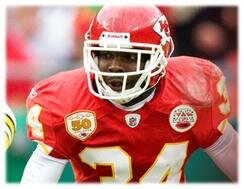 From the Truman Sports Complex

The Chiefs off-season is not over. They have activity on Monday and a practice on Tuesday. That's when Todd Haley will discharge his veterans for six weeks, meeting again for the start of training camp in the last week of July.
The weekend mini-camp provided a lengthy look at the 2010 Chiefs with five practices in three days. As the only member of the media horde and the only media outlet that covered every second of all five practices – that's called blowing our own horn – there are honors to be presented to this team that only I can hand down.
So here are the 2010 Chiefs Mini-Camp Oscars:

MINI-CAMP MVP – CB TRAVIS DANIELS (above). He joined the Chiefs last year as an unrestricted free agent from the Browns. Daniels was released in the final roster cut of the pre-season and did not return until November 4th, when he was signed after S Jarrad Page was placed on the injured-reserve list. He played in nine games and finished with 16 tackles, two passes defensed and seven tackles in the kicking game. Daniels was a JAG – just a guy – something he showed in previous NFL stops in Miami and Cleveland. But in this '10 mini-camp, Daniels was all over the place. His work at left cornerback was so good that in the last few practices he was running with the No. 1 defense in place of Maurice Leggett who was holding the spot for the rehabbing Brandon Flowers. Daniels brought mini-camp to a close with his interception in the two-minute drill off QB Tyler Palko.
BEST NEWCOMER OF MINI-CAMP – RB THOMAS JONES. With his history, his body and his talent, Jones began making an impact on the Chiefs the first time he walked in the door of the team's facility. That has continued and it was especially visible during the mini-camp with five practices in such a short period of time. Jones works hard at every given opportunity. He is always talking with offensive mates during practice and the young running backs seem to hover on his every word. Here's the secret to Jones' success and career – those mini-camp practices were only part of his football day. Some players put in the minimum amount of time and sweat. Jones is the other end of the spectrum, where practice is just a slice of what he did on Friday, Saturday and Sunday to prepare for the 2010 season.
BEST MINI-CAMP ROOKIE DEFENSE – CB JAVIER ARENAS. The Chiefs did some special teams work in the return game, but without live action it really did not give Arenas a chance to show his stuff in the kicking game. He did all of that on defense, working as the nickel back and getting some snaps on the left corner as well. Arenas was all over the place in coverage, grabbing what interceptions that Daniels did not. He also knocked down another half-dozen throws, making up a lot of ground with his speed several times. This guy needs to get on the field as much as possible.
BEST MINI-CAMP ROOKIE OFFENSE – TE TONY MOEAKI. In the space of two days over the weekend, Haley was asked twice about the third-round draft choice out of Iowa. Because he does not want anybody to think a rookie is ready for Canton, the head coach selects his words carefully when talking about youngsters, especially draft picks that have not signed a contract yet. Here's Haley on Saturday: "Overall I am encouraged and for having a few setbacks early, he has come in and looks like he has an idea of what is going on." On Sunday, after another strong Moeaki performance, Haley added a few more words: "Number one, when he wasn't out there he was paying attention because he was able to come in and understand what was going on and what he was supposed to do … a tight end, another guy without pads that is hard to judge other than he looks like he has a pretty good feel, can find his way open and is not afraid to catch the ball. He is moving in the right direction." If Moeaki can continue that type of advancement in training camp, Haley's answers will get even longer.
BEST MINI-CAMP DEVELOPMENT – MIKE VRABEL AT INSIDE LB IN THE NICKEL. In the first practices of camp, defensive coordinator Romeo Crennel had Vrabel working at inside linebacker with the No. 2 nickel defense. Then over the weekend, he moved Vrabel inside with the first nickel. That move gets OLB Andy Studebaker on the field, stepping into Vrabel's spot on the edge. A quartet of Tamba Hali, Derrick Johnson, Vrabel and Studebaker would get the team's best linebackers on the field together. This needs to continue.
KEEP AN EYE ON/OFFENSIVE RISING FORCE – RB KESTAHN MOORE. The first-year back out of Florida got a lot of opportunities with Jamaal Charles on the sidelines because of his shoulder surgery/recovery. There is no live action in these practices, so running backs can be hard to judge. But in every practice, Moore ripped off at least one impressive run with a burst of speed or moves. Moore has become a shadow of Thomas Jones and he's trying to learn how to stay in the NFL from the 11-year veteran. He has the same size (5-10, 214 pounds) as Jones (5-10, 212 pounds) and a similar running style.
KEEP AN EYE ON/DEFENSIVE RISING FORCE – DT DEREK LOKEY. The first-year tackle stands 6-1, 300 pounds and would not qualify as the standard nose tackle for the 3-4 defense. But more and more when the Chiefs defense lined up during the mini-camp, it was Lokey sitting between DEs Glenn Dorsey and Tyson Jackson. He was getting snaps ahead of last year's starter Ron Edwards and this year's free agent signee Shaun Smith. Edwards is listed at 315 pounds but appears bigger. Smith is down as 325 pounds. Again, it's hard to judge linemen on both sides of the ball when there is no contact on the line of scrimmage. But if Lokey can follow through in training camp with what he's obviously got done in the OTAs and mini-camp, he could hold his spot.
CASPER THE GHOST OF MINI-CAMP TROPHY – JARRAD PAGE. As the only player who hasn't been around the team in the off-season, Page has put himself in a very particular spot. He obviously wants out of Kansas City, or he's planning to retire. If Page wanted to play for the Chiefs he would not have missed the mini-camp. Whether he signed his tender offer or not, Page could have participated by signing an injury waiver. Page does not want to stay and it's hard to believe that the Chiefs want him on the roster. While everybody else has been working hard for three months and got through five practices in three days with mini-camp, Page has been doing who knows what. Over the weekend he posted on Twitter that he was in Los Angeles. As they clean up their roster and get draft choices signed in the coming days and weeks, the Chiefs should help themselves and give Page what he wants – a ticket out of town.
NFL NEWS & PERSONNEL FILE/SUNDAY, JUNE 13

BRONCOS – head coach Josh McDaniels said Sunday that Britton Colquitt has the lead right now in the battle for the team's punting job. Britton is the younger brother of the Chiefs P Dustin Colquitt and also kicked collegiately at Tennessee. He's competing against A.J. Trapasso. "I think Britton is ahead," McDaniels told the Denver media. "That's a competitive situation, like we have at a lot of places on our football team and think that's only making both of them better. At this point, I'd say that Britton has kind of pulled ahead."
RAIDERS – signed OT Elliot Vallejo – he spent time on Oakland's practice squad last season for several games late in the season. He came out of California-Davis, after transferring from UCLA. He signed as an undrafted rookie free agent with the Cardinals and was part of the Arizona team that went to the Super Bowl in '08. He is 6-7, 315 pounds.
RAMS – G Mark Setterstrom suffered a torn left triceps that should put him on the injured-reserve list for the 2010 season. Setterstrom was hurt during Friday's practice. It's the same type of injury that he suffered last year.
TITANS – QB Vince Young has been named as a suspect in an assault that happened Saturday night at a strip club in Dallas. A Dallas TV station is reporting that a fight broke out at the Club Onyx and that Young was involved. He left the club before the police arrived. No warrant has been issued for his arrest, although late Sunday night he was given a citation by Dallas police, charging him with assault.