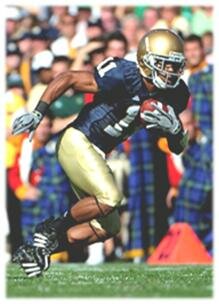 Cleaning up the notebook on a few matters Chiefs related around the NFL in the first week of May.
CHIEFS SIGN WR DAVID GRIMES

What should we make of this signing? Is this strictly a Charlie Weis deal? Or did Grimes really show enough as a tryout player during a three-day rookie camp to warrant a chance to continue on with his NFL dream?
Grimes played four seasons for Weis at Notre Dame, where he was an OK possession receiver, working a lot out of the slot. He did not put up big numbers, finishing his career with 90 catches for 900 yards and seven touchdowns. He also did some kick returning, averaging 23.7 yards on 36 returns, but no touchdowns. During his senior season in '08, he was one of Notre Dame's three captains and he was a leader on the field and locker room who helped the transition to the Irish program for Golden Tate and Michael Floyd. All that is good stuff.
Now here's the not so good stuff. Grimes is 5-9 7/8, 173 pounds. He posted 40-yard dash times of 4.58 and 4.62 in the last few months. So while he's small, he's not really fast. He signed with Denver as an undrafted free agent back on April 27, 2009 and was released by the Broncos on July 23, 2009 without even going to training camp. Part of his problem was surgery on his back that happened after the '08 Notre Dame season.
Here's how one talent evaluator described him before the '09 NFL Draft:
"Tough, compact … Not big but rugged … Good athlete who's quick off the ball and in and out of his breaks … Nice balance and good body control … Fearlessly goes inside and over the middle and makes tough catches … Runs well on reverses and after the catch … Team captain with high character and leadership ability.
A native of Los Angeles, who went to high school in Detroit, Grimes obviously wasn't on the tip of anybody's tongue in the NFL this spring. He was part of the Jimmy Clausen workout session back on April 9th in South Bend and by all accounts looked good catching the ball. That still didn't get him a chance with anybody before or after the NFL Draft.
During the Chiefs rookie camp, Grimes seemed a step ahead of the other receivers, showing NFL pass catcher qualities, like working the sideline and getting both feet down, rather than just the one foot as is the rule in the college game.
How serious is his chance to make the final roster? Pretty slim. But it's more than likely his last chance to play pro football if he doesn't show anything with the Chiefs.
LOOKING AT THE CHIEFS ROSTER IN THE FIRST WEEK OF MAY

Despite the fact the NFL does not have a salary cap in place for this season, the owners and players still have a collective bargaining agreement in place. It will end in the spring.
So although the salary cap has been rendered obsolete, many parts of the CBA are still working, including the 80-man limit on NFL rosters.
The signing of Grimes gives the Chiefs 85 players on their roster. But only 78 of those players are actually signed. The seven draft choices are without contracts at this point, so they don't count against the 80-man figure.
That leaves the Chiefs with two more players they can sign; that's the number Todd Haley indicated over the weekend the team might sign among the players trying out during the rookie camp like Grimes.
Nothing would preclude the Chiefs from releasing others on the roster, although that wouldn't seem likely before the club begins their OTA sessions.
Right now, they have 45 offensive players, 37 defenders and three special teamers. On offense, the numbers break down with 4 QBs, 9 RBs, 11 WR, 5 TEs and 16 on the offensive line. Defensively, there are 10 DL, 12 LBs and 15 DBs.
THE OTA SESSIONS AND MINI-CAMP REMINDER

The Chiefs OTA sessions will begin on Monday, May 17th. They will also work together on the field on May 18-19th.
They'll come back with three more sessions the next week (May 24-25-27). After the Memorial Day Weekend, they will then work for nine consecutive days (June 1-9) with OTAs and a three-day mandatory mini-camp (June 4-5-6.)
The final OTAs are currently scheduled for June 14 and 15.
A TRIBUTE TO KARM FROM ONE OF HIS GRATEFUL PUPILS

Throughout his career coaching on the college and pro level, the late Bob Karmelowicz worked with some remarkable talents. They were all remembering him this week after Karm passed away over the weekend after a decade-long battle with cancer.
At the University of Miami, it was Karm who helped a young man named Warren Sapp transition from offense to defense where he eventually became a first-round draft choice and had a long NFL career. He also coached Cortez Kennedy and Russell Maryland while with the Hurricanes – both were first-round picks.
He helped Eric Hicks go from undrafted rookie free agent from Maryland in 1998, to a full-time starter in 1999. Hicks would go on to a long NFL career. He also got a chance to work with a young fourth-round draft choice the Chiefs grabbed in 2004 named Jared Allen.
"When I got into the league, he was a little brash at first," Allen said of Karm. "We used to argue a bunch. But he taught me how to use my body and how to break down an offensive tackle. He had me constantly working on little details that ultimately had big results. He understands that you can't coach everybody the same. He's a hard-nosed guy. He's going to test you mentally and physically. He taught me to use my failures to set up your victories."
Karm was so important to Allen that in 2008, his first year with the Vikings after he was traded away by the Chiefs, the defensive end hired his former coach. At the time, Karmelowicz was unable to continue day-to-day coaching with the Houston Texans and was at home in Kansas City. Allen was unhappy with how his career started with the Vikings, so he began flying Karm to Minneapolis every Tuesday to look at film.
Allen started that year with just two sacks in Minnesota's first five games, but finished with 12.5 sacks over the final 11 games.
"He helped me with my body mechanics," Allen said in '08. "He's a great coach and it's always good sometimes to get an outside point of view."
PERSONNEL FILE/TUESDAY, MAY 4

BENGALS – signed P Jake Richardson.
BILLS – signed OT Cord Howard.
BRONCOS – signed WR Dicky Lyons.
BUCCANEERS – signed ERFA RB Clifton Smith.
CHIEFS – signed WR David Grimes.
EAGLES – signed G Greg Isdaner to a 3-year contract.
49ERS – signed LB Patrick Willis to a 5-year contract extension for $50 million.
LIONS – claimed RB Marko Mitchell on waivers (Redskins).
RAMS – released WR Travis Brown, QB Mike Reilly and CB Marcus Brown.
RAVENS – declared S Keith Fitzhugh a free agent.
SAINTS – claimed RB P.J. Hill on waivers (Redskins).
SEAHAWKS – claimed QB Mike Reilly on waivers (Rams).