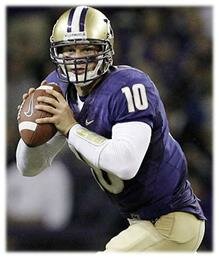 The personnel calendar turns very quickly in pro football. Just last weekend, the NFL was selecting players from the class of 2010.
Already, the league is preparing for the class of 2011. Here's a preliminary look at the top offensive players at each position as of now. On Saturday we'll provide the top defensive players. This list of players includes several who will be juniors this fall.
QUARTERBACK

Jake Locker (right)/Washington, 6-3, 226 pounds. One unknown NFL GM called Locker a bigger version of Hall of Fame quarterback Steve Young. He's got the numbers to show that might not be far off.
During his time with the Huskies he's thrown for 5,374 yards and run for 1,554 yards in 28 games. Last year, he threw for 2,800 yards with 21 TDs and 11 INTs, while running for 388 yards and seven TDs.
He was starter in '08 opening the first four games, but his season ended when he broke his thumb. One extra item in the Locker dossier: he's been drafted twice by major league baseball teams and last year, he signed a six-year rights agreement with the Los Angeles Angels. In fact, Locker is technically a walk-on at Washington since the Angels are paying his tuition.
Here's another example of what kind of athlete Locker is: in high school he returned three kickoffs, all for touchdowns, with an average return of 88.3 yards.
RUNNING BACK

Mark Ingram/Alabama (junior), 5-10, 212 pounds. The 2009 Heisman Trophy winner ran for an Alabama single season record of 1,658 yards last year. Ingram ended that great season by running for 116 yards and two touchdowns in the BCS National Championship Game against Texas.
The son of former NFL receiver Mark Ingram who is currently in prison, he r an for 728 yards and 12 TDs as a true freshman in '08.
WIDE RECEIVER

A.J. Green/Georgia (junior), 6-4, 207 pounds. Last year, Green caught 53 passes for 808 yards and six TD catches in 10 games; he missed three games with a shoulder injury, which required off-season surgery that has forced him to miss spring football.
In 23 games with 19 starts, Green has caught 109 passes for 1,772 yards and 14 TDs.
TIGHT END

Kyle Rudolph/Notre Dame (junior), 6-6, 265 pounds. Recruited out of Cincinnati by former head coach Charlie Weis, he dealt with shoulder problems during the '09 season and underwent surgery after the season. He played in 10 games, catching 33 passes for 364 yards and three TDs.
In his freshman season, he caught 29 passes for 340 yards and two TDs over 13 games; he started the season opener, becoming the first Irish freshman tight end to start in 11 seasons.
TACKLE

Matt Reynolds/Brigham Young (junior), 6-6, 329 pounds. Over the last two years, Reynolds has started all 26 games at left tackle, earning first-team All-Mountain West offense honors in '09. Typical of BYU players, he spent a year on a church mission in Germany, missing the '06 season.
The Utah native is the son of Lance Reynolds, BYU's associate head coach for the Cougars. He is also married.
GUARD

Mike Pouncey/Florida. 6-4, 313 pounds. His twin brother Maurkice was selected in the first round of the 2010 NFL Draft by Pittsburgh. He played right guard next to his brother at center for the past two seasons. There's a good chance he will replace his brother at center for the Gators.
CENTER

Stefen Wisniewski/Penn State, 6-3, 302 pounds. He carries a very famous football name at Penn State, where both his father Leo and uncle Steve played for the Nittany Lions and advanced to the NFL. Chiefs fans will remember Steve Wisniewski as the Raiders guard who always played after the whistle and was constantly getting into scraps. His Dad was a defensive lineman drafted in '82 by the Colts.
Wisniewski started at guard in '08, moving to center last season.