If Todd Haley has said it once, he's said it a hundred times in the 16 months that he's been the head coach of the Chiefs:
"It doesn't matter how a player got here. It's what we see once he's here."

All coaches like to say things like that, and sometimes it's believable. Other times it's just something a coach thinks he has to say. We all know that no matter how bad say Eric Berry may look before the start of the regular season, he's not going to be released. No chance. The early draft choices will always get more chances than the undrafted college free agents.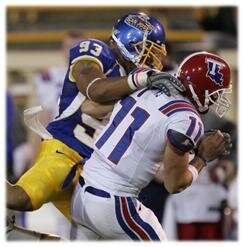 But bad teams provide a greater opportunity for players on the fringe to make the roster. When a team doesn't have enough talent, it's really not going to matter to the decision makers where a player comes from; if he can play, he has a job.
Last year, Haley and GM Scott Pioli started the season with eight rookies on the 53-man roster. Two of those players were undrafted – LBs Jovan Belcher and Pierre Walters. Both spent the entire '09 season on the active roster and they were joined at one point last year by S Rickey Price, G Daryl Harris and DL Dion Gales.
This season the Chiefs have signed 11 college free agents who will return on May 17th and work with the team in the OTAs and June's full-team mini-camp. Most will go to training camp in St. Joe and take their shot at one of the most difficult tasks in the pro game – making the roster after all 32 teams passed you by in the NFL Draft multiple times.
As we've dug through the list of Chiefs signees, one player in that group stands out – OLB Justin Cole out of San Jose State (above).
Checking around the league in the 10 days since the Draft, we found that Cole was on most team's boards as a draftable player. Some had him rated as high as a fifth-round choice. Others had him in the sixth or seventh-round. At least one time labeled him a "desirable signee" as an undrafted free agent.
Cole (right) signed on with the Chiefs and went through the team's rookie camp last weekend. Wearing No. 57, he worked at outside linebacker along with fifth-round draft choice Cameron Sheffield. The Chiefs do not talk about their evaluations, but several other teams said there wasn't a shade of difference between Sheffield and Cole. One scout allowed that Sheffield may be a better athlete, but Cole had the same skills and background.
A four-year starter at San Jose State as a defensive end (two years) and outside linebacker (two years), Cole expected to be selected in the Draft based on what he heard from his agent, friends and those around the NFL.
"I'm definitely excited to go to (training) camp and play with a chip on my shoulder," Cole said. "I think they're getting a versatile player, a person that fits well into three or four schemes."
At 6-2¾, 242 pounds, Cole had a disappointing senior season, with 55 total tackles and three sacks while spending most of his time playing outside linebacker. The season before, when he was moved to OLB, Cole had 68 total tackles, five sacks and an interception that he returned 62 yards for a touchdown.
The big post-season all-star games (Shrine Game, Senior Bowl) ignored him. It took a torn ACL suffered by Wisconsin's O'Brien Schofield on the first day of practices at the Senior Bowl to open up a slot for him in Mobile. It was there that teams got a chance to see him playing in a two-point stance.
Cole was invited to the NFL Combine, where he ran the 40-yard dash in 4.73 seconds, lifted 225 pounds in the bench press 22 times. He had a 34.5-inch vertical jump and 9-foot 9-inch in the broad jump. None of those numbers were in the outstanding to very good range; the numbers are average to below average for someone of his physical makeup.
Still he was on some team's draft boards for multiple reasons. During four seasons with SJS, he never missed a game. He's already graduated with a degree in marketing. He was never a prima donna and worked on special teams right through his senior season. He also served as one of the Spartans co-captain last year.
Ah yes, that captain's role obviously was noticed by the Chiefs; they've proven this year that checking off that box on the draft form is going to lift a player in their estimations. Cole is another guy who was signed not so much for what he accomplished as a player, but who he is as a person.
Now, Cole has the chance to take those skills and compete and possibly make an NFL regular-season roster. That only recently become a goal for the California native.
"I did not go to college thinking about going to the next level," Cole said. "My focus was just to be a good college football player. I lived in the present. I worked out for the present and my college career.
"Now that it's over and you have the opportunity to continue, I'm definitely going to prepare at 120 percent to take advantage of that chance."
LEARNING MORE ABOUT BIG BEN'S BEHAVIOR

During the last couple months I've heard a lot from readers about our postings on Pittsburgh's Ben Roethlisberger and his problems. Some folks thought I was too quick to indict the Steelers QB for his behavior, especially since he's never been charged with a criminal act; innocent until proven guilty and all that. Some e-mailers accused me of jumping to conclusions on the case down in Georgia
Just about everything I've written about Roethlisberger and my opinions on his character and behavior were buttressed by a lot of information that I had from folks back in the 'Burgh about the quarterback. None of this was relevant until he stepped in "it" again back in March with charges of sexual assault. That's when the gossip about Roethlisberger went viral and his boorish behavior became known to more and more people.
If you want to read more, then Sports Illustrated this week has a cover story on the Pittsburgh QB and his escapades. Here's a link to the si.com site where the story is up.
That's why the Rooney family was so upset, why the fans of Pittsburgh have turned against their quarterback and why the Commish handed him a suspension. The incident in Georgia was just the tip of a very dirty and nasty iceberg. What's in the SI article exposes some of his warts, but there are many more than those.
Roethlisberger apparently has checked into an evaluation center, where his problems are being cataloged by professionals. They will be very busy and it will be interesting to see just when Big Ben returns to the Steelers in any fashion. Until the Commissioner gets the report of the evaluators, he must stay away from the team.
PERSONNEL FILE/WEDNESDAY, MAY 5

BILLS – signed S Brett Johnson.
BRONCOS – released S Marty Bowman.
49ERS – signed CB Will James (Jaguars).
SAINTS – signed S Darren Sharper to a 1-year, $2.5 million deal; re-signed RFA G Jahri Evans to a new 7-year, $56.7 million deal.
SEAHAWKS – signed CB Chris Richards.