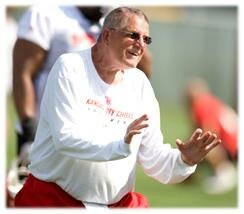 To put into perspective the football coaching career of Chiefs offensive line coach Bill Muir consider this:
There are eight members of the Chiefs 2010 coaching staff who were not even born when Muir coached his first season in 1965 at his alma mater Susquehanna College (now University) back in Pennsylvania. That group of eight includes head coach Todd Haley who came along in 1967, a year after Muir had moved on to his second coaching job at Delaware Valley.

Yes, Muir has been coaching for a long time. That tells us several things. First, it tells us he must be good at what he does and there's no shortage of men who will stand up and sing his praises. "I had to work hard to get him and I can't really explain how happy I was when he said yes," said Haley. "There aren't many coaches more respected by their peers than him."
Second, he's stubborn and even though he doesn't really need to work, he needs to work. "I wasn't ready to retire," Muir said. "I tried it once for 10 days and it wasn't worth a shit."
Third, he loves the game of football, loves the teaching, the connection with young men, the strategy of beating an opponent. "Let's assume there has to be a certain level of talent," Muir said. "The good ones are physically and mentally tough. They handle adversity, they handle unforeseen circumstances. It's never the way it is supposed to be. I love coaching players who have that innate feel for the game."
Fourth and probably most important of all, despite the long grueling hours of work each season, the many moves he and his wife Barbara have made and the pressure and upheaval that enters the life of any football coach, Bill Muir doesn't feel like he's worked a day in his life.
At least not since the summers of his college years. That's when he tasted real work.
"This is what I've always wanted to do," Muir said. "I'm one of the fortunate few. They say that if you love what you do, you've never worked a day in your life. I played football as long as I could play and when I couldn't play anymore, I coached. I guess that's what I do."
*****
When Bill Muir turns 68 in October he will be one of the eight oldest coaches in the National Football League. When training camp starts next week in St. Joseph, Muir will begin his 29th season of coaching in the NFL. Only six coaches have worked in the league longer.
And when camp starts it will mark the 42 year in the last 46 that Muir has been coaching football at some level. Only three coaches have more time in the profession than him. The four seasons where he didn't coach, he was part of the personnel department of the Tampa Bay Buccaneers, where he did do some coaching.
All of those fellow coaches, men like Tom Moore, Dick LeBeau, Jimmy Raye, Gunther Cunningham, Chick Harris, Larry Coyer, Alex Gibbs, Dan Henning and others, have remarkable stories about their lives and their careers. They all lived the life of the football gypsy, always ready to move on to another assignment, another opportunity. There are 32 teams in the NFL and Raye has worked for 11 of them in his 34 years of NFL coaching – 49ers, Lions, Falcons, Rams, Buccaneers, Falcons, Patriots, Rams, Chiefs, Redskins, Jets, Raiders, Jets and 49ers. The longest time he spent with one team in consecutive years was the nine seasons that he coached in Kansas City for Marty Schottenheimer and Cunningham (1992-2000). Raye is back for his second tour with San Francisco, now as the team's offensive coordinator.
Few of those hardy and hale veterans can match the travel log of Bill Muir. Even his own college playing career requires a map to follow along on his travels as he left high school in Homestead, Pennsylvania. He ended up playing in the same state as his hometown, but only after a lengthy trip west.
"I went to the University of Denver first," Muir said. "But when I got there, they dropped football. I went on to the University of Tulsa and I was there for a couple years, then I left there and went back to Susquehanna. I never planned on leaving Tulsa, but I was back in Pittsburgh one summer and I drove up to Susquehanna to talk with the head coach."
That man was Jim Garrett, one of the legendary figures in the world of football coaching. He's still working part-time today as a scout for the Dallas Cowboys. In fact one of the guys that he found and championed to the Cowboys was a little known wide receiver at Monmouth College in New Jersey named Miles Austin. Remember him Chiefs fans?
"The football program was made up of a bunch of transfers from a lot of different schools and he built something special," Muir said. "We had a good program and it culminated my senior year when we beat Temple in Philadelphia in a regionally televised game.
"When my playing days ended, Jim offered me an opportunity to stay with him. They didn't call it a graduate assistant at the time, but that's what I was. I can't ever remember when I didn't want to play football and when I couldn't play anymore, I wanted to coach."
*****
Coaching seemed like a far better alternative than the job that Muir held in the summer of his college years. He would always return to Homestead, an industrial town on the banks of the Monongahela River, just south of Pittsburgh.
He would pick up work at the Homestead Steel Works of United States Steel (right), at one of the most famous industrial spots in American history. It was in July 1892 that a violent clash known as the Homestead Strike made international headlines. Locked out steel workers and their families battled Pinkerton guards who were hired by the mill owners and brought into town on barges. When the fighting was over, 11 were killed and scores were injured and the Governor of Pennsylvania was forced to call out the National Guard to restore order in the town and inside the mill.
It was part of a story that would be passed down from father to son as generations of Homestead men went to work in the mills and factories.
That's what men in the Muir family did – they worked in steel mills.
"My grandfather emigrated from Scotland to western Pennsylvania to work in the steel mills," Muir said. "After working in the mill for four years, he brought his family over. My Dad worked in the mill for 45 years. Homestead Steel Works, Machine Shop No. 3. Everybody I grew up with worked in the steel mills – uncles, neighbors, cousins, school friends.
"I worked in them for five summers during college and it was a very good education I got. I wasn't going to work in that son of a gun. No way."
*****
So coaching became his passion and his profession. After a season at Susquehanna, Garrett was fired and Muir was hired at Delaware Valley College where he spent two seasons. That's when Garrett called again. "Somehow he wound up as the head coach of the Orlando Panthers of the Continental Football League," Muir said. "He called and said come on down. I was there for three seasons."
The Continental Football League was the preeminent minor league for football in the country in the 1960s. Orlando won the league title, beating the Orange County Ramblers in 1968. "There were a number of fellows who played in the Continental League who later played in the NFL," Muir said. That group would include Ken Stabler, Garo Yepremian, Otis Sistrunk and a young coach named Bill Walsh.
The Continental League folded after the 1969 season and Muir headed back to the college ranks, where he spent two years at Rhode Island, then two more at Idaho State. "I call those my Lewis & Clark years," Muir said. "I was heading west and had no idea where it might lead. Sometimes it seemed we had to live off the land."
That's when Jim Garrett called again; he was the head coach of a team named the Houston Texans in the World Football League that began play in 1974. Muir signed on. He's still waiting for some of the money owed him, although he did collect an awful lot of memories.
"We were getting ready to play Birmingham in a Thursday night game and after we practiced and were getting ready to head to the airport, our GM told us that when we got back from the game, we would be moving," Muir remembered. "He wasn't sure where, but he would get back to us.
"So we go to Birmingham and when we came out for pre-game warm-up they didn't have a name on the scoreboard for us. It was just blank. When we came back out to start the game, I saw they had put up Shreveport and that's how we found out where we were moving to. I had no idea where Shreveport was. I told my wife, 'I don't know where the hell it is, but I'll call you when I get there."
The Texans became the Shreveport Steamer and finished that season with a 7-12-1 record. The WFL folded after that first season, but was reconstituted for the 1975 season. The folks in Shreveport formed a corporation to own and run the club. "They had just renovated their stadium and they wanted a football presence there," said Muir. "They wanted the town to be like Green Bay. Like an idiot, I stayed."
The second WFL folded very quickly, as the Steamer went 5-7. But the people running the team asked him and another coach to stay on.
"They come to us and said, 'If you want to get paid for another two weeks, we want you to renegotiate the contracts with the players," Muir said. "We don't want to pay them off and go bankrupt is what they were saying. So we worked for three more weeks, calling players and saying to them, "They owe you $25,000, but they'll give you $2,000 today. Do you want nothing or do you want something and that $2,000.'
"While we were doing that, he and I had this stack of old game programs and we were clipping out coupons for free Whataburgers. I think we even went down one week and gave blood so we could get the $15. That's why I call that my Lewis & Clark period."
Muir's ticket to the NFL came next. After spending two seasons coaching at SMU (1976-77) and old friend from back home named Ken Herock talked him into joining the expansion Tampa Bay Buccaneers where Ron Wolf was the general manager and John McKay was the head coach.
"Ken talked to me about coming to the team, working as a coach during training camp and then starting a pro scouting department," Muir said. "At the time nobody had a pro scouting department. Little did I know what I was walking into. I was the quality control coach for offense and defense. I was the advance game scout and I put together the pro scouting department.
"Despite having to do all that I was content. I learned a lot about the NFL and I learned personnel."
In 1982, Ron Meyer his old boss at SMU had been named head coach of the New England Patriots and Muir went north to coach the offensive line. In 1985 he landed in Detroit doing the same thing for Darryl Rogers. Four years later he was in Indianapolis where he was defensive coordinator for two years and then offensive line coach for Meyer. In 1992, he started three seasons as offensive line coach of the Eagles, working for Rich Kotite.
It was in 1995 that he landed on Kotite's staff with the New York Jets and two years later was when Bill Parcells took over. That's where Muir got to know not only Haley but Chiefs GM Scott Pioli. Seven seasons with New York ended in 2002 when he went to Tampa Bay and spent the next seven seasons there working for Jon Gruden and winning a Super Bowl ring when the Bucs beat the Oakland Raiders.
"Seven years with Jon Gruden – that's not a walk in the park at Disneyland," Muir said. "I was fortunate enough to work with some very good coaches over the years."
*****
Retirement was on the horizon for Muir after Gruden and his staff got the ax in Tampa following the 2008 season. After growing up with Pennsylvania winters and traveling all over the country coaching, he was set to live out his life in Florida.
"My family laughs now because I told them long ago that I would never go north of the Georgia/Florida border except for wedding and funerals," Muir said. "Yet, here I am in Kansas City."
He was interested when Haley called back in February 2009 because he knew the man, knew his father Dick Haley well and understood that the young man taking over the Chiefs might be wet behind the ears, but he had a good, solid football base.
"I don't have to condescend anymore; at my age you just kind of say what comes to your mind," Muir said. "So understand that I don't say this because he hired me. I've been around a lot of head coaches starting their programs and Todd is doing it the right way. My nickname used to be "Missouri" because I was a show-me guy. He's shown me.
"He's doing things the right way. I think if you do it the right way, given time and some players, it will be a good football situation. If the sons (Clark Hunt) are like the Dad (Lamar Hunt) and they let the general manager and the coaches run the football program, I think this team will be back where it used to be. I don't know whether I'll be here, but doing things the right way will get the right results, provided the people at the top understand that it's going to take a little time and a little patience.
"Everybody wants to go to heaven. But nobody wants to die."
NFL PERSONNEL & FOOTBALL NEWS FILE FOR THURSDAY, JULY 22

COLLEGES – Another Alabama player's attendance at an off-season party is being investigated by the NCAA and that guy doesn't get any bigger than returning Heisman Trophy winner RB Mark Ingram. The questions surround a party he attended in May in Washington, D.C. at the home of Joe Haden, former Florida CB who was the first-round pick of the Cleveland Browns.
BENGALS – RB Cedric Benson was in New York meeting face-to-face with NFL Commissioner Roger Goodell about latest off-field incident involving the Cincinnati running back; released C/G Dan Santucci – drafted in 2007, he's spent two years on the injured-reserve list with ankle and foot injuries.
BILLS – placed TE Joe Klopfenstein on the injured-reserve list – he suffered an injury during the spring that the Bills have never acknowledged or identified.
BRONCOS – signed OLB Elvis Dumervil to a 5-year contract extension worth $61.5 million with $43 million guaranteed. Dumervil was a restricted free agent, who signed his tender offer and kept his mouth shut this off-season, setting the table for this deal.
BROWNS – signed 3rd-round draft choice QB Colt McCoy 4-year, $4,800,000 contract with over $1 million in guaranteed money – he starts his rookie year third on the Cleveland depth chart behind Jake Delhomme and Seneca Wallace; signed 3rd-round draft choice G/T Shawn Lauvao to a 4-year, $2,467,000 contract with a $697,000 signing bonus – at Arizona State he played both left and right tackle but his pro future is at guard, specifically right guard where he will compete for a starting spot; former C LeCharles Bentley has filed suit against the Cleveland Browns. The case involves a staph infection that Bentley got after surgery to repair a ruptured patella tendon on the first day of training camp 2006.
COLTS – signed 7th-round draft choice LB Kavell Conner to a 4-year contract, terms undisclosed – selected out of Clemson, he played both outside linebacker positions (strong and weak) while with the Tigers.
COWBOYS – agreed to terms with 1st-round draft choice WR Dez Bryant – he becomes the initial first-round draft choice to agree to terms – ESPN reports the deal is 5 years for $11.8 million with $8.5 million in guaranteed money; signed 7th-round supplemental draft choice DL Josh Price-Brent to a 4-year contract, $1,800,000 contract – Dallas wants him to lose weight and do it fast to make a spot for himself on the '10 roster.
DOLPHINS – DE Phillip Merling apparently has suffered an Achilles tendon injury. When and where this happened remains unknown but this likely will knock him out for the season. Merling was charged earlier this week with assault against his girlfriend who is pregnant.
JAGUARS – signed 6th-round draft choice RB Deji Karim to a 4-year, $1,900,000 contract with a $110,000 signing bonus – the impressive work this Southern Illinois product showed in the off-season gives him a chance for playing time behind Maurice Jones-Drew.
RAIDERS – signed 7th-round draft choice S Steve Brown to a 4-year contract, terms undisclosed – he was a linebacker at Michigan, but is moving to the back line with Oakland.
RAVENS – the NFL suspended CB Cary Williams for two games for violations of the league's personal conduct policy – the incident came over a year ago when Williams was with the Titans.
SAINTS – re-signed DE Bobby McCray to a 1-year $1,500,000 contract with incentives – McCray was cut in June at a time when he was due to receive a $1.25 million roster bonus and $2 million in base salary. Now instead of $3.25 million, New Orleans is only out $1.5 million for sure and potentially another million dollars from incentives; signed 5th-round draft choice C Matt Tennant to a 4-year contract terms undisclosed – interior O-Line prospect out of Boston College should compete for a backup spot ; released LB Harry Coleman, LB Sam Maxwell, DE Brandon Sharpe and CB Marcell Young – all were undrafted rookie free agents.