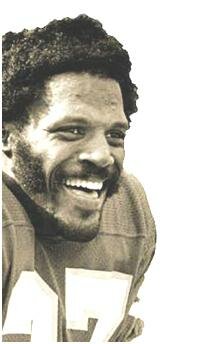 Look at that smile. So vivid, so endearing, even now 27 years after he's gone, it still provides a shot of life. It's hard not to smile back.
Joe Delaney had one of the best smiles that ever walked through a Chiefs locker room. Shy and quiet by nature, he was always ready to push back his lips and show his pearly whites. For two years his teammates all remember one thing about him – no matter what time they walked into the locker room at Arrowhead Stadium, Joe was already there, sitting in front of his locker, sipping from a cup of coffee and ready to flash that smile to everyone.
It was on June 29, 1983 in Monroe, Louisiana that Joe Delaney drowned while trying to save three boys who were under water in a construction pond next to an amusement park. He was 24 years old.
Some three generations of Chiefs fans never got the chance to see him play. They know the story of his selfless act of heroism and they've heard of his tragic death. His remarkable rookie season of 1981 is recorded in the history books – his Pro Bowl trip where he was the only rookie starter, his Chiefs MVP award, the AFC Rookie of the Year, the All-Rookie teams and even a spot on a first-unit All-Pro team.
But that doesn't begin to cover Joe Delaney the running back. Three generations of fans never got the chance to see him flying out of the backfield, headed for the corner and shifting into high gear. Oh my, it was something special. A crack in the defense was all he needed. He would explode out his stance so fast at the snap of the ball that quarterbacks Bill Kenney and Steve Fuller took awhile to adjust to handing off to him.
Once in the open field, there wasn't anybody in the league that was going to run him down. Plus, he could catch the football. In his first NFL start, the sixth game of the 1981 season, he ran for 106 yards and added 104 yards in pass receptions. That was 210 total offensive yards on 31 touches against Denver.
When you think of Joe Delaney, think of Jamaal Charles, but 15 pounds lighter. They had the same type of bodies – slender build and strong legs that could get up to speed in the snap of a finger. They were both top flight sprinters in college. Charles 100-meter dash time of 10.27 seconds at Texas would have just nosed out the 10.3 seconds that Delaney ran the distance in at Northwest Louisiana. But in the 200 meters, Delaney's best time of 20.6 seconds was a half-step ahead of Charles at 21.02 seconds.
Charles shares another trait with Delaney – toughness. Neither one was a track guy playing football. They were football players that ran track. Delaney was never afraid to stick his head into the middle of the line and take a shot, just as Charles is always ready to handle the running game between the tackles. During his short career, Delaney had to deal with several injuries, largely due to the fact that his body was not always equal to his heart. The most serious was a detached retina in his eye that required surgery in 1982 that was done at John Hopkins in Baltimore.
As Chiefs fans started to learn last year with Charles, any time the ball was in his hands, something big could happen. It was the same with Delaney. If there was a crack in the scrum at the line of scrimmage, there was almost a collective inhale by those watching at Arrowhead. The exhale came when No. 37 came sprinting through the opening.
Delaney ran every play as if it was his last one. He ran like his hair was on fire and the only bucket of water in the county was sitting in the opponent's end zone. Joe would float along the line of scrimmage and then plant his foot in the turf and turn up field with such quickness you swore there was smoke coming out of his shoes.
I saw every one of Joe Delaney's 363 NFL touches (329 runs, 33 receptions, 1 kickoff return) over his two seasons. Had his instincts not taken over at Chennault Park that steamy June 29th and his career had continued, I can only guess what type of football legacy he would have left. Because of his size and his running style, it was unlikely that he would have had a long career, maybe five, six years at the most.
What I do know is that every time the ball would land in his hands, something big and memorable was possible. Like the 82-yard TD run against Denver, or the 61-yard catch and run against Oakland – he was a football home run hitter, able to change the game's momentum and outcome in an instant.
I spent time with Delaney in his hometown of Haughton, Louisiana after his surgery for a detached retina in 1982. With Delaney at the wheel, we rode through the dirt and gravel streets on the other side of the railroad tracks that split the town into two sections. That's where he had his home and where his mother and others family members lived. I remember sitting in the living room of his mother's house listening to their conversation and being able to understand only about every fourth word. Joe didn't so much talk as he would mumble and it all came out in a combination of a Cajun dialect and a Southern drawl. A yankee from Kansas City was lost in translation.
As we cruised the streets that day, everyone would stop him and exchange conversation. It was part of the daily rituals of a quiet little town where one of their own had escaped, only to gladly return and show them he was still one of them. He pointed to houses and empty lots along the way and talk about what he wanted to do in Haughton after his career was over. He dreamed of building a recreation center for the kids and then a mini-mart where kids – and Joe – could go and get ice cream and sodas. He would have been happy sitting outside his mini-mart, playing dominoes, or strumming his guitar, watching the world of Haughton go by.
Joe Delaney was country. There was no puffed up personality because he was a pro football player, an All-Pro, a Pro Bowler, a Rookie of the Year. He worked hard at being a member of the Kansas City Chiefs, just as his father worked hard at being a farmer; the jobs couldn't be more different but the driven nature was the same. Whatever the opposite of diva is, that was Joe Delaney.
He was a simple man, with a huge heart, a wealth of athletic ability and a smile that wouldn't quit.
R.I.P. Joe Alton Delaney.
NFL PESONNEL & NEWS FILE FOR MONDAY, JUNE 28

BENGALS – the late WR Chris Henry suffered from chronic traumatic encephalopathy, a pattern of brain damage that has been traced to football players with long careers. That it turned up in the brain of the 26-year old Henry was a surprise to neurobehavioral experts studying the long-term effect of football concussions. Henry died last December from brain injuries suffered when he either fell or jumped out of a moving pickup truck.
BROWNS – signed 6th-round draft choice DL Clifton Geathers to a 4-year, $1,895,000 contract with a $104,000 signing bonus – big man out of South Carolina could be a rotation factor in Cleveland defense.
EAGLES – claimed S Brett Johnson on waivers from the Bills – undrafted rookie who has top-notch athletic ability but a slim college resume.
FOX-TV NETWORK – has hired Mike Pereira, the former NFL director of officiating to work on NFL broadcasts this fall. Pereria will be available to analyze and dissect decisions by game officials in all games during an NFL weekend. He will also do live chats with fans and appearances on Fox Sports Radio.
GIANTS – waived WR Chris Davis who failed his physical after New York claimed him off waivers from the Bengals.
LIONS – signed 7th-round draft choice DE Willie Young to a 3-year, $1,263,000 contract with a $48,000 signing bonus – another defensive line prospect out of North Carolina State, he had 20 college sacks; team president Tom Lewand told police that arrested him on suspicion of drunk driving that he had not had a drink in 18 months. But when he was tested his blood-alcohol level was more than twice the legal limit.
RAMS – continued their flurry of signing draft choices, signing four more and leaving only three left, including No. 1 choice QB Sam Bradford without a contract. Deals got done with 4th-round WR Mardy Gilyard on a 4-year-$2,342,000 deal with a $552,000 signing bonus, 5th-round DE Hall Davis to a 4-year agreement, 6th-rounder DE Eugene Sims to a 4-year, $1,893,000 pact with a $103,000 signing bonus and 7th-round CB Marquis Johnson, also with a 4-year deal.
RAVENS – agreed to terms with 6th-round draft choice OT Ramon Harewood on a 3-year, $1,289,000 contract with a $74,000 signing bonus – he was the first player drafted in the NFL who was born in Barbados, where he played rugby and cricket. He was selected out of Morehouse College.
STEELERS – OT Willie Colon suffered a torn Achilles tendon during workout at the team's facility and will likely be lost for the season. Surgery is expected soon on the right tackle that has not missed a game in three years.
VIKINGS – claimed WR Marko Mitchell on waivers from the Lions – Minnesota is his third team in two months; released C Tommy Hernandez – an undrafted rookie out of California-Davis.