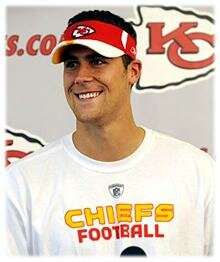 It's been a busy week with some travel and a host of family in the house, so I'm not getting these answers done as soon as I would like.
But I'm muddling on and hope to have this all wrapped up by Thursday. Again, thanks for the questions and I hope you enjoy the answers.
—–
Blake says: Bob, do you think Matt Cassel is good enough to lead the team to the Super Bowl in the future, or do you think we need someone different? How has Thomas Jones looked? Do you think Kestahn Moore can make the team if he has the same running style as Jones or would they want a different kind of runner? How many OLB do you think the Chiefs will keep – Vrabel, Studebaker, Sheffield, Walters, maybe Cole? Which undrafted free agents do you think could make the team? How many S will the Chiefs keep and who are they? Who do you like better Derrick Johnson or Demorrio Williams?

Bob says: I'm not sure if Cassel is good enough – there's not enough of a sample size yet. I don't think we can base any deep evaluation on what we saw last year. He does need help. Hard to say how Jones has looked since there was no real running game during the off-season. But there's no question he's in shape, he knows how to run, the questions that will follow Jones right now are how much tread is left on his tires at 32 y ears of age. I think Kestahn Moore has a real chance to make the team – he must make an impression on special teams to help out his cause. I think the Chiefs will keep five OLBs and right now I'd say it will be Vrabel, Hali, Studebaker, Walters and Sheffield. Cole has a chance, as he's at the top of the list of undrafted rookies that could surprise. With him I would include WR Jeremy Horne and D Garrett Brown. I would expect the Chiefs to keep four safeties and right now I would say that group will be Eric Berry, Kendrick Lewis, John McGraw and Donald Washington. As for talent displayed on the field, I would take Johnson over Williams.
—–
Fansince93 says: Would you be interested in having a meet up with your readers sometime during training camp in St. Joe? I know you have pressing deadlines, but it would be a lot of fun for us to do an "Ask Bob" in person. What do you think? Following up from my post above, how many readers would be interested in doing this if Bob was up for it?

Bob says: Great idea and I'm going to start trying to figure out a way to set this up. Tough to predict when and where right now, but once I've got something set up, I'll make sure there's enough time for everyone to make their plans.
—–
Gorillafan says: Bob, can you make a day at training camp where we could plan a trip up for, say a bobgretz.com appreciation day? You could cookout in parking lot or as close as you could get to the field anyway! Take photos? T-shirts to buy? I too plan on driving hours to see my first training camp. If you set a date on a Saturday or weekend that you were going to do this that would be the day we go! I know this has been asked too, but in one word what does your gut feeling tell you about if this is actually where be become good again and this is the right regime? My answer? YES. THANKS!

Bob says: Gorillafan, you wouldn't be asking for me to handle a cookout if you had tasted my work on the grill. Can you say hockey puck? But the idea of having a tailgate party before or after practice is a good idea. As far as the feeling in my considerable gut, I think the Chiefs are headed in the right direction. There have been stumbles for Pioli/Haley but nothing so damaging they couldn't recover. Ultimately, it will come down to the players they draft, sign and develop. It's about talent and right now, they do not have enough. They have more than last year with Berry-McCluster-Arenas-Moeaki, but that's still not a big enough infusion of players.
—–
Chiefs34 says: Bob thanks so much for all the fantastic work you put into this site each and every day. I hang on every character typed and hold it as Chief's Gospel. My question: will there be a 2011 season? The upcoming CBA agreement has got me as nervous as long tail cat in a room full of rocking chairs. Please relieve my fears; lie if you have to. Also, I currently stay in Dallas and this would assuredly convince me to make the trip, so my vote is in on the in person "Ask Bob" training camp addition.

Bob says: Thanks for the kind words. As to whether there's an '11 season, I would bet yes. I just can't believe that these parties can screw up what has been a good thing for both sides. I can't believe they will be stupid enough or stubborn enough to kill the Golden Goose. I would also bet that the whole thing is going to be a roller coaster ride here for the next 10 months or so. Nothing will get done without a deadline, and there will be a lot of saber rattling on both sides.
—–
Tracy says: Given the apparent smoothness of the OTAs, it seems the players have bought into Todd Haley's approach to football and his emphasis on conditioning. It should also have some positive effect on solidarity on the team aspects that football requires. But just how far can we expect this apparent positive attitude to carry the team? It seems that if they eliminate the lapses that led to really long TD runs last season, they will be at least two or three wins better this year. It also seems that if they simply hold on to catchable passes they will be at least one or two wins better. Do you think 10-6 is possible?


Also, is Josh McDaniels likely to create another Elway-like monster in Tim Tebow? That would be truly unsettling as the Broncos have recently seemed to displace the Raiders as the team we love to hate.
The prospect of an 18-game season seems like a wretched echo of the college conference poaching that just simmered down. Perhaps Roger Goodell should spend a few hours in a rehab clinic or a trauma center to get a better grasp of the physical limitations of the human body. An extended season seems like a real deal breaker in any CBA negotiations. Your thoughts? Thanks for all your work putting this site together; it gives us somewhere fun to go with our morning coffee.

Bob says: Thanks for the nice comments. I think 10-6 is very, very optimistic. This team still does not have the talent level to be considered a viable contender right now. There's also no doubt that better run defense and pass catching would have made the difference in an outcome or two, or three. But the question we have to ask is this: were the problems on run defense due to scheme or focus, or was it because the players simply weren't talented enough athletically to get the job done? Same with the drops – was it concentration, or did the Chiefs have receivers with questionable hands?
As for Denver, I'm a Tim Tebow fan, but he's a long way from being another John Elway. He must change the way he throws the ball, something that has been his habit for over a decade. That's hard to change, especially at a position where there's so much information to process in a short period of time. I'm not a big fan of the idea of an 18-game regular season, and it's all about money. That's how the league will get the players to agree – by showing how it means more cash.
—–
Shock says: Fans love it when a team goes for it on fourth down – and makes it. Not so much when it doesn't work. Haley went for it on fourth down a TON last year. Was it desperation for a bad team (heck, what is there left to lose), or is Haley a big gambler/risk taker and we'll always see that style of coaching from him?

Bob says: I think both of those reasons factored in for Haley going for it on fourth down 29 times over 16 games. The Chiefs converted 14 times and that 48.3 percent conversion ratio ranked 16th in the league. Generally, teams that are not very good go for it on fourth down. That makes sense. The Chiefs 29 led the league, followed by St. Louis with 28 and Detroit with 26. In contrast, New Orleans had 15 plays on fourth down and Indianapolis just 11. I do think that Haley has a bit of the gambler in him, so he may go for it more than average. But the better the team and offense gets, the fewer times they'll go for it on fourth down.
—–
Chuck P says: I have looked at the Chiefs defensive line and LB corps every which way from Sunday. I don't see a significant change from last year. Basically same LB corps with the addition of Cameron Sheffield who was a 5th rounder and then adding Shaun Smith who was never a true "standout" at his previous teams. So aren't we going to get "RUN ALL OVER AGAIN" JUST LIKE LAST YEAR???? Other than Romeo, what really is so "different"?

Bob says: Chuck, there is nothing different. Your observations are correct as far as the personnel are concerned. When this subject has been broached to Pioli/Haley, they make it plain they are counting on the addition of Crennel and improvement from within to lift their defense against the run. I'm not sure I see it either, but they have really rolled the dice on this.
—–
Morten, Denmark says: Bob, I have told you before and I will tell you again; this is by far the best site that I visit every single day! Now, you said we could ask anything so: 1.) I will visit Kansas City for the first time in my life to see the MNF-game against Chargers. Coming all the way from northern Europe – what is a must see in KC area? Which bar is the best for football on Sunday? The best before the game? And where is the best BBQ in town? 2.) What do you think of Haley's development through the last year? 3.) Do you think any player on the team can have a Pro Bowl season, and if yes who? I hope/think Flowers. Again thanks for everything, can't wait for summer to pass by and training camp to begin.

Bob says: Morten, an early welcome to Kansas City and I think you'll enjoy yourself and the scene around the Monday night opener. Must sees in KC would be the Nelson-Atkins museum, the Truman Library and the World War I Museum. They are all unique operations. No way I'm going to get nailed down for a specific bar or BBQ in this town. As for the best saloons to watch Sunday's games, they are everywhere. BBQ is the food of the Gods, and there's not one single nirvana in this town. There are about two dozen places that all do something well. One thing you have to count on is tailgating before the game. Doesn't matter if you don't have a car, because you can just show up in the parking lot and somebody will adopt you. I think Haley's development has been very good in his one-year on the job. He still has some growing to do, but he's a talented guy. As for Pro Bowl possibilities, if it's not any of the rookies, I would say Brandon Flowers has a shot, maybe Jamaal Charles or Thomas Jones.
—–
Justin D says: Bob, I love your site and thank you for your efforts. The dearth of actual information and insight makes your site the best. I have a few questions: 1.) is this site still doing ok financially? You have not mentioned ads and converting to a pay site in a while. 2.) Do you think our O-line has been stabilized enough to give Cassel enough time to benefit from the new offensive weapons? 3.) I am all for an in-person Ask Bob at training camp as mentioned above. What are your inclinations?

Bob says: Justin, I appreciate your nice comments. As to your questions on the site, I will simply say this for now: this year will be a very big one for the viability of the site as a business. There's more to come next month. As to the offensive line, I would be concerned with the right side of the group, Ryan Lilja and Ryan O'Callaghan. Both players were released by organizations (Colts and Patriots) that seldom get rid of players who are on top of their game and have growth potential. Until the right side shows us it can handle the action, I'm not sure what to tell you.
—–
Just a guy says: Bob, this is by far the most positive time I can remember. Every report suggests that guys are really buying in and doing well. I'm curious to hear which guys didn't have good workouts, who's dropping balls and missing assignments? Or is that just harder to see without pads and contact?

Bob says: It's hard to judge based on what little the media is allowed to watch of the practices. Second-year TE Jake O'Connell continues to struggle with holding on to the ball. WR Jerheme Urban had the same problem early, but seemed to catch his way out of it over the final month of work. We'll be able to see and decide more in training camp.
—–
Randy Webb says: Bob, if the Chiefs defense is going to make a big leap this season Glenn Dorsey and Tyson Jackson must improve. What should we expect from the Tiger Tandem this season? How much improvement did Dorsey really make from season one to season two?

Bob says: Dorsey and Jackson must improve if the Chiefs are going to get better. Dorsey did take a step forward last year from his rookie season. He was in better shape and even at a lower weight he did an average to above-average job against the run. Dorsey's pass rush needs improvement. Jackson needs to step forward in every area of the game – against the run and on the pass rush.
—–
JG says: Bob, Thank you for the great work, I love your site and the unique information you bring to us, thanks for answering our questions! Last year the Chiefs claimed off waivers and signed some good players Chambers, O'Callaghan, Pope and traded for two guards Ndukwe and Alleman. Do you think they will sign some more players? If yes, what is the biggest need before the season begins? Safety? TE? LB? FB? Of course NT but they won't find any. Do you think of some under-the-radar names that could/should be traded for? Can you name three players who you think will make the most progression this year? Which part of the team do you expect to be the best this year: offense, defense, special teams or coaching? Does Wiegmann still has enough gas in the tank to make the 53-man roster or will he be cut before season starts?
Bob says: I think this year the Chiefs will pick apart the waiver wire just like they did last season. If they see players that will improve their talent level, then I would expect them to claim or sign them. The positions where they need improvement are well known – nose tackle, tight end, inside linebacker, tackle and wide receiver. The most improved players I think going into the '10 season for the Chiefs will be guys like CB Brandon Carr, LT Branden Albert and TE Brad Cottam, if he's allowed to play with his neck injury. I think overall, the part of the game that could be the best part of the team in '10 would be special teams. The addition of returning talent like McCluster and Javier Arenas make it a much better group. I think Wiegmann has enough gas in his tank to make it. Never count out the Hawkeye from Parkersburg, Iowa.
—–
Jody says: I'm amongst the ranks of the non-Kool-Aid drinkers. While I think Haley has grown into the HC job and they made great additions to the staff, the personnel is not there yet. NT is glaring and ILB is not much better. Who is the #3 OT? Is Sheffield the help they need as a pass rusher?

Bob says: I'm not sure how much of a pass rusher Sheffield can or will be in his career. He certainly won't be a factor in '10. Good question on who is the No. 3 OT. Right now, it would seem to be Barry Richardson or Ikechuku Ndukwe and that's not very comforting if you are Matt Cassel and hoping for pass protection.
—–
Jason says: Bob, first, love your site…it's the first place I check on the internet every morning. Thanks for doing it. So with all of the positive talk I'm hearing out of Arrowhead this off-season, I've gotten my hopes up that this is going to be a breakout season for the team. I know you can't get a true feel for a football team just based on practices with no pads, but you've seen some of the best Chiefs teams over the years and I'd like to know what you think. Athletically, is this team on-par with some of the best teams from the 90s & first half of this decade?

Bob says: Jason, athletically right now the Chiefs are ahead of where they were last season and the year before that. But they are not yet at the level of the best Chiefs teams of the 1990s and say the 2003 Chiefs. Both of those teams were very solid on the offensive line; we don't know that with the current Chiefs. Both of those teams had pass rushers; we don't know that with the current Chiefs. Hasty, Carter and Collins were proven commodities over what we think Flowers, Carr and Berry can be. The teams of the 90s for most of that run included three Hall of Fame players: Derrick Thomas, Marcus Allen and Will Shields. I don't think there is a Hall of Fame player on the Chiefs right now. That can change as the players go through their careers. Only Thomas Jones would be worthy of serious consideration right now.
—–
Dan says: Bottom Line: Do you think the offensive and defensive lines will improve this year?

Bob says: Dan, if they don't then it's going to be a long, long season for Haley and the red and gold. I think the depth on both sides is pretty shallow and could be a problem when the injuries hit, and we know they will hit. They always do. I think the offensive line depends on the right side – Lilja and O'Callaghan – and the focus on the defensive line is on nose tackle.
—–
Don in Wichita says: x3 for "Bob" Day at training camp!! That would have to be as good as it "Gretz"!! I'll drive up for that! Keep up the awesome work Bob! No one, NO ONE covers and reports the Chiefs Kingdom like you! I read daily, most days multiple times. What are the three most suspect areas this year? I hope to chant "We're going to kick the he** out of you, you, you, you, you, you!" many times at the games!

Bob says: Don thanks for the support. As for the three suspect areas, we just need to refer to problems of last year. Until the Chiefs have shown they have made corrections, then the suspect areas right now are 1.) The defense against the run, 2.) Protection of Matt Cassel and 3.) Catching the football.
—–
Kel says: I'm curious about which players are showing up at Arrowhead during the current break to work-out, watch film, etc. Thanks for the site Bob – love it!

Bob says: Just who is out there is hard to tell, but we know the rookies are there in mass and will be for the better part of the next three weeks. A few others have been in and out. Younger guys like RB Kestahn Moore were planning to hang around and use the facilities. It would not be a surprise to see QB Matt Cassel there at times; he's got that gym rat mentality.
—–
Deployed Chiefs fan says: Hey Bob, was wondering with the Jarrad Page situation happening (since I'm not in the NFL and can't complain about the money they do or don't make), do you think if he hadn't gotten injured for the last couple of games we would have an extra victory or two (I don't think so myself)?

Bob says: First, thank you for your service to our country. Second, as far as Jarrad Page, I don't think his presence on the field at the end of the year would have led to any more victories. Page is an average safety, capable at times of making above average plays. I don't think he would have made enough to change the scoreboard.
—–
Charles says: How has Javarris Williams looked in the OTA's and mini-camp?

Bob says: There are a lot of bodies in front of Williams on the depth chart, so he's going to need production and some luck to stick for a second season. When he's carried the ball, he looks good and he can catch the pill coming out of the backfield. Right now, Jamaal Charles, Thomas Jones, Kestahn Moore and Jackie Battle are ahead of him.