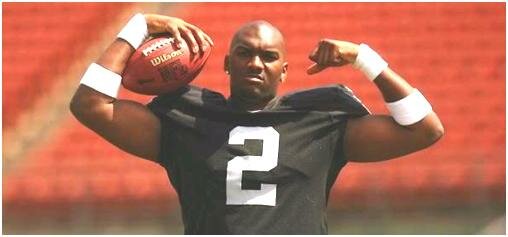 There's no surprise that maybe a Chiefs fan or two, or two thousand, enjoyed the sad news that came out of Oakland on Thursday with the Raiders release of QB JaMarcus Russell.
The move ended what has been an NFL soap opera for the last three years and established a new standard for failure in the NFL Draft. Russell is the poster child for the decline of the storied Raiders franchise, one that has made football proudest man a laughingstock among those that once feared him.
More than anything else, I would bet Al Davis is sad, upset and angry not with the wasted draft choice, or the $39 million Russell collected over three years. I'd wager that what just destroys Davis is that Russell remains a remarkable athlete, capable of doing memorable things on the football field. For any number of reasons, the Raiders were not able to get cultivate those talents so that Russell was a winning and productive quarterback.
Instead, he's now the second man in the debate on who is the biggest bust in NFL Draft history, joining former San Diego's selection Ryan Leaf. Russell was the first man selected in 2007, while Leaf was No. 2 in 1998. There are others that would be in the running with them, say the first choice of the 1999 NFL Draft QB Tim Couch who failed miserably in Cleveland. But the gold and silver medals are reserved for Russell and Leaf.
Any recent first-round draft failure in the Chiefs dossier does not come close to matching the sad results of Russell's career.
 "We wish him well." That was the only public comment by the Raiders on the release of Russell. It didn't come from Davis, but one of his "people." Nobody could find Russell to see what his initial reaction was, although it could not have come as a surprise to the Alabama native.
The tale of JaMarcus Russell is one that every other NFL team should investigate and intently study. This was not the case of the Raiders screwing up in their evaluation because every other team in the league had him rated as a top talent available in that '07 class.
He had the physical talent. He came out of a national championship program in LSU. Russell is smart, scoring a 24 on the Wonderlic test in the months before he was drafted. Those around the LSU program like Chiefs WR Dwayne Bowe said he was the leader of that team and in his two seasons as starting QB the Tigers were 22-4.
Talent, smarts, leadership – what more would a team want from its quarterback.
Either something changed or the Raiders and other teams missed something very big in their evaluations of Russell. That rocket arm and athletic ability were minimized when he grew fat and out of shape. The intelligence he showed was hidden behind laziness and bad decisions. There was no apparent leadership to his teammates, who have recently begun to speak publicly about his poor habits and failures as the team's starting quarterback.
Russell was habitually late for meetings. He was unprepared. The idea of extra preparation time was foreign to him. He would often get up in the middle of meetings and leave the room. Sometimes he would not return. There is a story – and nobody takes credit for it so it may be aprochol – that one Friday, the Raiders coaches sent Russell home with a DVD of plays they wanted him to study. When he returned on Monday, the coaches asked Russell if he'd looked at the DVD and studied the plays. He said he watched the disc and understood what the staff was talking about.
Just one problem: there was nothing on the DVD. It was blank.
Some people that know Russell from his days growing up in Mobile, Alabama and his record setting schoolboy career at Lillie B. Williams High School say the young man lost his way when his father figure, his uncle Ray-Ray, passed away last year. Apparently Ray-Ray was the one man who was able to convince his nephew that his behavior was wrong and that he needed to re-evaluate his actions and motivation.
Other folks around the Raiders believe the huge amount of money that fell into Russell's lap simply changed the young man. He missed his entire rookie training camp and the first game of that '07 regular season before he and his agents finally sealed a deal with Oakland: six years, $68 million with $31.5 million in guaranteed money.
Rumors of a developed love of Las Vegas and gambling seemed proven with his continual trips to Sin City. Off-season conditioning wasn't something he put a lot of effort into and there was his love of food. One person in his life said he was a "binge eater" who would spend days eating fast food and sweats on a nearly 24-hour basis.
This obviously dysfunctional young man ended up with one of the more dysfunctional franchises in the league. That certainly did not help matters, although the Raiders provided plenty of assistance and avenues for him to seek help. Russell was at the heart of some of the problems between Davis and former head coach Lane Kiffin.
"I do realize that you did not want us to draft JaMarcus Russell. He is a great player. Get over it and coach this team on the field. That is what you were hired to do. We can win with this team." Davis wrote those words in a letter to Kiffin in '08 that the Raiders managing general partner made public in the aftermath of Kiffin's firing.
Russell was 7-18 as the Raiders starting quarterback. Over his time in Oakland, he completed 354 of his 680 passes for 4,083 yards, 18 TD passes and 23 interceptions. That's a completion percentage of 5.1 percent and an average of 6 yards per attempt. He was sacked 70 times. His career passer rating sits at 65.2.
So, who wins the prize as the biggest first-round draft bust in modern NFL history? Here are the numbers for Russell, Leaf and Couch. You decide.
| | | | | | | | | | |
| --- | --- | --- | --- | --- | --- | --- | --- | --- | --- |
| Player | G/S | Att. | Cmp. | % | Yards | Yds/Att | TD | Int. | Rating |
| Russell | 31/25 | 680 | 354 | 52.1 | 4,083 | 6.0 | 18 | 23 | 65.2 |
| Leaf | 25/21 | 655 | 317 | 48.4 | 3,666 | 5.6 | 14 | 36 | 50.0 |
| Couch | 62/59 | 1.714 | 1,025 | 59.8 | 11,131 | 6.5 | 64 | 67 | 75.1 |
Obviously we can eliminate Couch from the competition since his numbers while poor, far exceed those of Russell and Leaf. Match those two up and it's Leaf that would have to be considered the biggest draft bust in modern NFL history.
But he didn't get $39 million and average $5 million per starting victory, $2 million per TD pass and $100,000 per completion.
Speaking recently with the Los Angeles Times, Leaf understood his place in history pre-JaMarcus.
"I used to go to bed at night hoping somebody else like Heath Shuler might magically leap frog me on those all-time bust lists," Leaf told the Times. "It never happened. Why? Because I am No. 1. I can't even think of anyone else in the ballpark that might be close to my combination of disappointment and failed expectations."
Well Ryan Leaf, you now have a partner. His name is JaMarcus Russell.
JAMARCUS AGAINST THE CHIEFS

In three seasons, Russell started four games against the Chiefs. His first victory as a starting QB came against the Chiefs at Arrowhead Stadium early in the 2008 season, the Raiders winning 23-8. Overall in those four games, Russell's record as the starting quarterback was 2-2, and he did not throw a TD pass or interception against Kansas City.
Here's how it broke down, game-by-game in those four starts in '08-09:
| | | | | | | | | |
| --- | --- | --- | --- | --- | --- | --- | --- | --- |
| Game | Score | Att. | Cmp. | % | Yards | Yds/Att | TD | Int. |
| '08 @ KC | W 23-8 | 17 | 6 | 35.3 | 55 | 3.2 | 0 | 0 |
| '08 @ Oak | L 20-13 | 28 | 10 | 35.7 | 132 | 4.7 | 0 | 0 |
| '09 @ KC | W 13-10 | 24 | 7 | 29.2 | 109 | 4.5 | 0 | 0 |
| '09 @ Oak | L 16-10 | 23 | 8 | 34.8 | 64 | 2.8 | 0 | 0 |
| Totals | 2-2 | 92 | 31 | 33.7 | 360 | 3.9 | 0 | 0 |
PERSONNEL FILE/WEDNESDAY, MAY 6

BENGALS – signed S Gibril Wilson; agreed to terms with CB Pacman Jones.
BRONCOS – signed OT Maurice Williams (Jaguars).
CHIEFS – released TE T.C. Drake and WR Chandler Williams.
RAIDERS – released QB JaMarcus Russell; signed RB Michael Bennett (Chargers).