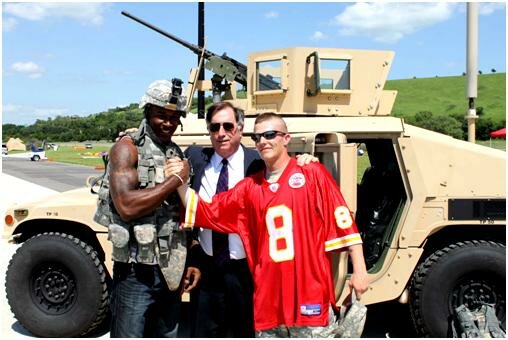 The big red pro football team made a trip west to see the men and women of the Big Red One, the Army's 1st Infantry Division at Ft. Riley, Kansas on Friday afternoon.
Led by team president Denny Thum, the traveling party included 16 rookies, Chiefs cheerleaders, Chiefs Ambassadors, KC Wolf and members of the Red Coaters.
They met with some of the base leaders, visited the base PX where they had a chance to meet with families and fans, and then got a tour of the base's airfield, where they had the chance to see some of the 1st Infantry Division's "toys." That's receiver Jeremy Horne above, as he's swapped uniforms with an unnamed infantryman. They are posing with VFW Assistant Adjutant General John McNeil.
"It was a great experience to be able to visit with individuals that do so much for us," said WR Dexter McCluster. "Everyone was telling us what big Chiefs fans they are. To us though, it's the Chiefs that are big fans of what they do every day. Having been inside those tanks and seeing how tight the working quarters are, I can't imagine having to be inside one of them to protect our country."
The trip to Ft. Riley was the third for the Chiefs in their partnership with the VFW and the "Return the Favor" program. Previously they visited Ft. Leavenworth in Kansas and Whiteman Air Force Base in Knob Knoster, Missouri.