Over the years our man Enrique has rolled video tape on just about anything and everything Chiefs related that was available to him in Mexico. Despite his distance from middle America, he has developed quite a collection of memories from the last 20 years. We are going to bring some of these videos to you with commentary from Enrique. Enjoy!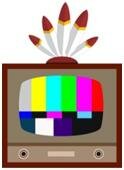 EDDIE KENNISON FINDS A HOME AT ARROWHEAD
As you might imagine, I wasn't going to overlook the official retirement of Eddie Kennison as a member of the Chiefs.
But in this particular case, I'll just let the images take over for me and present a remarkable cap to his NFL career wearing the red and gold.