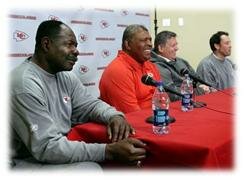 Let's say Minnesota Vikings head coach Brad Childress shows up for work one morning with an idea that he wants communicated to his football team. And let's say that Childress wants this message delivered in personal fashion, one-on-one to highlight the importance of the situation.
All Childress would have to do is assign himself and each member of his coaching staff two players on his 53-man roster. He would have the whole team covered. That's what can get done when a football team has a coaching staff of 26 men, so with NFL regular season rosters at that 53 number, there's one coach for every two players.
No other team in the NFL in the 2010 season comes close to matching the size of Minnesota's staff. Baltimore, Seattle and San Francisco each have 22-person coaching staffs.
At the other end of the spectrum New England, Cleveland and Dallas all three teams have coaching staffs numbering just 15 men.
Todd Haley and his Chiefs staff this year rank among the bottom half of the league in size with its 17 members. There are 21 of the 32 teams that have more coaches than the Hunt Family operation.
The talk of assistants and coaching staffs has been bubbling underneath the league for most of this year because of the uncertainity of the 2011 labor situation. Just about all of the NFL assistant coaches have contracts that will not bring them any compensation if the league decides to lockout the players. Owners have made it plain they do not want to pay coaches when there are no players to coach. One NFL GM speculated recently that only one or two percent of the assistant coaches have contracts with their teams that will keep them receiving checks if the game shuts down.
Why is there such a gap between coaching staff sizes, from 26 to 15 this year? Finances are a big factor with some clubs. There's no public financial information on most assistant coaches so it's hard to put an average salary number on the group. But at the NFL level, it seems that most position coaches are at least into six figures, with assistant position coaches and assistants of assistants making anywhere from $30,000 to $75,000. Some teams have young and hungry prospective coaches working around the team for nothing more than an office to sleep in and a cafeteria to provide three squares a day.
There are also some old-school thinkers in the NFL who believe the increased coaching staffs do more to complicate the game and a team's preparation than helps. Many old-timers grouse on a regular basis about today's player not being able to play the game with his head, because they are used to having multiple coaches tell them what to do.
When Herm Edwards took over as head coach of the Chiefs for the 2006 season, he inherited a coaching staff that under Dick Vermeil had 21 positions, with two coaches on both lines and in the secondary and a pair of special teams coaches. In Edwards first season, he had a staff of 17, with those extra coaches on the offensive line, defensive line, secondary and special teams gone.
At the time, Edwards explained the reason for the change was to streamline the operation and to put just one voice in the ear of players at their position. With two defensive backs coaches that made four different voices those cornerbacks and safeties would have to acknowledge and assimilate: head coach, defensive coordinator and a pair of secondary coaches.
"Too many voices," Edwards said then. "As a player you can hear too many voices. There's no need for that. We can get done what we need to get done with fewer bodies. It makes it easier for everyone to be on the same page, because there are fewer translations of the message."
Haley's second staff with the Chiefs is an odd mix of old and new. There are six coaches on the staff that have a cumulative 202 years of coaching experience and 134 seasons of coaching in the NFL. Romeo Crennel, Gary Gibbs, Steve Hoffman, Bill Muir, Emmitt Thomas and Charlie Weis are the staff graybeards.
On the other end of the spectrum are seven coaches that have a cumulative 46 years in football coaching, with 18 seasons in the NFL. That group is Richie Anderson, Bernie Parmalee, Anthony Pleasant, Nick Sirianni, Pat Perles, Otis Smith and Adam Zimmer.
AFC

| | | | |
| --- | --- | --- | --- |
| Team | Head Coach | Staff | Misc. |
| Baltimore | John Harbaugh | 22 | Top heavy on offensive side with 10 coaches, compared to 6 on defense. Part of that offensive staff is senior assistant Al Saunders. |
| Buffalo | Chan Gailey | 19 | Evenly split between offense and defense, with offensive coordinator Curtis Modkins doubling up as RBs coach. |
| Cincinnati | Marvin Lewis | 17 | No surprise the Bengals have a small staff; that's the way the Brown family operates. Assistants also serve as Cincinnati scouts. |
| Cleveland | Eric Mangini | 15 | The Browns are old school basic with the '10 staff, as they don't double up at any individual position. |
| Denver | Josh McDaniels | 20 | Years ago, Mike Shanahan had 25 assistants; that number has dropped under a new coach, but it's still larger than most. |
| Houston | Gary Kubiak | 20 | Coming out of the Shanahan/Denver coaching tree, Kubiak likes to have double coaches on both lines and at DB. |
| Indianapolis | Jim Caldwell | 19 | There have been a lot of changes on the Colts staff in recent seasons, as Tony Dungy and Howard Mudd retired, and Tom Moore is close. |
| Jacksonville | Jack Del Rio | 20 | Jags owner Wayne Weaver must wonder about his return on investment in having such a large coaching staff and no post-season. |
| CHIEFS | TODD HALEY | 17 | The staff began being trimmed after Dick Vermeil retired and Pioli/Haley have followed in that fashion |
| Miami | Tony Sparano | 17 | Is it just happenstance that Bill Parcells team has the same number of assistants as his son-in-law? It all comes from the same Parcells tree. |
| New England | Bill Belichick | 15 | The three-time Super Bowl winner does not have any coach carrying the coordinator titles on offense and defense. Belichick is in control. |
| N.Y. Jets | Rex Ryan | 18 | Only 6 members of this staff work on defense, an indication that Ryan is still the force on that side of the ball. |
| Oakland | Tom Cable | 17 | Who knows how many coaches the Raiders have on board, but it's a combination of veterans and untested novices. That's the Davis Way. |
| Pittsburgh | Mike Tomlin | 16 | Through the years the Steelers have always resisted the tide towards bigger staffs. There are no extras at Heinz Field, just the basics. |
| San Diego | Norv Turner | 18 | The Bolts have one spot with a new title – Coaches Assistant/Football Analyst. Yes, it is redundant, but then that's the NFL. |
| Tennessee | Jeff Fisher | 17 | The league's longest tenured head coach has a pair of "assistant head coaches" but not a lot of fluff and extra spots. |
NFC

| | | | |
| --- | --- | --- | --- |
| Team | Head Coach | Staff | Misc. |
| Arizona | Ken Whisenhunt | 17 | The Cardinals have come in short on defensive coaches, with just six slots in the mix. |
| Atlanta | Mike Smith | 20 | The offensive line and secondary get more than one coach with the Falcons, an arrangement that is becoming fairly common. |
| Carolina | John Fox | 16 | Not a lot of extras on the Panthers staff, as they double up only in the secondary. |
| Chicago | Lovie Smith | 18 | One of the more evenly divided staffs between offense and defense in the league; there are 3 former NFL head coaches on board. |
| Dallas | Wade Phillips | 15 | No doubt what the story is in Big D: Jerry has too many bills to pay on his new stadium, so the Cowboys are going to cut corners elsewhere. |
| Detroit | Jim Schwartz | 18 | Extra coaches in the secondary and on the offensive line are the only extras on this staff. |
| Green Bay | Mike McCarthy | 21 | The Packers have three coaches in strength & conditioning, or one more than most teams. This staff tilts to the offense. |
| Minnesota | Brad Childress | 26 | Yes, one wonders what all of those bodies can contribute during a give game or preparation week. |
| New Orleans | Sean Payton | 21 | The Saints have a lot of bodies, but don't seem to have a lot of fluff positions on their staff; just about all have a position to coach. |
| N.Y. Giants | Tom Coughlin | 19 | There's more on offense than defense with this staff, but the O-Line is the only spot with two coaches on Coughlin's staff. |
| Philadelphia | Andy Reid | 18 | The Eagles have one of the few special teams quality control coaches in the league working with coordinator Bobby April. |
| St. Louis | Steve Spagnuolo | 19 | A big staff is something that the Rams may have to trim in future years given the sale of the franchise. |
| San Francisco | Mike Singletary | 22 | This 49ers staff includes former player Al Harris, who has the only "pass rush specialist" title among the league coaching staffs. |
| Seattle | Pete Carroll | 22 | In his first year back in the NFL, Carroll has nine offensive coaches and a three-man crew in strength & conditioning. |
| Tampa Bay | Raheem Morris | 19 | The head coach comes from the defensive side, but has only a total of six coaches on that side of the ball. |
| Washington | Mike Shanahan | 21 | With one of the league's biggest staffs, the Redskins have five assistants who do not coach a position on either side of the ball. |
NFL PERSONNEL & FOOTBALL NEWS FILE FOR TUESDAY, JULY 20

COLLEGES – Former Chiefs RB Mike Garrett is out as athletic director at Southern Cal, replaced by former Trojans QB Pat Haden. This all stems from the NCAA sanctions that came down recently involving Reggie Bush and O.J. Mayo. The school announced it was sending back its copy of the Heisman that Bush won and they are removing all pictures and trophies involving the two players.
JURISPRUDENCE – former Raiders QB JaMarcus Russell entered a plea of not guilty on Tuesday on charges of possession of a controlled substance. Russell was arrested at his home in Mobile, Alabama on July 5th.
BEARS – signed QB Mike Teel – he maybe just a training camp arm, as he's the fourth passer on the roster. Teel was a '09 draft choice of the Seahawks who was cut back in May by Seattle. He then spent three weeks with the Patriots before he was released again. Jay Cutler, Caleb Hanie and Dan LeFevour are the other QBs on Chicago's roster.
BENGALS – signed 7th-round draft choice G Reggie Stevens to a 4-year contract, terms undisclosed – a product of Iowa State, Stevens can play center or guard and that will help his chances of sticking in Cincinnati.
BUCCANEERS – signed 2nd-round draft choice DT Brian Price to a 4-year contract, terms undisclosed – the 35th player selected in April's Draft, the UCLA product figures to get plenty of playing time in the Tampa Bay defensive front in the '10 season.
COLTS – released WR John Matthews – an undrafted rookie out of the University of San Diego who did not step forward during the OTAs.
COWBOYS – released NT Junior Aumavae and LB Donovan Woods – Aumavae was an undrafted rookie out of Minnesota State and Woods spent the last two seasons with the Steelers.
DOLPHINS – signed 3rd-round draft choice G John Jerry to a 4-year, $2,640,000 contract with a $850,000 signing bonus – big man out of Ole Miss factors in the fight for left guard playing time.
JAGUARS – signed 3rd-round draft choice DT D'Anthony Smith to a 4-year, $2,640,000 contract – the Louisiana Tech product was impressive enough in the off-season work in Jacksonville that he has a chance to play.
JETS – announced the first members of the team's Hall of Fame that will be inducted in August. They are: former coach Weeb Ewbank, QB Joe Namath, WR Don Maynard, RB Curtis Martin, OT Winston Hill and DT Joe Klecko; signed DT Martin Tevaseu – an undrafted rookie out of UNLV, he was signed first by the Browns and released last month.
PANTHERS – signed 3rd-round draft choice WR Brandon LaFell to a 4-year, $2,600,000 contract with a $819,000 signing bonus – LSU product had a disappointing senior season and fell out of first-round consideration in the '10 Draft. There's a lot of Dwayne Bowe in LaFell's game.
RAMS – signed 6th-round draft choice TE Fendi Onobun to a 4-year, $1,920,000 contract with a $129,000 signing bonus – a converted basketball player from the University of Houston, Onobun is a pass catcher at tight end not a blocker.