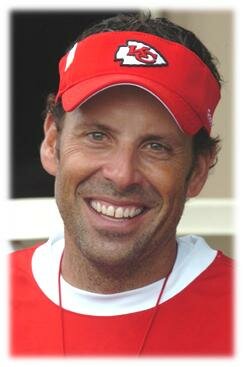 This week we are going to take a close look at the men who coach the game in the National Football League, from the head coaches to their staffs. Today, we begin with the guys on top, the head coaches.

*****

It was an interesting weekend for Chiefs head coach Todd Haley.
As he finishes up his pre-training camp vacation, Haley took part in the American Century Golf Championship that was played at Lake Tahoe on Friday, Saturday and Sunday and broadcast by NBC. He was one of four NFL head coaches taking part in the tournament, joined by Jacksonville's Jack Del Rio, Washington's Mike Shanahan and Haley's former boss out in Arizona, Ken Whisenhunt.
At the end of three rounds, Haley finished in a tie for 46th. He was behind Whisenhunt but ahead of both Del Rio and Shanahan.
Haley's participation tells us one thing – he's much more comfortable in his role as an NFL head coach who did not play the game on the high school, college or professional level.
Last year, Haley seldom referenced his career as a college golfer, or his years as a golf professional in the New York and Washington D.C. areas. He didn't really have to because others frequently brought up the subject. That group included one of his players in RB Larry Johnson. Ultimately, it was not Johnson's comments on the football resume of his head coach that got the running back fired by the Chiefs. But it didn't help.
It's a year later and Haley is comfortable enough in his position with the Chiefs that commentary on his golf game is not something that will bother him in the aftermath of his Lake Tahoe performance. Likely his final score in the celebrity field is what will bother him. But Haley is also experienced and reasonable enough in the game of golf to know that he couldn't go out and challenge for first place. That's not going to happen when a golfer can count on one hand the rounds he played in the last year.  
Haley is a workaholic, which is really just another way of saying he's an NFL head coach. When he has a minute in his life to think about things other than football, his time and thoughts are dominated by a wife and five children. Haley puts in the same type of hours that Marty Schottenheimer did, and Gunther Cunningham, Dick Vermeil and Herm Edwards. Some 10 days from now when the Chiefs caravan heads to St. Joseph and Missouri Western State University for the start of training camp, his clubs will go back in the garage and won't be touched again until probably next June.
That's life as an NFL head coach, not a professional golfer.
*****
There are 32 men holding the title of NFL head coach.
On average, they will be 48.3 years of age for the regular-season opener. They range in age from the 64-year old Tom Coughlin with the New York Giants to 34-year old Raheem Morris in Tampa Bay. There are only two coaches older than 58 (Coughlin and Wade Phillips of the Cowboys), but there are four under the age of 43 (Morris, Denver's Josh McDaniels, Mike Tomlin of Pittsburgh and Cleveland's Eric Mangini.)
The average NFL head coach at the start of the 2010 season has been on the job 3.6 years. The dean of head coaches is easily Tennessee's Jeff Fisher, who has coached in 246 regular season games, beginning back in the 1994 season when he replaced Jack Pardee as head coach of the Houston Oilers. Philadelphia's Andy Reid will start his 12th season leading the Eagles, while three-time Super Bowl winner Bill Belichick of the Patriots is coaching his 11th straight season as New England's football leader.
On the other side of that are seven head coaches who have worked only 16 games. In the last five years, 24 of the current head coaches were named to their positions; that's 75 percent of the league.
Among the 32 head coaches, 24 are still holding their first NFL head coaching job. The other eight have had two or more jobs. Leading the category is Phillips; the Cowboys are the fifth team where he has served as head coach – New Orleans (interim), Denver, Buffalo, Atlanta (interim) and Dallas. Guys like Washington's Mike Shanahan (L.A. Raiders and Denver), Seattle's Pete Carroll (New England and the N.Y. Jets) and Norv Turner of San Diego (Washington and Oakland) are on their third NFL head coaching jobs.
On average, the current group of NFL head coaches began their football coaching career in 1981, 30 seasons ago. The head coaches with the most coaching experience are Coughlin and Phillips, who began their careers in the 1969 college season and have worked in 41 of the last 42 seasons. The man with the least coaching experience is San Francisco's Mike Singletary; the Hall of Fame player only began coaching in 2003.
The group of 32 has an average coaching career of 26.4 years, with an average of 16.2 seasons in the NFL. On average, those coaches have coached in an average of 82.6 regular season games.
Only one of the 32 worked coaching football at the high school level: Chicago's Lovie Smith. There are 25 of 32 that coached at the college level and six who have only coached in the NFL (Haley, Del Rio, Belichick, Singletary, Fisher and Mangini.)
Not only did Haley not coach in the college ranks, but he did not play there either – he's the only one of the 32 who did not play college football, whether at the major college level or Division III. Only eight of the 32 played football on the professional level; five played in the NFL (Fisher, Singletary, Whisenhunt, Del Rio and Houston's Gary Kubiak) while two were in the league as replacement players in the 1987 NFL strike ( Sean Payton of New Orleans and Oakland's Tom Cable) and one played in Canada (Atlanta's Mike Smith.)
The current group of head coaches is tilted slightly towards defense, with half of the 32 coaches coming from that side of the football. There are 15 offensive experienced head coaches and one from special teams (Baltimore's John Harbaugh.)
Here are the 32 NFL head coaches listed first by tenure, and then by career regular season victories.
NFL HEAD COACHING TENURES

1994 – Jeff Fisher/Tennessee*
1999 – Andy Reid/Philadelphia
2000 – Bill Belichick/New England
2002 – John Fox/Carolina
2003 – Marvin Lewis/Cincinnati, Jack Del Rio/Jacksonville
2004 – Lovie Smith/Chicago, Tom Coughlin/New York Giants
2006 – Gary Kubiak/Houston, Mike McCarthy/Green Bay, Brad Childress/Minnesota, Sean Payton/New Orleans
2007 – Mike Tomlin/Pittsburgh, Norv Turner/San Diego, Ken Whisenhunt/Arizona, Wade Phillips/Dallas,
2008 – John Harbaugh/Baltimore, Tony Sparano/Miami, Tom Cable/Oakland **, Mike Smith/Atlanta, Mike Singletary/San Francisco***
2009 –

Todd Haley/CHIEFS

, Jim Caldwell/Indianapolis, Eric Mangini/Cleveland, Josh McDaniels/Denver, Rex Ryan/New York Jets, Jim Schwartz/Detroit, Steve Spagnuolo/St. Louis, Raheem Morris/Tampa Bay,
2010 – Pete Carroll/Seattle, Chan Gailey/Buffalo, Mike Shanahan/Washington.
*- named head coach of Houston Oilers 10 games into '94 season; **- named head coach of the Raiders before the fifth game of the 2008 season; ***- named head coach of the 49ers before the ninth game of the 2008 season.

CAREER REGULAR SEASON VICTORIES

148 – Bill Belichick/Browns-Patriots … Super Bowl titles (3).
146 – Mike Shanahan/Raiders-Broncos-Redskins … Super Bowl titles (2).
136 – Jeff Fisher/Titans.
123 – Tom Coughlin/Jaguars-Giants … Super Bowl title.
108 – Andy Reid/Eagles.
90 – Norv Turner/Redskins-Raiders-Chargers.
81 – Wade Phillips/Broncos-Saints-Bills-Falcons-Cowboys.
71 – John Fox/Panthers.
57 – Jack Del Rio/Jaguars.
56 – Marvin Lewis/Bengals.
52 – Lovie Smith/Bears.
38 – Pete Carroll/Patriots-Jets-Seahawks; Sean Payton/Saints … Super Bowl title; Mike McCarthy/Packers.
36 – Brad Childress/Vikings.
31 – Mike Tomlin/Steelers … Super Bowl title; Gary Kubiak/Texans.
28 – Eric Mangini/Jets-Browns.
27 – Ken Whisenhunt/Cardinals.
20 – John Harbaugh/Ravens; Mike Smith/Falcons.
18 – Tony Sparano/Dolphins; Chan Gailey/Cowboys-Bills.
14 – Jim Caldwell/Colts.
13 – Mike Singletary/49ers.
9 – Tom Cable/Raiders; Rex Ryan/Jets.
8 – Josh McDaniels/Broncos.

4 – Todd Haley/Chiefs

.
3 – Raheem Morris/Buccaneers.
2 – Jim Schwartz/Lions.
1 – Steve Spagnuolo/Rams.
NFL PERSONNEL MOVES & NEWS FROM JULY 16-17-18

COLLEGES – South Carolina TE Weslye Saunders has been questioned by NCAA investigators due to his association with North Carolina DT Marvin Austin. It is Austin and his actions that appear to be at the center of the NCAA investigation into the Tar Heels program.
BENGALS – signed 4th-round draft choice DT Geno Atkins to a 4-year, $2,262,000 contract with a $472,000 signing bonus – there were few questions about his athletic ability, but plenty of questions about his motivation coming out of
CHIEFS – agreed to terms with 5th-round draft choice OLB Cameron Sheffield to a 4-year, $1,986,000 contract with $194,000 in guaranteed money – Sheffield needs to step forward in training camp if he plans to play much in the '10 season beyond special teams. The Troy product was less than sensational in the off-season work.
FALCONS – signed 5th-round draft choice WR Kerry Meier to a 4-year, $1,947,000 contract with a $157,000 signing bonus – opportunity exists for the K-State product to contribute as a rookie on offense and special teams.
PACKERS – signed 3rd-round draft choice SS Morgan Burnett to a 4-year contract – could be the starting strong safety for the Green Bay defense based on his reps during the team's OTAs; NFL suspended DE Johnny Jolly indefinitely, with a minimum suspension through the 2010 NFL season – Jolly is facing charges in Texas of being an active member of a drug ring, plus he's violated other portions of the NFL rules on drugs. He can apply for re-instatement after next February's Super Bowl; the Packers inducted three new members of the team's Hall of Fame on Saturday in Green Bay with TE Mark Chmura, TE Marv Fleming and OT Greg Koch joining the group.
SEAHAWKS – NFL suspended OLB Leroy Hill for one game for violating the league's substance abuse rules – he's had several run ins with the law in the last 12 months, including a charge that he assault his girlfriend. Apparently, this suspension has to do only with his guilty plea in April to marijuana possession.