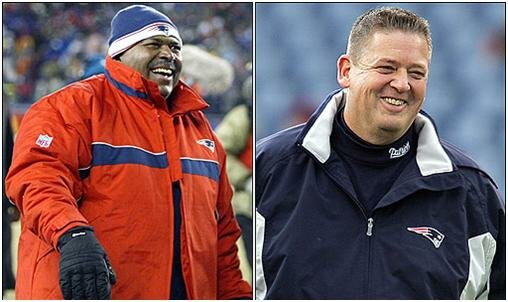 There's one thing for certain that can be said for the coordinators that Todd Haley has collected for his 2010 Chiefs coaching staff – they've got plenty of rings.
The trio of Charlie Weis, Romeo Crennel and Steve Hoffman has coached in 13 Super Bowls and walked away with 12 championships. No other staff in the league comes close to matching those dozen titles among their coordinators.
What does that mean for the Chiefs? They have coaching staff leaders who have been there, done that at the highest level of the game. Discussion can be had on whether Weis and Crennel are products of the successful system of Bill Belichick. It's the old chicken or egg question; were the Patriots so good because Belichick was the key decision maker, or did New England win because it had talented coaches on the staff like Weis and Crennel.
Last season, Hoffman led the most consistent and successful facet of the Chiefs game during the 2009 season. The kicking game had very few mistakes and developed a top kicking prospect in Ryan Succop.
There's no doubt the Chiefs start the 2010 season next week with a significantly improved coaching staff, especially on the coordinator-level. Without a doubt, both Haley and GM Scott Pioli are hanging their football hats on the additions of Weis and Crennel making a big difference on their roster.
On offense, Weis is expected to help in pushing the development of QB Matt Cassel, the player that Pioli/Haley has heavily invested in during their 18 months in charge. On defense, the Chiefs did little to improve the talent level of their front seven and are counting on Crennel to be the man who makes their defense against the run better, and makes their pass rush better and helps the defense create turnovers and field position.
Whether Weis and Crennel can live up to what is expected of them will depend on the players they can put on the field. With his skills, a coach can make an average player good, and a good player great. But he can't make an average player great. The Chiefs roster is heavily populated with average players.
*****

Being a head coach in the NFL is one of the most unstable jobs in sports. Turnover at the top is common place; nearly half of the 32 jobs involved changes in the last three seasons.
Same goes for coordinators. Most years, there's even more turnover among the coordinators. There are just three new head coaches from the end of last season. But there are eight new offensive coordinators, six defensive coordinators in jobs for the first year and five new special teams coordinators.
Other than the three teams with new head coaches – Buffalo, Seattle and Washington – the Chiefs were the only other team that changed two coordinators.
On offense, the new guys in charge are Weis, Hue Jackson (Oakland), Curtis Modkins (Buffalo), Rick Dennison (Houston), Clyde Christensen (Indianapolis), Mike Martz (Chicago), Jeremy Bates (Seattle) and Kyle Shanahan (Washington). Now, Modkins, Dennison and Shanahan are all guys that won't call the plays in weekend action, as they work for head coaches who will be their own game planners. That would be Chan Gailey in Buffalo, Gary Kubiak in Houston and Mike Shanahan in Washington. Yes, if you did not already know, Kyle Shanahan is Mike Shanahan's son.
Jackson joins the Raiders after leaving the Ravens where he was the quarterbacks coach. Martz spent the '09 season out of coaching, but now has the keys to the Bears offense and the development of QB Jay Cutler. Christensen steps in for Tom Moore, who remains on the Indy coaching staff as senior consultant.
New defensive coordinators this year are Crennel, George Edwards (Buffalo), Don Martindale (Denver), Mike Nolan (Miami), Perry Fewell (N.Y. Giants) and Jim Haslett (Washington). Martindale replaces Nolan with the Broncos. Fewell left the Bills with the change over in head coaches and landed on the other side of the state of New York. Haslett was coaching last year in the United Football League.
In the kicking game, the new leaders are Bruce DeHaven (Buffalo), Al Everest (Pittsburgh), Bobby April (Philadelphia), Kurt Schottenheimer (San Francisco) and Brian Schneider (Seattle).
Here's the breakdown of this year's coordinators:
AFC

 Team

Offensive/


Coordinator

Defensive/


Coordinator

Kicking/


Coordinator

Super Bowls/


Titles

Baltimore

Cam Cameron

Greg Mattison

Jerry Rosburg

0/0

Buffalo

Curtis Modkins

George Edwards

Bruce DeHaven

4/0

Cincinnati

Bob Bratkowski

Mike Zimmer

Darrin Simmons

1/1

Cleveland

Brian Daboll

Rob Ryan

Brad Seely

8/8

Denver

Mike McCoy

Don Martindale

Mike Priefer

1/0

Houston

Rick Dennison

Frank Bush

Joe Marciano

4/4

Indianapolis

Clyde Christensen

Larry Coyer

Ray Rychleski

4/1

Jacksonville

Dirk Koetter

Mel Tucker

Russ Purnell

2/2

CHIEFS

Charlie Weis

Romeo Crennel

Steve Hoffman

13/12

Miami

Dan Henning

Mike Nolan

John Bonamego

5/2

New England

*

*

Scott O'Brien

0/0

N.Y. Jets

Brian Schottenheimer

Mike Pettine

Mike Westhoff

0/0

Oakland

Hue Jackson

John Marshall

John Fassel

3/2

Pittsburgh

Bruce Arians

Dick LeBeau

Al Everest

5/4

San Diego

Clarence Shelmon

Ron Rivera

Steve Crosby

1/0

Tennessee

Mike Heimerdinger

Chuck Cecil

Alan Lowry

1/1
NFC

 Team

Offensive/


Coordinator

Defensive/


Coordinator

Kicking/


Coordinator

Super Bowls/


Titles

Arizona

Russ Grimm &

Mike Miller

Bill Davis

Kevin Spencer

3/0

Atlanta

Mike Mularkey

Brian Van Gorder

Keith Armstrong

0/0

Carolina

Jeff Davidson

Ron Meeks

Jeff Rodgers

2/1

Chicago

Mike Martz

Rod Marinelli

Dave Toub

3/2

Dallas

Jason Garrett

**

Joe DeCamillis

1/0

Detroit

Scott Linehan

G. Cunningham

Danny Crossman

1/0

Green Bay

Joe Philbin

Dom Capers

Shawn Slocum

0/0

Minnesota

Darrell Bevell

Leslie Frazier

Brian Murphy

0/0

New Orleans

Pete Carmichael

Greg Williams

Greg McMahon

3/3

N.Y. Giants

Kevin Gillbride

Perry Fewell

Tom Quinn

2/2

Philadelphia

Marty Mornhinweg

Sean McDermott

Bobby April

4/2

St. Louis

Pat Shurmur

Ken Flajole

Tom McMahon

2/0

San Francisco

Jimmy Raye

Greg Manusky

Kurt Schottenheimer

0/0

Seattle

Jeremy Bates

Gus Bradley

Brian Schneider

0/0

Tampa Bay

Greg Olson

***

Richard Bisaccia

0/0

Washington

Kyle Shanahan

Jim Haslett

Danny Smith

1/0
                                                                   *-Bill Belichick has not designated anyone as offensive or defensive leader. **-Wade Phillips serves as his
                                                                     own defensive coordinator. ***-Raheem Morris serves as his own defensive coordinator.
A few other items involving the coordinators:
Indianapolis has the team of coordinators with the most overall coaching experience with 109 years of service. The Chiefs trio is fourth with 97 years in coaching.
Pittsburgh has the coordinators with the most NFL coaching experience with a combined 70 years. That's due to Dick LeBeau with 38 years of pro coaching. Weis/Crennel/Hoffman have 66 years in the NFL.
The coordinating group with the least amount of coaching experience is Seattle with a combined 47 years in the game. The Seahawks and Tampa Bay coordinators have the fewest number of seasons in NFL coaching with each one having a combined 17 years.
There are 14 coordinators this year who are 60 years or older. There are 14 coordinators who are in the 30s. The oldest coordinator is LeBeau at the age of 73 for the coming season. The youngest is Kyle Shanahan who is 30 years old. LeBeau had been coaching for seven years after his playing career ended when the younger Shanahan was born.
EDDIE KENNISON GOES OUT A MEMBER OF THE CHIEFS

In a nice gesture by the Chiefs organization they allowed former WR Eddie Kennison to sign one final contract with the team on Monday. Then Kennison officially announced his retirement, officially ending his career two years after he played in his last game.
"I am honored and humbled to officially conclude my NFL player career as a member of the Kansas City Chiefs," Kennison said in a statement released by the Chiefs. "I feel very blessed to have been extended the opportunity to retire as a member of the Chiefs."
Kennison took part in 91 games in 2001-07 after joining the Chiefs at the end of what became a 13-year career. When he arrived after a controversial exit in Denver, Kennison was an underachiever. But he found a football home under head coach Dick Vermeil and he immediately began producing. He finished his Chiefs career with 321 catches for 5,230 yards and 25 TDs. He had 17 games when he caught passes for 100 yards or more.
NFL PERSONNEL & NEWS FILE FOR MONDAY, JULY 19

COLLEGES – more players have been caught up in the NCAA investigation of the football program at the University of North Carolina. DT Marvin Austin was the first name mentioned, and now investigators have interviewed WR Greg Little, S Deunta Williams, CB Kendric Burney, LB Bruce Carter and LB Quan Sturdivant. The situation involves dealing with agents … NCAA investigators have also been looking into the Florida program and potential violations involving former OL Maurkice Pouncey, the Steelers 1st-round draft choice. They are looking into whether an agent paid Pouncey $100,000 at the end of the '09 Gators season. Florida reported information about the alleged violation.
JURISPRUDENCE – Dolphins DE Philip Merling faces an aggravated battery charge involving an incident in May when he allegedly beat up his pregnant girlfriend, striking her in the face five times.
BENGALS – released G Jason Shirley – he tore an Achilles back in April while playing basketball – if he goes unclaimed on the waiver wire, Shirley will be moved to Cincinnati's non-football injury list and will be done for the season.
BILLS – signed 3rd-round draft choice DE Alex Carrington to a 4-year, – a product of Arkansas State, he had 21.5 quarterback sacks during his career, including nine last year.
BROWNS – signed TE Joel Gamble – he spent last year on the Eagles practices squad and has several years of experience with indoor football.
COWBOYS – signed 4th-round draft choice CB Akwasi Owusu-Ansah to a 4-year contract – out of Indiana University of Pennsylvania, Owusu-Ansah is physically gifted on the corner and also does a nice job on returns, where he scored nine during his college career.
RAIDERS – signed 4th-round draft choice WR Jacoby Ford to a 4-year, $2,300,000 contract with a $510,000 signing bonus – the Clemson product has a chance to participate quickly for Oakland thanks to his speed and ability as a returner.
SAINTS – signed 7th-round draft choice QB Sean Canfield to a 4-year contract – Canfield was accurate in throwing the ball for Oregon, completing 64 percent of his passes.
TITANS – reached a restructured contract for 2010 with RB Chris Johnson. The club moved some escalator payments that were due in 2011 into this season, pushing Johnson's pay for the '10 season from $550,000 to over $2 million.