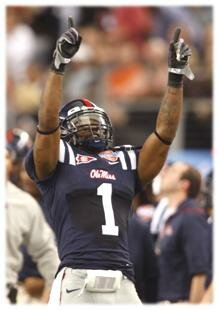 Over this past weekend all of the NFL rookies landed at a resort in Carlsbad, California for the league's annual Rookie Symposium. It's a three-day session designed to make for a smoother transition to playing professional football for the guys just coming out of college.
There will be a lot of talk about dealing with the ups and downs of the first year. There will be advice and methods given them to help with the pressure they'll feel from family, teammates, coaches, fans, groupies and even the media.
Fifth-round draft choice Kendrick Lewis of the Chiefs will be in the audience. He'll likely be paying attention to every detail of every speaker, taking copious notes and pondering all the information. That's the type of person he's shown himself to be around the Chiefs since they selected in the NFL Draft.
Lewis could just as easily be at the microphone, telling his fellow rookies how to handle a difficult situation. Lewis celebrated his 22nd birthday about 10 days ago and he's not yet played in an NFL game or even taken part in a pro training camp. But he has dealt with upheaval. He saw his life and that of his family turned upside down in such a profound manner that anything the speakers cover in three days will seem miniscule in comparison.
Five years ago this August, he was preparing for the season opening game of his senior year at O. Perry Walker High School in the Algiers neighborhood of New Orleans. Lewis was a highly recruited wide receiver who was courted by most of the teams in the Southeastern Conference, everybody from South Carolina, to Tennessee, to Georgia and Mississippi.
Within 48 hours, his life would be changed forever.
 "Five years already," Lewis said last week as he continued to go through strength and conditioning workouts at the Chiefs facility. "Sometimes it seems like yesterday. Sometimes it seems like it happened a long time ago. There are some things that are still fresh in my mind. It messed up my life and my city pretty bad."
The 2005 season opener for the O.P. Walker High Chargers was just around the corner.
"It was pretty outside, the sun was shining and it was a beautiful Saturday," Lewis said. "I guess it was the calm before the storm I guess you could say."
(On the right, that's Kendrick Lewis tackling Heisman Trophy winner RB Mark Ingram of the national champion Alabama Crimson Tide.)

Lewis and everyone else in the city watched television reports of a Hurricane Katrina churning in the Gulf of Mexico that was about to hit landfall in Louisiana. They had been through these threats many times before. "We grabbed a couple days worth of clothes and put them in bags," Lewis recalled. "We'd done it before, evacuate, then turn around and go back in a few days. This didn't seem any different."
The next day Lewis was in the car with his uncle Sheldon Briscoe and evacuating New Orleans as fast as they could under mandatory evacuation orders from the city and state of Louisiana. The biggest problem was they weren't moving very fast because about a half-million other people were also trying to escape the storm. "We started driving to Houston," Lewis said. "It's about a five or six-hour drive normally. But there were so many people trying to get out, it took us 14-15 hours."
Behind them, Katrina was battering New Orleans with wind, rain and storm surges in the canals that crisscross the entire area. Lewis watched the television reports of rising waters and destruction and his heart sank.
"I could not believe what I was seeing," he said. "There were pictures of streets and places that I knew and I really couldn't recognize them. Seeing people on top of houses and boats going through neighborhoods and finding people, it just didn't seem like it was real."
What was real was the fate of the rest of his family. Lewis kept dialing the phone, trying to find his mother, his grandmother, cousins and other members of his family.
"I was watching TV in Houston and I saw my grandmother and my cousins on television getting on a Greyhound bus and being evacuated," Lewis said. "That's how I knew they were OK. The next day they were in Houston with us. That was a big relief for me."
When Katrina was finally blown out, and the destruction became known, Lewis learned that all he had left in the world were the possession he flung into two bags for evacuation. His mother's home in New Orleans was destroyed, so was his grandmother's and his uncle's house in Algiers where he was living was rubble.
His uncle was Lewis' biggest fan and was intent that the disaster didn't destroy his nephew's chances at a scholarship and a future. The college football world knew of the youngster at O.P. Walker High, where head coach Terry Wilson was turning out some talented players, like future NFL draft choices like Buster Davis of the Chargers and Mike Wallace and Keenan Lewis of the Steelers. In fact, Lewis had already made a verbal commitment to the University of Mississippi, where he was being recruited by Ed Orgeron.
(On the left, that's Kendrick Lewis with his Gainesville teammates.)

They found housing after about a week in Baytown, Texas and at Lee High School, Lewis began the process of enrolling. But his mother Clarrissa Lewis had other ideas. She had gone east, escaping to Georgia where she had family and friends. When his mother made contact, Kendrick headed east to Georgia.
Realizing she needed to find a new home, Clarrissa Lewis began calling cities, counties, townships all over Georgia. The housing authority in Gainesville, about an hour northeast of Atlanta, responded and provided her with a home. They didn't realize they were also getting one heck of a football player.
Lewis showed up at Gainesville High School one day, met with the football coach the next, practiced for two days and then went out and caught six passes for 58 yards against cross-town rival North Hall High School in a big victory. Playing his final high school season for the Red Elephants, he caught 41 passes for 740 yards and nine touchdown passes. Gainesville finished 11-2 and advanced to the third round of the Georgia state playoffs. He was named to the first-team all-state squad as a defensive back by Associated Press.
He moved on to Ole Miss, where he entered school as a receiver, playing six games and catching five passes as a freshman in 2006. By the next year, he was at free safety and for the next three seasons he was a fixture in the secondary, playing in 38 games and finishing with 226 tackles, six interceptions, three sacks, 10 tackles for loss, a forced fumble, a fumble recovery and a pair of blocked kicks.
A poor time in the 40-yard dash at the NFL Scouting Combine dropped Lewis on the draft boards of several teams. The Chiefs however, had a different time, a faster one and were impressed by what they saw from him on tape. They grabbed him in the fifth round and he quickly caught on with the Romeo Crennel defense. He may get the opportunity to not only play, but start next to fellow draft choice Eric Berry. Or, he may find his lack of speed and size (he's 5-11 5/8, 198 pounds) makes an NFL career an unreachable dream.
"If I learned anything by what happened it's not to take anything for granted," Lewis said. "I've got to approach things every day like I'm starting over. I've done that before and it worked out. I'm not going to change now."
NFL PERSONNEL & NEWS FILE/JUNE 25-26-27

BENGALS – signed 6th-round draft choice WR Dezmon Briscoe to a 4-year, $1,892,000 contract with a $102,500 signing bonus – KU product missed a lot of the off-season work due to a groin injury. Cincinnati has a deep depth chart at receiver, so he may struggle to make the 53-man roster.
BILLS – released S Brett Johnson – he was an undrafted rookie out of Cal-Berkley.
DOLPHINS – signed 5th-round draft choice CB Nolan Carroll to a 4-year, $1,891,000 contract with a $192,000 signing bonus – coming out of Maryland, Carroll will need a strong camp to survive on the active roster; signed 7th-round draft choice ILB Austin Spitler to a 4-year, $1,826,000 contract with a $35,603 signing bonus – an Ohio State product, he will struggle to make the 53-man roster.
EAGLES – Controversy continues to dog QB Michael Vick, as a former associate of his in the dog fighting case that sent him to prison was shot outside a club in Virginia Beach, Virginia. Vick's birthday party was going on inside the club and he was not there at the time of the shooting. The victim Quanis Phillips spent 21 months in prison for taking part in the dog fighting case. Apparently earlier in the night, Vick and Phillips had a confrontation. Speaking at his football camp at Hampton University over the weekend, Vick said: "What what you do. Pick and choose your friends carefully. You just can't put yourself in vulnerable situations."
GIANTS – S Chad Jones continued to recuperate in a New Orleans hospital after a Friday night accident and then Saturday surgery on his broken left leg and ankle. Concerns about nerve damage and blood flow had doctors considering amputation, but that was not done and appears to no longer be a potential action. His father Al Jones told the Associated Press: "The surgery was successful. The rehab is going to take awhile."
LIONS – team president Tom Lewand was arrested and charged with driving under the influence on Friday in Roscommon County, Michigan. He apologized on Saturday stating that he's "a person in active recovery" indicating he's already being treated for abuse of alcohol; signed 4th-round draft choice OT Jason Fox to a 3-year contract with a $330,907 signing bonus – the big man out of the University of Miami should challenge soon for playing time; released WR Marko Mitchell – a '09 Redskins draft choice who has size/speed but has now been let go by a pair of teams this spring.
RAMS – were busy over the weekend signing 2010 Draft choices, a total of four: 3rd-round CB Jerome Murphy, 5th-round TE Michael Hoomanawanui, 7th-round DE George Selvie and 7th-round LB Josh Hull – Murphy is the highest pick from the '10 Draft signed to date, with a 4-year, $2,727,000 contract with a $937,739 signing bonus; Selvie signed a 4-year, $1,846,000 contract with a $56,000 signing bonus; Hull's deal was a 4-year, $1,824,000 with a $35,000 signing bonus
SAINTS – signed WR Joe Horn to a one-day contract so he could retire as a member of the team. Horn entered the NFL as a 5th-round draft choice of the Chiefs in 1996 and played in red and gold until 2000, when he signed with New Orleans as an unrestricted free agent. In four seasons in Kansas City, horn caught 53 passes for 879 yards and 7 TDs.
SEAHAWKS – released S Kevin Ellison who failed his physical after joining Seattle. When he was released by the Chargers a week ago there was no mention of injury and no settlement with Ellison.