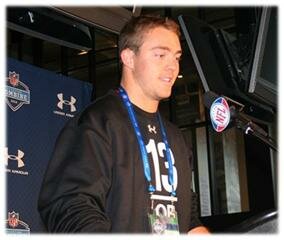 From Indianapolis, Indiana

As all the attention has fallen on Sam Bradford and Tim Tebow at the NFL Combine, Colt McCoy has been the forgotten quarterback.
That's hard to believe given his career at Texas and the fact that while Bradford was rehabbing and Tebow was home watching, it was McCoy that started in the BCS National Championship Game.
One of McCoy's problems as far as the NFL is concerned is the fact he did not finish that start against Alabama, going out with a serious shoulder injury. He says he's completely recovered, but like all the top QBs at the Combine, McCoy won't throw until the Texas pro day in Austin later this month.
There's no doubt in his mind that he can play and be successful in the NFL. Here's part of what he told the media over the weekend at Lucas Oil Stadium.
Podcast: Play in new window | Download