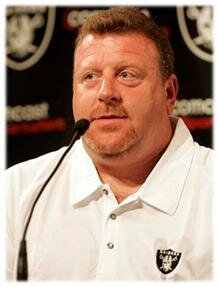 From Indianapolis, Indiana

It was a flip of the coin back in early January whether Tom Cable would be the head coach of the Oakland Raiders for the 2010 season.
And there was real debate as to what would be best for him: to keep the job as Raiders coach or get fired and escape the craziness that always seems to dominate the scene around Al Davis' team. But Cable is still there and preparing for the start of free agency and the NFL Draft.
He spoke at the NFL Combine and covered a lot of ground in a short period of time, as he talked about the Raiders quarterback position, JaMarcus Russell, Richard Seymour, Javon Walker, possible changes to the NFL overtime rules and his own job status.
Enjoy the listen.
Podcast: Play in new window | Download