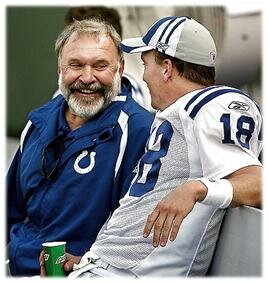 From Ft. Lauderdale, Florida

"Gretz, let me tell you something about the offensive line," barked Howard Mudd during a moment that seems like it was decades ago, but came at some point during his four seasons as the Chiefs offensive line coach (1989-92.)
"The offensive line, they treat us like mushrooms. They keep us in the dark and cover us with sh#@!"

On Tuesday inside Sun Financial Stadium where the NFL was holding its annual Super Bowl Media Day, Mudd (right, with Peyton Manning) sat there with his arms crossed across his chest, his beard now more white than dark, wearing an expression that was equal parts smirk and scowl. He looked for all the world like the sage of sages, granting a few tidbits of time and questions for the scribblers and yakkers.
Howard Mudd is one of the best offensive line coaches who ever worked the game. He's also one of the great grumps in pro football history. But there was Mudd, at media day with his own camera around his neck and the media lining up to speak with him. And he talked, he answered questions, he blended in with all the other folks in the Indianapolis traveling party that were dealing with the media.
This, from one of the great grumps in pro football history, a guy that over his coaching career generally looked at media interviews in the same way he would root canal.
"I've mellowed," he said with a smile.
Mudd is getting a lot of attention this week because Super Bowl XLIV will be his final game in the NFL. He's finally decided to put a cap on his pro football career that began in 1964 when he was a ninth-round selection of the San Francisco 49ers. Over his seven-year career, he went to the Pro Bowl three times and was named to the NFL's All-Decade team for the 1960s, playing with the Niners and Chicago Bears.
"I've seen a few clips; they were black and white," said Colts guard and K-State product Ryan Lilja. "He ran around and it's funny to see him do the same thing that he teaches us that not a lot of people do. He was a gritty player, man."
Since that career ended, Mudd has missed just three years in the league. There was the 1971 season where a knee injury ended his playing career and he could not get on the field. And, there were the 1972-73 seasons, when he was an assistant coach at the University of California, on a coaching staff that also featured names like Mike White, Paul Hackett and Al Saunders, with a young freshman defensive back named Herm Edwards. 
By 1974, he was back in the NFL as an assistant coach with the San Diego Chargers, starting a coaching career that here in Florida is reaching the end of its 36th season. Nobody currently coaching in the league can match that tenure.
And what a way to go out, coaching in the title game and having a shot at one more ring to take into the rest of his life.
"If there is a higher power in my life, then this is part of that," Mudd said. "Just the Super Bowl in itself is such a magnificent thing. I sat in the stands and watched the first Super Bowl. It was unbelievable. I had gone to the Pro Bowl, so they had all the Pro Bowl players all sitting at the 50-yard line in the first one. I looked down there and went, 'Jesus Christ, look at all these people I am sitting with.' The magnitude of that part was there and then the Super Bowl. The buildup of the first one and now each one is such a magnificent thing.
"Then to have that be your last game is pretty cool."
That almost did not happen for Mudd. In the spring when the NFL announced new rules involving its pension, Mudd and coaching counterpart Tom Moore balked at the effect of the new mandates. They retired because of the situation, taking their pension payouts. Listen, when you've spent 36 years in the NFL as a coach and seven as a player, that's a pretty healthy pension to have.
But the Colts organization fought back and found a way that Mudd and Moore could collect their pensions, and still coaching with the team. And, here they are in the Super Bowl again, for the second time in four years.
It hasn't turned into "Win One For Howard", but …
"Truth be told, it's hard not to try and think about it with how much attention he has gotten over the past week or two," said Indy center Jeff Saturday. "We've been busting him up about it. He's kind of an under the radar guy but here lately everybody is talking about it and we talked about it all year, about him being gone and this being his last year.
"You can't say enough about what kind of coach he is. He's a fantastic coach. He's kept us as one of the top groups every year that he has coached us. He demands excellence and efficiency on the offensive line. There is no give in him and I have a lot of respect for that.
"He calls everybody to play to their performance that he wants them to play at and he won't accept anything less than that and that's made us the O-line we are."
Mudd is the only offensive line coach that Saturday has had during 11 seasons with the Colts. Undrafted out of the University of North Carolina in 1998, he signed with the Baltimore Ravens. But before training camp started that year, he was released and joined Indianapolis in January '99.
Since that moment, Saturday has heard Mudd's gravelly bark in his ear.
"Obviously, I have been with him forever," Saturday said. "I think I have been the player with him the longest in his career. I call him 'Old Crazy' because he can be that way. When he's on the sidelines, he's going through his hair, he's throwing his hat down, he's doing all kinds of crazy stuff. But you know there's a method to his madness. He truly knows what he's doing as an offense line coach. He's been an All-Decade player, Pro Bowl player; this guy has been in the trenches. He knows what it's about so I think that lends a little bit of credibility to his coaching style as well."
There are more than a few offensive linemen with the Colts who might call Saturday "New Crazy" because sometimes his personality can take on the elements of the line coach, almost an extension of Mudd, a playing example of the approach that has been taught for the last 36 years.
"I think Jeff is an extension of himself," Mudd said of his center. "Jeff is a real smart, resourceful guy. He will make adjustments during the course of a game. I think maybe one of the best compliments that he has ever had is when he's called a technician. There was some award that he got this year that was like an All-Technique team. My gosh, you couldn't have a better compliment as a player. He is not a big man. He is going to get done what he is supposed to get done.
"Now is that an extension? Maybe. He's an extension of our room. That is the environment we create."
Respect around the league for Mudd is universal, not only for his longevity, but his ability to take a group of offensive linemen each year and mold them into a cohesive unit. He's never had groups gifted with a lot of high draft choices. This year's Colts starting lineup features three players – Saturday, Lilja and G Kyle DeVar – were not drafted in the league. His starting tackles are a fourth-rounder in Ryan Diem and fifth-round pick Charlie Johnson at the other spot.
And understand this: in his time with the Colts, they've used a premium draft choice – first through third rounds – on offensive linemen just twice: T Tony Ugoh in 2007 and G Mike Pollack in 2008.
"Players have to play better than you can coach them," Mudd said. "I can tell them how to do the job. They have to reprocess that and make it better and they do that and I respect the intelligence of the players that I coach, their resourcefulness, their heart. They fight."
Just about everybody in the NFL considers Mudd among the greatest that's ever held the job.
"He's one of the all-time bests at that position," said Saints defensive coordinator Greg Williams. "I can remember going to a high school clinic back when I was a high school coach in Kansas City and he was the offensive line coach for Marty Schottenheimer. It was the first time I ever heard anybody talk about the inside and the outside zone. It was kind of a unique thing on how he was teaching the footwork and the whole zone blocking concept.
"I never forgot that. In fact I just ran across those notes in my file this week. Every single time I play the Colts or wherever he's at, I've always pulled those notes out. I was speaking that day and he was speaking that day. I was a high school coach, he was a pro coach. Those notes still hold true."
Williams has promised to send all sorts of pressure at Manning, trying to hit him and rattle the quarterback.
Mudd just smiled when asked about Williams and his words.
"The game is played on Sunday," Mudd said.
Said Diem: "He's seen just about every different kind of blitz and defense you can throw at a guy. He knows how to handle those and how to pick them up correctly and get the running game pointed in the right direction."
The four years that Mudd spent with the Chiefs on Schottenheimer's staff were good times for the team and Mudd. He got to work with veteran LT John Alt, and then welcomed a couple of young blockers into their NFL careers in C Tim Grunhard and LG Dave Szott.
Mudd also met Shirley Ball, who worked in the Chiefs personnel department. She's now Shirley Mudd and when this last game is done she and Howard will ride off into the sunset – maybe even on his motorcycle – headed for the home they've built in Arizona and catching up with the grandchildren in Seattle.
"I'd like to walk away when I feel like I've got something left and still not have given everything I've got," Mudd said. "I don't want where they usher you out the door and say, 'it's about time you did something else.' Maybe I beat them just by a year or two. Are there more things that I'd like to do? Sure.
"My wife and I talked. We've had a really good run; football's been good to both of us. We can walk away from it knowing it's been a good life. In Seattle we have all the grandchildren."
Asked what he will be doing at this time next year, Mudd smiled and said, "Sitting and looking at mountains."
SUPER BOWL NEWS & NOTES & ALL SORTS OF STUFF

That's former Chiefs LB Scott Fujita above, dealing with some of the media horde on Tuesday at the NFL's annual Super Bowl Media Day. It's a sideshow that has grown over the years and produces little in the way of news … easily the most sought after story was Indianapolis DE Dwight Freeney and his bum ankle. The injury has been reported as torn ligaments in the ankle. "Hopefully, towards the end of the week it starts to get better," Freeney said. "The decision will come later on in the week. It's kind of early now." … It was 15 minutes into his time with the media on Tuesday before Saints RB Reggie Bush got his first quarterback about girlfriend Kim Kardashian. "Any truth to the rumors that you're going to marry Kim if you win the Super Bowl?" he was asked. Bush replied: "No, there's no truth to that … I think it would be backwards if I were getting the ring from her. I'd rather get a ring from Roger Goodell."
Scott Green has been named the head referee for Sunday's game. He previously worked a pair of Super Bowls as a back judge … speaking of the zebras, reportedly the NFL has hired Carl Johnson to be the leader of its officiating, replacing the retiring Mike Pereira. Johnson has worked as a line judge
SIGNINGS, HIRINGS, FIRINGS & OTHER NEWS AROUND THE NFL

BEARS – named Mike DeBord (Seahawks) tight ends coach.
COWBOYS – FB Deon Anderson was arrested on warrants stemming from a confrontation at a Dallas restaurant.
EAGLES – named Dick Jauron secondary coach.
JETS – fined head coach Rex Ryan $50,000 for an obscene gesture he made in Miami over last weekend at an MMA event. Ryan flipped the bird to several fans who were heckling him; one of those fans captured the move on his cell phone camera.
REDSKINS – named Keenan McCardell wide receivers coach.
TEXANS – announced a new three-year contract extension for head coach Gary Kubiak.
FROM THE PAGES OF SUPER BOWL HISTORY

On February 3, 2002, the New England Patriots beat the St. Louis Rams 20-17 in Super Bowl XXXVI at the Superdome in New Orleans. It was one of the most memorable championship games in pro football history, not only because of the action on the field, but the pomp and circumstance surrounding the game coming several months after the September 11 terrorists attacks.
Before the game even started Barry Manilow, Yolanda Adams, James Ingram, Wynonna, Patti LaBelle, Mary J. Blige, Mark Anthony, Paul McCartney, the Boston Pops Orchestra and Mariah Carey all performed and former president George H.W. Bush took part in the Super Bowl coin toss with former Super Bowl MVP Roger Staubach.
The game itself was plenty exciting. The Rams entered as one of the biggest favorites in recent Super Bowls, as they were considered 14 points better than the Patriots. They got on the board first with a 50-yard FG by K Jeff Wilkins. New England's defense got the first points for the AFC champs as CB Ty Law returned an interception 47 yards for a touchdown. The Patriots defense forced another turnover minutes later that set up an eight-yard TD pass from QB Tom Brady to WR David Patten. That sent New England to the locker room with 14-3 lead at half-time.
Adam Vinatieri's FG pushed the score to 17-3 in the third quarter. Rams QB Kurt Warner scored early in the fourth quarter on a two-yard run and then St. Louis defense stiffened and twice held New England to three plays and out. With 1:51 left to play, the Rams marched down the field quickly, as Warner hit three straight passes, including a 26-yard TD throw to WR Ricky Proehl that tied the game with 90 seconds to play.
That was too much time left. With no timeouts remaining, Brady moved the Patriots down the field until it rested at the Rams 30-yard line with seven seconds to play. Vinatieri came on and kicked a 48-yard game-winning FG (right) as time expired, giving New England the upset victory. Brady was named the game's MVP, completing 16 of 27 passes for 145 yards and a touchdown, along with that drive to set up the winning FG.
The lead official for the game was Bernie Kukar. U2 handled one of the most stirring half-time shows in Super Bowl history, as they honored those who had died in the September 11 terrorists attacks. The Fox Network carried the game, with Pat Summerall and John Madden handling the commentary. The 30-second commercials went for $1.9 million. The game was played a week later than originally scheduled because of the league's decision to not play the weekend after the attacks in New York, Washington and Pennsylvania.
SAY HAPPY BIRTHDAY …

Born on February 3, 1968 in Knoxville, Tennessee was RB Leroy Thompson. He signed with the Chiefs as an unrestricted free agent in 1995, after spending three seasons with Pittsburgh, where he was a sixth-round selection in the 1991 NFL Draft out of Penn State University. Thompson played that '95 season with the Chiefs, appearing in all 16 games. He ran 28 times for 73 yards and caught nine passes for 37 yards. Thompson joined Tampa Bay the next season and finished his playing career after six seasons.
Born on February 3, 1977 in Saginaw, Michigan was DT James Reed. He signed with the Chiefs as a free agent in 2006 after spending five seasons with the New York Jets, where he was the team's seventh-round selection in the 2001 NFL Draft. Reed appeared in 19 games over the next two seasons, starting 15 of those games. He collected one sack.