So you are a Chiefs fan and you've suffered through 10-38 over the last three years. You want to see improvement, you want to see activity, you want to see Clark Hunt loosen the purse strings and let GM Scott Pioli go wild when free agency starts in just over two weeks.
Then comes a day like Monday, with a slap in the free agency face that will remind all of us that finding help in the land of unrestricted free agency is tougher and tougher these days.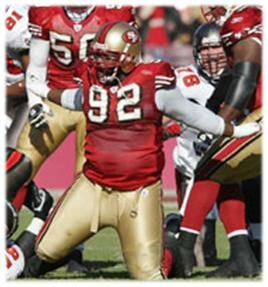 On Monday, the Tennessean newspaper in Nashville reported that the Titans had reached a new five-year contract with UFA-to-be guard Eugene Amano. ESPN.com reported that the San Francisco 49ers have decided to use their franchise player tag on DT Aubrayo Franklin (right).
Amano and Franklin were two of the best players on the list of potential UFAs. As a guard and nose tackle they would have been nice additions to the Chiefs roster. Amano was a potential prize since he'll be just 28 years old and in his seventh NFL season; he should be in his prime right now and for several years to come.
Franklin started all 16 games at nose tackle for a Niners defense that finished third in the NFL against the run. He'll be 30 years old and in his eighth season in 2010; but in his first two seasons in the league with Baltimore, Franklin only played seven games, so he doesn't have a full eight years of wear on his tires.
That's two of the best in what is a very mediocre group of UFAs overall. There are some attractive players that may still be sitting there in the first week of March like LB Karlos Dansby of Arizona, DT Vince Wilfork of New England, DT Casey Hampton of Pittsburgh and DE Julius Peppers of Carolina. But by the start of free agency on March 5, most of those guys will be re-signed or slapped with the franchise tag, effectively taking them off the market.
This is why it's folly to attempt to build a team through free agency, even in a season where there is no salary cap. Lifting of the money lid also took many players out of the unrestricted pool and tossed them back into the restricted group as fourth and fifth-year players are no longer UFAs.
The biggest factor is that teams have learned to keep potential free agents off the open market by signing deals before they can test the waters. That's what the old Chiefs regime did for years with Brian Waters and at least twice with Tony Gonzalez.
We won't address the restricted free agent group here until we see what type of tender offers those RFAs are extended by their teams. Some may not receive an offer and will thus join the UFA pool. Others may be tendered at a level low enough to make the compensation doable for RFA shoppers.
But even without those players, there is talent to be had in the UFA pool and it should be one that the Chiefs drop their fishing line into quite often. It's a selective process that may not generate a lot of headlines and good PR, but when the team is coming off a 4-12 record, all types of help is needed. Certainly, the talent must rise to a level higher than what joined the team in '09 off the free agent lists.
That means the Chiefs will have to be creative, lucky and good. That's hard for a team to do when they are also being very selective, but that's what we've heard from Hunt and Pioli in this off-season, so that's what should be expected – free agent activity, but likely involving players who don't spend a lot of time in the headlines.
As we sort through the names and with all things being equal as far as the health of the players and their rap sheets (if any), here are some guys that could increase the level of competition on the Chiefs roster and are UFAs. We've restricted this exercise to players on the younger side:
S Will Allen/Tampa Bay (left) – Finished the '09 season on the injured-reserve list with a thumb injury that required surgery. A former fourth-round pick of the Bucs, he has played in 84 games with 184 total tackles and 63 special teams tackles. The '10 season will be his eighth and he's 28 years old.
G Montrae Holland/Dallas – He will be in his eighth NFL season at the age of 30 in '10. With the Cowboys, he's been primarily a backup.
CB Nathan Jones/Miami – Originally a seventh-round pick by Dallas, Jones will be in his seventh season and 28 years old when he's playing during the '10 season.
S Sean Jones/Philadelphia – Spent first part of his career with the Browns and played for defensive coordinator Romeo Crennel. That will either put him on the Chiefs radar or knock him off completely. He was a backup this year with the Eagles, but the '10 season will be his seventh and he'll be 28 years old.
C Nick Leckey/New Orleans – A backup with the Super Bowl champions, he's been a starter in the league before with the Rams. He will be 28 and in his eight season.
DE Ryan Pickett/Green Bay – The coming season will be his 10th in the league and he'll be 31 years old. He's a starter for the Packers, who can play inside or out along the defensive line.
DE Corey Redding/Seattle (left) – Breaking into the NFL with the Lions, he was a five-year starter. But he served as a backup with the Seahawks the last two years. He'll be 30 and in his eight NFL season in '10.

CB Matt Ware/Arizona – Originally a third-round choice of the Eagles in '04, Ware played last year with the Cardinals. He's appeared in 81 games, with seven interceptions. Ware has also been very active on special teams. The coming season will be his seventh and he won't turn 27 until December.
LB Tracy White/Philadelphia – He's played 94 games with the Eagles, mostly on special teams and in 94 games he has 95 special teams tackles. That's an impressive number. White also played nickel linebacker during the '09 season and had 22 total tackles and an interception. He'll be in his eighth season and will be 29 years old.
As the new NFL year begins, we'll provide more updates on available free agents. Over the last 10 days before the start of free agency, the player landscape will frequently change.
A TOUCH OF CHIEFS HISTORY ON THE WEB

Here's the link to a story on Fanhouse about Hall of Fame DT Buck Buchanan. As part of Black History Month, the website is regularly running little vignettes of history featuring black athletes.
On Monday, they wrote about Buchanan. Long-time Chiefs fans won't find anything new, but if Buck is just a name from the past for you, this is a nice quick way to learn something about that mountain of a man. The story features two good quotes on Buchanan from former Raiders coach John Madden and Hall of Fame guard Gene Upshaw:
Madden – "He revolutionized the game. Guys that size usually played on the outside. Buck was the first tall guy to play the inside. When a tall guy with his type of speed is rushing, he takes a couple of steps and then – boom – he would be on the quarterback."
Upshaw – "I was big, but Buck was bigger and stronger and turned me every which way but loose. When you played Buck, you couldn't sleep the night before a game. You don't imagine a guy 6-8,300 pounds being so quick. You'd go to hit and it was like hitting a ghost."
ANOTHER TAKE ON TAGLIABUE

We wrote Monday on the status of Paul Tagliabue and consideration of his career as Commissioner for induction into the Hall of Fame. I wrote about the negatives keeping him out.
But over the weekend, New York Times sports columnist Dave Anderson wrote about a situation that should help his induction: the fact that the New Orleans Saints won Super Bowl 44, rather than the San Antonio Saints or Gunslingers or whatever.
In an effort to provide another view, here are some excerpts from Anderson's piece:
"Yes, Benson decided to do the right thing and return the Saints to New Orleans, but everybody on Bourbon Street knows who persuaded him.
"Paul Tagliabue was the glue that put everything together," Mitch Landrieu, the New Orleans mayor-elect, said in a telephone interview. J. Stephen Perry, the president of the New Orleans Convention and Visitors Bureau, recalled that Tagliabue understood that "sports can be transformative in the emotional and economic development of the community.
"When the Saints' return in 2006 was official, James Carville, a longtime New Orleans supporter who was a political adviser to President Bill Clinton, had a thought. "The city fathers," Carville said at the time, "should take down the statue of Robert E. Lee at Lee Circle in New Orleans and put up a statue of Paul Tagliabue."
Here's a link to the entire story.
SIGNINGS, HIRINGS & OTHER MOVEMENT AROUND THE LEAGUE

BEARS – fired pro personnel director Bobby DePaul.
49ERS – will name DT Aubrayo Franklin their franchise player.
TITANS – agreed to terms with G Eugene Amano to a new five-year contract.