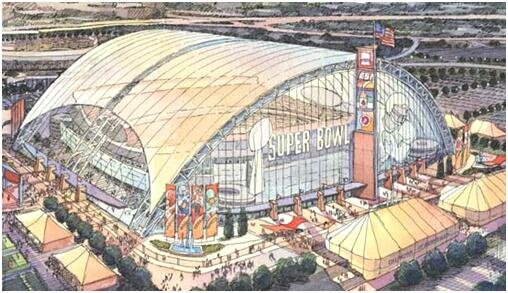 From No Longer in Indianapolis, Indiana

The pro football world has been focused on Lucas Oil Stadium for the better part of the last week as the NFL Combine went down.
What a gold mine for Indianapolis. There were more than 2,000 visitors checked into hotels at the end of February. That's a convention business that any city would love to have in the winter months, especially one where the snow fell for several days. That's 11,000 to 12,000 hotel room nights for the week. Indianapolis' downtown restaurants were packed all week with club personnel, agents, folks from the NFL Players Association, media, job seekers and players.
And all of it – the Combine, the hotel nights, the packed restaurants, the newspaper and Internet datelines – could have been in Kansas City.
It was just about four years ago that the folks who put on the Combine each year, National Football Scouting, Inc., were taking bids not only for hosting future Combines, but for relocating their offices from Tulsa. Kansas City was a finalist under consideration at the time. The other finalist was Indianapolis.
Ultimately, NFS accepted the Indianapolis bid because there was no facility in Kansas City able to host the Combine.
Remember that roof that Jackson County voters turned down in 2006? The voters approved the rehab of the stadiums at the Truman Sports Complex. That was ballot question No. 1. The second question would have paid for a rolling roof that would have been paid for by funds generated from a use tax on businesses in the county.
That ballot initiative was rejected and Kansas City lost a chance at hosting a Super Bowl 49 in February 2015; the NFL had guaranteed that game with a roof on Arrowhead. The no vote also ended any chances of a college football bowl game, the NCAA Final Four and other events.
Like the NFL Combine. Without a dome to make Arrowhead useable in February, there was no way Kansas City could match what Indy had to offer. Even with the roof, I wonder if K.C. would have been able to pull off stealing something as big as the Combine from Indy.
Almost two decades ago, political and business leaders in Indianapolis decided they were going to become the amateur sports capital of the country. They've gone out and made deals for years with associations and organizations. They stole the NCAA offices from Johnson County. They stole the National Federation of High School Associations from Kansas City. They convinced sports federations and associations from other cities and towns to move to the middle of south-central Indiana.
They'll have a new office opening soon. USA Football is the national governing body of football on the youth and amateur levels. Since the group was formed its offices have been in suburban Washington, D.C. But they will soon be moving to Indianapolis.
Jeff Foster is the president of National Football Scouting Inc., the service used by 20 NFL teams, including the Chiefs, to help them scout the world of college football. Foster spent four years (2001-04) working in the Chiefs personnel department as an area scout and pro personnel assistant. He left the Chiefs to take over NFS.
When searching for a city to hold the Combine the No. 1 qualification was a facility to hold the event. The second top criteria: a central location making it easier to access from the NFL teams and the players.
With a roof on Arrowhead and an effort as aggressive as the folks in Indianapolis do on nearly a daily basis, Kansas City could have had the Combine.
Instead, it remains in Indy, along with this year's Final Four and the Super Bowl the year after next.
And Kansas City has no Combine, no Final Four and no Super Bowl.
COMBINE WRAPS UP WITH BIG IMPRESSIONS BY BERRY AND MAYS

The Combine wrapped up on Tuesday with the defensive backs going through the paces on the field at Lucas Oil Stadium.
A pair of safeties caught everybody's attention: Eric Berry of Tennessee and Taylor Mays of Southern Cal. Berry ran the 40-yard dash in an official time of 4.47 seconds. He had a 43-inch vertical jump and did 10-feet, 10 inches in the standing broad jump; all outstanding numbers.
Mays was credited with running the 40 in 4.43 seconds, although his old coach at Southern Cal Pete Carroll claimed he clocked the safety in 4.1 seconds. Mays had a 41-inch vertical jump and 10-10 in the broad jump.
Kansas safety Darrell Stuckey had an impressive vertical jump of 39.5 inches.
In honor of the just concluded Winter Olympic Games here are the gold-silver-bronze medal winners for the Combine:
Event

GOLD

SILVER

BRONZE

 

40-Yard Dash

Jacoby Ford

WR Clemson

4.28 seconds

Trindon Holliday

RET LSU

4.34

Jahvid Best

RB California

4.35

 

Bench Press

Mitch Petrus

G Arkansas

45 reps

Jeff Owens

DT Georgia

44

Linval Joseph

DT East Carolina

39

 

Vertical Jump

A.J. Jefferson

CB Fresno St.

44″

Eric Berry

S Tennessee

43″

Dorin Dickerson

TE Pitt

43.5″

 

Broad Jump

Chris Cook

DB Virginia

11′

Eric Berry

S Tennessee

10′ 10″

Brandon Ghee

CB Wake Forest

10′ 7″

 

3-Cone Drill

Scott Long

WR Louisville

6.45 seconds

Cody Grimm

LB Virginia Tech

6.58

Emmanuel Sanders

WR SMU

6.6 seconds

 

20-Yard Shuttle

A.J. Jefferson

CB Fresno St.

4 seconds

Blair White

WR Michigan St.

4.03

Jerome Murphy

DB South Florida

4.05

 

60-Yard Shuttle

A.J. Jefferson

CB Fresno St.

11.04 seconds

Scott Long

WR Louisville

11.06

Vern Verner

DB UCLA

11.06
ALL THE DRAFT PICKS WERE NOT AT THE COMBINE

There were 337 players invited to the NFL Combine. The league will draft somewhere around 250 players in late April. Some of those names called will not have stepped foot in Lucas Oil Stadium. Last year, the Patriots drafted OT Sebastian Vollmer in the second round, the 58th player selected. He wasn't invited to the '09 Combine.
Our man Rick Gosselin of the Dallas Morning News is all over the draft each year and he has a list of 11 very draftable players who did not get a plane ticket to Indy. Here's the word from Goose, in alphabetical order:
G Thomas Austin/Clemson – three year starter and team captain.
WR Freddie Barnes/Bowling Green – led the NCAA in catches, including 22 in one game.
C Jim Cordle/Ohio State – he started 33 games at all three offensive line positions.
S Van Eskridge/East Carolina – three-year starter with 11 career interceptions.
DE Jeff Fitzgerald/Kansas State – started 25 games at Virginia before transfer; 7 sacks in '09.
RB Deji Karim/Southern Illinois – averaged 7.1 yards per carry and 18 TDs.
OT Chris Marinelli/Stanford – started 41 games and was an All-Pac 10 selection.
MLB Joe Pawelek/Baylor – started four years for the Bears, with 422 tackles.
S Brad Phillips/Northwestern – three-year starter and All-Big 10 in '09.
CB Rafael Priest/TCU – started 51 games with the Frogs, with five interceptions.
QB Joe Webb/UAB (above/right) – passed for 5,771 yards, ran for 2,774 yards with 61 total TDs.
NEBRASKA CENTER TURNS DOWN COMBINE INVITATION

Jacob Hickman was the starting center at Nebraska for 36 straight games over the last three seasons.
That usually means an invitation to the NFL Combine. And Hickman got his. But he turned it down.
A potential NFL draft choice in April, Hickman instead has ended his football career.
"I enjoyed everything I did here," Hickman told an Associated Press writer in Lincoln. "I had a great experience. I didn't feel the need to continue playing. It just didn't feel like it's what I wanted to do with my life."
A 6-4, 290-pound native of California, he played four seasons for the Huskers and has the scars to show for that playing time. There were surgeries on a knee, ankle, elbow and hand. He played in the '09 season with a hip pointer. He's already developed arthritis in several of his joints. "I've got 14 screws, two plates and a washer in me," he said.
Hickman is 23 and knows that he's walking away from potential in come. But the key for him is he's walking away under his own power.
"If I play for another 10 years, I might be walking with a limp when I'm 40," he said. "I would like to be able to play ball with my kids."
THE PERSONNEL MERRY-GO-ROUND & OTHER LEAGUE NEWS

BILLS – signed DT Marlon Favorite.
JAGUARS – re-signed WR Troy Williamson.
PRO BOWL – will return to Hawaii in January 2011, and will be played on the Sunday before the Super Bowl.
STEELERS – presented a tender offer with first-round compensation to RT Willie Colon.