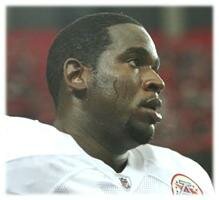 As always, I asked for your questions and they came by the dozens.
And as always, they were well thought out queries and a pleasure to read and answer. There were so many questions that it's been broken into three parts. Here's the first batch.
—–
Mark said: Why do you think the national media was so far off in thinking we needed and were going to draft an OT at #5? Why didn't they do their jobs a little more diligently and realize we already invested a #1 draft choice two years ago on a LT that has shown enormous promise. It was probably the least area of need on the entire team.

Bob says: Not sure about least area of need, but it wasn't the priority that media nationally and locally thought it would be in this year's Draft. The template was passed around that Branden Albert was a complete bust last year, and that's simply not true. He started poorly, but came around in the second half of the season. He'll be fine. Albert can play the position; whether he can play to a Pro Bowl-type level, I don't know. But RT is a bigger question mark in my mind than LT; but the Chiefs don't see it that way.
—–
Gump said: Do you think the lack of OL drafting is an endorsement of Barry Richardson and Colin Brown?

Bob says: No, I think it was an endorsement of Branden Albert and Ryan O'Callaghan. They've moved Brown to guard and if Richardson doesn't show marked improvement going into the '10 season, I'm not sure he makes the club. Yes, depth is a problem at tackle for the Chiefs.
—–
Gary in IL said: First off let me say I think you asked the best question at the post draft press conference. They did an excellent job dancing around it. I also liked the fact that they had the press conference at the time they would have so they could wiggle out when the bullets started flying. I would like to know if Eric Berry can play the nose and ILB? People seem to think this is the move that makes us a top ten defense. He is a good pick but not the right pick. Are we building a football team or a 4×100 relay team? With drafts like these it's no wonder we pick in the top 5.

Bob says: I hope for the sake of loyal Chiefs fans like you Gary that they are some sort of plan or idea to make this defense better at the most basic of chores in football – controlling the line of scrimmage. Right now, it seems like the Chiefs believe the addition of Romeo Crennel as defensive coordinator is going to take care of the problem. Unless Romeo is suiting up and playing, he can only do what he can get done with the talent on hand. Where that increased production is going to come from has to be from within. We will see.
—–
MenInRed said: Could you give us a update on Charlie & Romeo as in: did they rent or buy a home here in KC or are they just in a apartment? A home would make me think they are here for the long haul, an apartment shows me they don't plan on staying very long at all. Go 2010 Chiefs!!!

Bob says: The media right now can't even get interview time with either guy, let alone find out if they are buying and renting. Given the amount of money both of these guys are making and have made in recent years as head coaches in the NFL and major college football, they could buy. Weis has kids, so he might be more likely to buy a place, while Crennel's children are grown. Today in the NFL, the long haul can be about three years. I think if the team's successful, they'll stay here for awhile.
—–
gorillafan said:
Thanks for doing this again, awesome!! Who would you picked in the draft? Not before hand, but at our picks and who was still left on the board and reasons why?
Bob says: OK, this is kind of a reverse mock draft; makes more sense than the mock drafts! I would have taken Eric Berry at No. 1, although Russell Okung and Rolando McClain would have had me fighting with myself. At No. 36 in the second round, I would have been tempted by nose tackle types Torell Troup and Linval Joseph. But I don't really have as much a problem with taking Dexter McCluster. I understand the need and desire, although it's definitely a luxury pick for a building team. At No. 50, I would have taken Penn State ILB Sean Lee rather than Arenas; I think he would have been available in the third round. Lee might only be a two-down player, but he might turn into the best two-down inside linebacker in the league.
I don't have trouble with either third-round pick, especially Asamoah and based on what I saw of Moeaki in the rookie camp, that was a really good pick. These guys have a chance to be starters, no later than 2011.
In the fifth round, I would have taken the big Virginia Tech tackle Ed Wang and North Carolina DT Cam Thomas, although the ghost of Ryan Sims would have really had be sweating on that one.
—–
colby said: Thanks for all of the great draft coverage you've provided over the past few weeks. Your work is stellar as always. I have two questions – 1. Outside of Berry, who do you think was KC's best pick and worst pick? Obviously this is all speculative, but I'm curious which picks beyond Berry had you excited and which pick was the biggest head scratcher for you. 2. Do you think we'll see KC trade some of our guys away before the season opener? DJ, Page, Croyle, Cox, and Cottam would all seem like possible guys who we'd have on the block.
Bob says: I think the pair of third rounders has a chance to be long-time starters for the Chiefs offense. Asamoah is talented, smart and nasty – a perfect guard. Moeaki is scary because his injury history, but he's got talent, a lot of it. As for trades, I think S Jarrad Page and FB Mike Cox are definitely available to the highest bidder, if there were any. With LB Derrick Johnson, I think they are going to try and get more out of him with the Crennel defense; it was a shame and a bad coaching decision to keep him off the field so much in '09. I think he stays. QB Brodie Croyle? I sense the Chiefs hierarchy has really warmed to Croyle and how he handles himself. Since they made no move for another experienced backup QBs – I don't count Tyler Palko – I think Croyle stays.
—–
SG said:
We all appreciate the great stuff you have provided this offseason and greatly like the ASK BOB segments…a couple questions – 1.) At this point, what would be your grade our GM's performance? 2.) If you were trying to get the new players fired up about Chiefs heated rivalry with the Raiders, what would be the best things you could tell them about from this team's history about why they should want to crush the Oakland Raiders every time these two teams face off?

Bob says: Thanks for your kind words. I think it's early to give Pioli a grade, but if you demand one I would say a D. They were 4-12 last year. That record is on him. There was marginal improvement and his draft and free agent acquisitions were nothing special. I think he did much better with the '10 Draft, but those guys are only prospects right now. There's only one way for the Chiefs-Raiders rivalry to be rekindled and that's to have both of these teams become winners. Until they are playing for something, the game won't mean much. I don't think you can create that sort of thing. It just happens, kind of spontaneous combustion.
—–
mickmontana said: Out here in the country we appreciate what you do to keep us informed. What are the chances of picking up another tackle or do you think the ones on the roster will continue to develop?

Bob says: I think the Chiefs need to be searching for another tackle, even if they like Albert and O'Callaghan. They need some experience at the backup positions; chances are one of those two starters will get dinged for a game or two, or more.
—–
el cid said: Based on the two Pioli drafts: 1.) When will on the field production match the drooling over the picks, as in being on the north side of 8-8? 2.) Compare last year's draft to this years; how does it all fit together for the Chiefs future? 3.) How could the Chiefs ignore NT, DE, LBs, C, or WR in the draft? Is McCluster the answer at WR? 4.) What is Pioli's love affair with TEs? Two drafts and gave up extra picks for unknowns guys.

Bob says: I think this '10 class has a chance to be good, but it will be 2011-12 before they are really producing at the top of their game. So to answer your question, I would say sometime after the coming season. I think future-wise with these picks, Berry, Asamoah, Moeaki and Lewis will all be starters, maybe for a number of seasons. I think it's a crap shoot with McCluster and Arenas; I think they can make big contributions, but it could be boom or bust. I'm not sure how the Chiefs could ignore NT and ILB, not based on what was on the roster when they were drafting. I think McCluster can be big as the slot/gadget receiver. Pioli/Belichick always draft tight ends, and I'm not sure why. Using an extra pick last year on Jake O'Connell was a mistake. I think using an extra pick on Moeaki will work out.
—–
cupp said:
First off nice work the past few weeks. I cannot imagine the amount of effort that went into you player analysis posts. You're the best at what you do. What happened with John Henderson? It seemed like everyone was set to get together, then someone got cold feet. Did management decide he's not a good fit or is it possible they got turned off when Henderson showed up on local sports radio airing out Chiefs laundry? A lot of people are saying Josh McDaniels dug his grave with the Tebow pick. Could we be that lucky, your thoughts? What's going on in Oakland? Seems to me either, no one told Al Davis the draft started on Thursday or, the 6:00pm start time was past his bed time. Should I be concerned they're turning things around in Oakland or can we expect continued self-destruction in the black hole? Keep up the good work.

Bob says: Cupp, thanks for your kind words and readership; they are appreciated. A lot of questions here let me hit them in order.
John Henderson – I'm not sure what to make of the Henderson situation. There's divided opinion on him around the NFL and some of what I've heard would indicate he's not a qualifier under "the right 53." A bit inconsistent; doesn't always do what's being asked in the defense and on a very sharp decline in his physical skills. It's hard to question that he wouldn't help the Chiefs. There were also rumblings that Henderson talked with some former Chiefs players and decided he didn't want any part of the Haley/Parcells style. Not sure I buy that given he spent a few years playing for Tom Coughlin, who is of the same ilk as Haley. One thing I'm sure of and that's Henderson's appearance on local radio had no effect on the interest or lack of interest on the part of the Chiefs. I think they are too smart to make a dumb decision like that.
Josh McDaniels – I don't know whether to call McDaniels crazy or a genius, but I like the guy's stones. He knows, you know, everyone knows that he put his future on the line with this draft. Essentially, he created two holes by trading Jay Cutler and Brandon Marshall. With Thomas and Tebow, all he did was fill those holes, so it's hard to see how the Broncos got better. I'm sure he would say it was addition through subtraction and he may be right. Both Cutler and Marshall are pain-in-the-rear players. I like Tebow and I think he has as much of a chance of making it as an NFL QB as any other first-round selection at that position. I'm rooting for him.
Oakland – From what I've heard about Al Davis, he doesn't get up until 6 o'clock, so maybe he had not yet had his morning, afternoon, evening cup of Joe. I think whatever happened out there is good for the Raiders. Whether it's Tom Cable getting this done or some other unseen hand, it gives the Raiders a better shot. They still have a lot of holes and I'm not sure Jason Campbell is the answer there. But I like the Rolando McClain pick. I think he has a chance to go in there and take charge and become the leader of that defense. One thing about the silver and black – self-destruction is always just around the corner.
—–
Randy said: How do you think our Special Teams unit looks post-draft? Would it be legit to believe that the addition of two explosive returners could swing a few close games our way? Last year we had a strong, well coached unit. I'm looking forward to seeing what Hoffman can scheme up with these weapons.

Bob says: I think Hoffman was one of the hidden gems that was lost in a 4-12 season last year. It was the first time he handled all of the special teams and with the exception of allowing Joshua Cribbs to kill them with a couple of TD returns. I think the general attitude of getting faster and more athletic will make the special teams better. With Arenas, they have a legitimate returner; whether McCluster can handle the duties and survive with his body type, that's yet to be proven. I think the KC kicking game will be very competitive and consistent.
—–
Dusty said:
1.) Regardless of whether folks liked the guys we drafted, they are here. What do you feel their impact will be next season individually and as a team? 2.) What impact do you feel the 2 new coordinators will have? 3.) There is speculation about Glen Dorsey being a nose tackle. As compared to other NT, he seems a little short to be effective, but what is your take? How important is the NT height in being effective vs. being a force? 4.) What are others, such as Rick Gosselin, saying about our draft and other off season moves and non-moves? 5.) Lastly, it would be great to get your take and other knowledgeable folks take, on the status of other teams, especially in our division, considering the draft and other off-season moves. Thanks.
Bob says: I think Berry and Moeaki will become starters for most of the season. I think McCluster and Arenas, along with Lewis will get plenty of playing time. I think Asamoah will eventually be in the starting lineup, but it will likely be down the road. I think Crennel and Weis can do nothing but help the Chiefs; but a coordinator is only as good as he players he can use. As for Glenn Dorsey at nose tackle, I don't think he would be any more out of position than he currently is at defensive end. The key for any nose tackle is to close off the A gaps, the gap between center and each guard. Power is important there, not necessarily height. Around the country, Chiefs moves in the draft are getting good notice for the players selected, but panned because they did not address perceived areas of need.
As for the other teams in the division, I think the Chargers so far have been able to keep things together. But their window of opportunity is starting to close. They are not as young a team at key positions as they once were. They are still incredibly talented even without L.T. Denver is headed for a tough year I think, something backwards from where they were in '09; just too many changes by Josh McDaniels. I think Oakland's moves have been not necessarily smart, but not dumb. That's an improvement from normally happens in the Davis Kingdom.
—–
Jeremy at arrowheadaddict said: Who is you best guess at center and right tackle and where does Jon Asamoah fit in?

Bob says: I think the starters at center and right tackle will be very familiar – Rudy Niswanger and Ryan O'Callaghan. I don't see anyone that's going to challenge either one of those players right now. Casey Wiegmann will give Niswanger a run for his money, but I don't think the starting position will change hands. I don't see anybody challenging O'Callaghan. Asamoah fits at guard or center, and in the starting lineup no later than 2011.