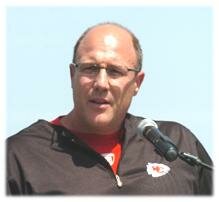 More questions, more attempted answers on all things Chiefs and NFL.
vincent belt said: I have been listening to a lot of podcasts lately. One comment caught my attention. There are three things that all great teams must have: 1.) the desire to win must permeate the entire organization-Winning is the only thing must almost be in the DNA of every worker. 2.) There must be a clear vision of the type of player the team wants. The scouts must have specific criteria they are looking for and the personnel people should use this to create a cohesive team. 3.) Players must be developed! Great teams take players and develop them to fit into their scheme. This should happen within 2-3 years. What players do you believe are going to develop this year? (especially emphasis on players that played little or no, to becoming regular contributors. Are you able to watch the rookie camp to get a sense of what players are going to contribute this year? (Outside of the top 3 picks) Thanks, Bob you do a GREAT JOB!!!

Bob says: Vincent, good points and good questions. Developing players is huge. I know the fans and media get excited about the new faces from free agency and the draft, but most improvement on a team in a given season will come from within. With the Chiefs, that's a big group of players that must improve, largely because they remain such a young team. All the draft picks from '09 have to get better, some have to get much better – guys like Donald Washington, Colin Brown and Quinten Lawrence. Same holds true for all the draft picks from '08 that are still around, especially Glenn Dorsey, Brandon Carr, DaJuan Morgan and Barry Richardson. Then there are other young players like Andy Studebaker, Jovan Belcher, Pierre Walters, Daryl Harris, Wallace Gilberry and Ricky Price.
From the rookie camp beyond the top three picks, I think they will get contributions from Moeaki and Lewis, and possibly Asamoah, if injuries pop up and he can get on the field.
—–
Adam in Dallas said: What do you think Pioli's long term plans are/were for 2009, 2010, 2011 & 2012? My opinion is in 2009, he acquired/developed seven foundational players from previous regime or draft: QB, RB, DE, OLB, CB, punter & kicker. In 2010 draft, he develops three starters at these positions: SS, CB/KR, WR/RB, and three quality backups at RG/LG, TE & FS. Free agency is a short term fix in general therefore not included for forecasting. I believe Pioli will find starters in next year's draft at NT, ILB, C & WR. 2012 is Super Bowl run. Do you agree?

Bob says: Adam, your ideas on Pioli's long-term plans is probably pretty accurate. I think his major short and long-term goals are the same – win as many games as possible. He's realistic enough to know that wasn't going to happen immediately. There were too many holes in the starting lineup and the roster to fill in one year, even two. Right now though, this is all going down on his watch. It's important for his credibility that the '10 Chiefs are an improved team over last year's squad, improved in record and performance.
—–
Doug said: I still think they needed a left tackle. Albert struggled last year, I put some of the blame on Haley for making him lose weight and I think that really hurt. Also, Matt Cassel got sacked 40 something times last year who knows how many times he was knocked to the ground; if that was Croyle he would have been put on IR after 3 games. Your quarterback is your money maker. Hopefully Weiss and Crennel will be our best draft choices. Haley did not impress me (too much of an attitude.)
Bob says: There's no doubt that Albert struggled at the start of the '09 season and part of his problems came from learning to play the game at a lighter weight. Eventually, he made that adjustment and performed much better by the end of the season. I think he'll be fine. I think sometimes Cassel needs to blame himself for getting knocked down; he holds the ball too long. For his own self-preservation he needs to fix that. I think Weis will help him get better at that skill.
—–
Eric Hutchinson said:
Do professional football teams, specifically the Chiefs, utilize the services of psychologists for performance enhancement? If not, why not? If so, do they have a "team psychologist," or is it up to the individual athletes to obtain these services?
Bob says: I think every professional sports team today has a psychologist involved somewhere, as a full-time employee, as a help in evaluation periods, or simply as a consultant. In the past the Chiefs had a so-called "head doctor" on their staff but right now I'm unaware of the Pioli regime having a full-time person in that position.
—–
Elvis Grbac's Ghost said: What rookie free agents have the chance to make the roster or more, based on potential?

Bob says: I think the two guys that I saw during the rookie camp that showed some skills were DE Jeffrey Fitzgerald from Kansas State and ILB Boris Lee from Troy. I didn't see much else among the other half dozen guys that took part.
—–
Beavis said: This year's draft class has created a lot of debate between Chiefs fans. There were a lot of questionable picks but after a few days of looking at the players more closely I am able to see where they all fit into the plans of the new regime…except for one. I am still baffled on why they picking Kendrick Lewis. First of all, in my opinion, there were still some talented players left at positions of greater need. Second, while I admit I don't know much about him, I don't see him contributing much more than another body for special teams. Bob, what is your opinion of Kendrick Lewis and do you think he will be able to compete for a starting spot on this roster any time soon? Thank you.

Bob says: Yes, I think Lewis will compete for a starting job, if not in '10 then next season. The Chiefs believe he's far more talented than some other observers who felt because of Lewis' slow time in the 40-yard dash made him questionable. Lewis has the smarts and the size and he moves pretty well, so don't count him out of contributing on defense as well as special teams.
—–
aPauled said: As always, appreciate your work and insights Bob. 1.) What do you think of the Chiefs O-Line going into 2010? I'm personally concerned with O'Callaghan and 37-year old Wiegmann. 2.) Thoughts on Brandon Carr? He seemed to have a sophomore slump…hopefully just a slump. 3.) Off-season sightings of Dorsey, Jackson, Magee, Albert or other Chiefs who may have hit the gym exceptionally hard or in contrast the burger stand?

Bob says: 1.) I think the starting offensive line will look like last year's group with the change of Ryan Lilja at right guard. 2.) Carr had an OK season, although he did not finish the year with a very good performance against Denver in the final game. 3.) Haley said nobody on the team came in severely out of shape and that's a great sign.
—–
RC said: Urban what kind of a W.R. is he? What do you think about trading Charles and McCluster being our running back?
Bob says: First of all, there's nothing good that could come right now by trading Charles – he's the best player on the roster. No way the Chiefs get rid of him; having McCluster around will only make Charles and his production better. Urban is a possession receiver type. He isn't going to run away from anybody.
—–
KC_Guy said: 1) Who was invited for tryouts, and 2.) OT backups – your take?

Bob says: Let's start with OT backups, because there are not many. If Albert and O'Callaghan are the starters, that leaves veterans Barry Richardson and Ikechuku Ndukwe as backups, with college wrestler Jermail Porter and undrafted rookie free agent Tyler Eastman filling out the roster. Not much there, but veterans will become available between now and opening day. The tryout guys were: Kansas State DE Jeffrey Fitzgerald, Pittsburgh QB Bill Stull, Notre Dame WR David Grimes, Troy ILB Boris Lee, Vanderbilt DE Steven Stone, Virgina Tech LS Matt Tuttle and Eastern Michigan P Zach Johnson.
—–
Tracy says: Last year, despite all the near misses and "Oops" plays, when it would have been easy to throw in the towel, Todd Haley's offense never quit attacking. It was fairly plain to see he hates to lose and was frustrated as the dickens with the results. Now that the reins have been turned over to Charlie Weis, he may well feel jealous of all the new toys. And while McCluster adds a delightful mix of elusiveness and speed to the arsenal, can we assume that Charlie Weis is satisfied enough with the OL that the organization was able to concentrate on the defense?

In that regard, i.e., standing pat, if Glenn Dorsey is moved to NT, why is there snickering in the punditry universe? Granted, he is–what, 6′1″?–not the size traditionally associated with that position, but he has always impressed me as having good football IQ and should be able to adapt if given the necessary coaching and opportunity.

Also, just how good a QB tutor is McDaniels? Is his choice of Tim Tebow brilliant or will it prove to a Titanic-like bad decision? True, Tebow brings strong leadership qualities, attitude and aptitude, but are his "mechanics" so fundamentally flawed that he will be relegated to wildcat formations?

Bob says: There's a lot of ground to cover on this one, so let's start with the offensive line – obviously, the Chiefs do not think their offensive line is as bad as the people who watch them think it is. Whether the line is good enough to make Big Charlie happy, only time will tell. Dorsey is not the prototypical 3-4 nose tackle, but that does not mean he can't play the position. If he can hold his ground, he can make a contribution that would help the defense. There's no doubt McDaniels has rolled the dice on Tebow; but I think if anybody can pull out of him his skills and polish the areas that need polished it's McDaniels.

—–
aPacificChief & Petey said: I was watching the post-draft press conference with Pioli and Haley, and noticed that when you asked a question (well I thought that it sounded like you) there was a blurp in the feed. Was there some editing done from the question you asked to the response that Pioli gave that was not aired? Also who was your guess on who Pioli was trying to trade up for with the 2b (50th pick) selection? Absolutely love these segments of your site Bob!

Bob says: I was unaware of anything with the Chiefs website video at the end of the draft, but then I don't often go back and watch those. I can't think of anything involved that would have required slicing and dicing, but I guess I could always be surprised. As for who Pioli was trying to trade up for, I don't know, but there were a couple of wide receivers and offensive line types that could have been in their sites, maybe even a nose tackle.
—–
jg said: Thank you for the good work and insight you bring to us. Mr. Pioli said they "wanted" 3 players in the second round, McCluster, Arenas and X. Who do you think was the third one they failed to get? Was it a NT? If it was a NT then why take McCluster over a NT? That was taking a risk to wait one more year to have their "franchise" NT, and we know rookie D-Lineman take 2-3 years to be perform … Could the reason be that they wanted to give Cassel an immediate weapon so they can this year if he is really the QB they want? Or do they think they have already a legit NT?
Bob says: I don't know who player X was, but there were several DTs taken between McCluster and Arenas so that could have been a possibility. I don't think they have a legit NT to hold down the position. I think they did want to give Cassel a weapon to help him and the offense, but I don't think that has anything to do with whether Cassel is their quarterback. I think he is.
—–
ThunderChief said: Given the volatile personality of Haley, interfaced with the analytical and reserved Pioli, I was surprised at the initial pairing of the two, which leads in to my question: How much power did Haley have in the draft? Did he have any legitimate input/say-so or was he simply biting his tongue and going along with what Pioli wanted?
Bob says: I think Haley has a great deal of input into who the Chiefs draft. I think McCluster is an example of that, same with Arenas. Right now, I think these guys work in concert on everything. That may change over time, but they are like minded in how they evaluate players. It's the same Parcells platform.
—–
St. Paul 1 says: My question is about the conservative nature of NFL strategists. An example is the speculation about whether you can pick a safety with the 5th spot. To my way of thinking, this is ridiculous. If you target one player as most able to help your team, you grab him, unless you're confident that you can trade down and he'll still be there. Which brings up my second beef – the thought that each draft pick is worth a certain amount based on some mysterious and mystical chart. If no team will give you what the chart says your pick is worth that means the chart is wrong. It's basic economics. If you can trade down a few spots, the player you want will still be there, and the best you can get for trading down is a ham sandwich, YOU DO IT. Because now you've got the player you want, plus a ham sandwich. I'm joking, of course, but you see my point.
Bob says: Good points! A draft pick is like anything else – it's worth what somebody is willing to pay for it. The trade value chart is based on the contributions of players from the past who were taken at those positions. It's more of a road map, rather than anything league teams handle like tablets brought down off the mount. And I agree on the idea that a team should select the player they want, no matter their spot if they can't get a trade down.
—–
wgs said: From the leaked photograph of Dallas' draft board, Berry was rated 6th player in the first round by Dallas, McCluster the 5th player third round, Arenas the 2nd player fourth round, Asamoah mid-third round and the TE mid-fourth round. These ratings for our second-round picks are basically in line with published ratings. Who do you think was driving these two picks in the second round? Do you attach any significance to the fact that Haley was the one defending the Arenas pick at the press conference? Also why do you think we stayed off Cam Thomas?
Bob says: I think what was driving McCluster and Arenas in the second round was the desire to add explosion and speed to the team. I think that was the key element they were seeking physically, after making sure the guys they wanted were of the type of character they wanted. I wouldn't read anything into Haley defending Arenas pick – he probably should, given that he said finding a returner was not a need but a must. I think not having a decent return man killed the Chiefs last year in so many different situations. As for Cam Thomas, they obviously were not high on him, since they passed him by five times. They felt there were other players that were better fits than the North Carolina defensive tackle.