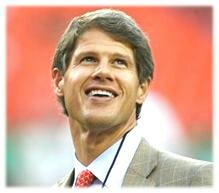 OK, here are the final answers to your questions from Ask Bob. My apologies for keeping some of you hanging on all week, but anybody that says there is an off-season in the NFL has no clue.
Once again, thanks for all the great questions – many of them are far better than the answers.
Enjoy!
—–
Anon says: Bob, I have read reports that the Chiefs have been at or near the bottom in player payroll the past few years. In addition, I've read several comments in the media, I believe you included, that indicate unwillingness on the Chiefs part to spend money on free agent players. Now, clearly if spending the most money was the best strategy, the Redskins would be racking up Super Bowl trophies. I believe Pioli and Haley want to build a team mostly through the draft and bring in some free agents that fit a certain profile. I get that, but at the same time, when you're at the bottom of the payroll list, it leaves fans scratching their heads wondering if Pioli and Haley are talking the talk, yet going about things on the cheap. Could you address why it is the Chiefs have such a low payroll, even now several years after the "going young" roster turnover they went through under Herm Edwards, and do you think that being in such a position now that the Chiefs can honestly say they're doing EVERYTHING possible to bring winning football to K.C.? Thank you.

Bob says: That there is confusion about just where the Chiefs are financially really shouldn't be a surprise. There are several factors at play here that must be taken into account: losing, stadium renovation, a new collective bargaining agreement and new management.
Forget the way things used to be in the 1990s and most of the 2000s. The days where the Chiefs practically printed money every season are gone, long gone. Three years of losing has made it hard to sell tickets, hard to sell suites and hard to sell sponsorships. On top of the 10-38 record, there's the renovation of Arrowhead Stadium. Yes, the taxpayers of Jackson County are helping to fund a lot of the changes, but the Hunt Family threw in close to $150 million of their own money. They did that because they expect to make that money back in tickets, suites and sponsorships.
The owners and players are in the midst of negotiations on a new agreement and there's a lot of saber rattling by the owners who believe the current economic system provides too much to the players and not enough to ownership. All this makes planning for the future a tough one for organizations, since they don't know what the rules will be in 2011 and beyond.
Finally, there's new management in charge. It's pretty hard to call the Chiefs cheap when last year they signed QB Matt Cassel to a $63 million contract and first-round draft pick DE Tyson Jackson to a $57 million deal. But there's no question they've not gone out into the free agent market with an open checkbook. Most teams in the league have not done that as the bloom has really fallen off the free agency rose.
At this point in their development, there's no reason to do that. Clark Hunt and Scott Pioli want to be a team built from within, concentrating on the NFL Draft for their top talent. If and when this team establishes a foundation on both sides of the football, I would expect Pioli to actually go after more free agents. There's no way to fill all the holes through the draft and development. To fill the holes with free agents makes sense when the team is a few players away from seriously contending. The Chiefs are not currently in that position.
If by saying the Chiefs haven't gone out and thrown around millions in free agency, so that means they are not doing everything possible, then I guess you would be correct. But that type of spending spree is not going to happen with Hunt and Pioli controlling the purse strings. They don't believe in that approach and I can't imagine it happening.
—–
Niblick says: Do you know who is the agent for Eric Berry? I hope it's not one of those agents who have a history of holding their players out, for what they feel is a better deal. I can't recall his name, but he was the agent for Bowe and DeMarcus Russell. He is one that comes to mind.

Bob says: Niblick, Eric Berry's agent did not represent Dwayne Bowe or DeMarcus Russell. His negotiator is lawyer Chad Speck, who is out of Knoxville. His firm is called the Allegiant Athletic Agency. Right now Speck is busy handling damage control for one of his clients – Washington DL Albert Haynesworth. Speck is the guy that helped negotiate that big deal between Haynesworth and the Redskins last year. Speck's reputation is that of a deal maker, rather than a guy who drags his feet. His reputation is that he doesn't play a lot of games in the negotiating process. That's all good news for the Chiefs.
—–
Jay says: Bob, with all the upgrades in the Chiefs secondary how will they finally match up well against the Chargers this season? Also what are your feelings on how Chiefs will match up this year against Raiders and Donkeys? In your opinion, what Chiefs can realistically do this off-season to seriously contend for AFC West title?

Bob says: The rest of the AFC West is an interesting place. The Chargers window of opportunity seems to be closing and now they have problems with their best receiver in Vincent Jackson and their left tackle in Marcus McNeil. That's bad news for Phillip Rivers. If they can't get Jackson on the field, that helps the Chiefs secondary tremendously. The other AFC West team that seems to have had the best off-season was the Raiders. They didn't do anything silly. They improved themselves at quarterback with Jason Campbell. They still don't have enough players around him, but they didn't blow things up with a new head coach. In Denver, it's hard to keep track of all their moves but ultimately what Josh McDaniels did was trade Jay Cutler and Brandon Marshall for Tim Tebow and Demaryius Thomas. Maybe that will be an improvement, but we won't know for several years on that. The Chargers are the best team in the division and the other three are all very similar.
—–
aPauled says: I know that it is difficult to gauge linemen based on OTAs, but what do you see happening at NT? Did Derek Lokey really improve enough to be the starter at 300 lbs? Or are 320 lb Ron Edwards and Shaun Smith looking so poor that Lokey is playing by default?

Bob says: As you said, it's hard to really gauge in OTA sessions where there is no hitting, but I think Lokey's rise to the No. 1 defense had something to do with what he was getting done and also something to do with what Edwards and Smith were not getting done in the off-season work. How long Lokey holds the spot will be interesting to watch. When it comes to try hard and work ethic, few can match Lokey. He also comes from a football background as his father has been a high school and college coach in Texas.
—–
aPacificChief says: In the 2009 draft, Pioli went to fix his defensive linemen to better suit the needs of his 3-4 defense, and shipped off the defensive linemen on roster that didn't fit his defensive philosophy. In this recent draft of 2010, Pioli went to fix the safety position which he found as a weakness in the 2009 season. Wouldn't Jarrad Page be considered a stop gap fix until Eric Berry and Kendrick Lewis are seasoned enough to play the position effectively? It is as if Scott knew that he would be taking a safety somewhere in the 2010 draft. I make this assumption simply because of the players he kept on the 2009 roster (Brown, Page, McGraw they were all aging with a known ceiling. Will the situation with Page, as selfish as it may seem from an organizational standpoint basically to allow the younger safeties to mature, but hurt the progress of this defense to improve long term? How do you think Studebaker, Belcher, and Mays are progressing? Or is Pioli already eyeing the upcoming linebacker talent coming up in the 2011 Draft? For five years the Chiefs have completely ignored the linebacker position in the draft, until they selected Cameron Sheffield in the 5th round. Are we actually at least another year away before we see some significant progress from our defense?

Bob says: Wow, there's a lot here looking for answers. I'll do my best. Let me start with your final question – it's hard for me to make an argument that the Chiefs defense is still a year or two away from having the necessary talent to be a dominant squad in the NFL. I think the secondary is falling together, but the linebackers are a mixed bag and the line has been under-achieving, despite the resources committed to that spot.
If you are switching your team's defense to a 3-4, the best place to start with acquiring talent is along the defensive line. Thus, the selection of Tyson Jackson and Alex Magee in the '09 Draft. The safety position was obviously important for the '10 Draft, due largely to the age of the team's safeties last year. Thus, the selection of Eric Berry and Kendrick Lewis. I wouldn't be surprised at all if linebacker got a healthy dose in the '11 Draft. You are correct – they've drafted one LB in the last five drafts, going back through the '06 Draft. It's so very hard to say much about the development of the linebackers because of the lack of real football in the off-season. Belcher is a much different player now than he was a year ago; more sure of himself, stronger and seemingly quicker.
I don't think the situation with Page is going to hurt or help the Chiefs. Berry was going to start no matter what. Page's experienced would be nice to couple with the first-rounders talents. But that works only if Page is happy in red and gold, which he is not.
—–
Tribal Warfare says: Bob, do you believe Brodie Croyle will push Matt Cassel to be better, or will it matter at all?

Bob says: I don't think Cassel really needs anybody pushing him to be better. If there's one thing that comes through with Cassel, it would be his desire to perform and improve every day. Look at this history and there's one thing that's not ever going to happen with him – he's not going to take anything for granted. I think Croyle provides competition, such as the head coach and offensive coordinator allow it to happen.
—–
Ron says: Thanks for all the great things you do, and having the Ask Bob again—always look forward to one of them. You ran several stories showing that many coaches link back to Bill Parcells. Could you tell us who Bill Parcells links back to? Who taught Bill? Who did he learn from to get where he now is. Another question—how many people do the Chiefs employ (not counting the players)? How many people does it take to run a NFL team? How many sportswriters (or players) do you talk to on an average week? Thanks for giving us a lot of inside information! I don't see how you can do this site all by yourself.
Bob says: Ron thanks for your kind words. I try not to speak to many sportswriters, because there are only a few I respect and who I believe have some clue as to what's actually happening in the league or with specific teams. I try to spend my time talking with assistant coaches, scouts and personnel people; they generally have better information. As to how many people do the Chiefs employ, at this point I'm not sure even the Chiefs know. There has been a huge turnover in employees with the franchise over the past two years. I think the number is now well over 50 and maybe close to 60 people have been fired, forced out or took early retirement. Some very good and talented people have been cast aside. Whether their replacements are better, those who observe the franchise can't tell at this point. Right now on their website, they list over 150 employees, not including players and coaches. I would bet there are at least that many part-time workers as well, especially for game day.
Your question on Bill Parcells is a good one and sent me into the archives, because I did not know the answer off the top of my head. I know Parcells was heavily influenced by some of his high school coaches, specifically Mickey Corcoran and Tom Cahill. One coach who had a big influence on Parcells was Bob Knight – they were coaching at West Point at the same time, Knight of course basketball head coach and Parcells a football assistant. He's said many times that he learned quite a bit from watching Knight coach basketball that was translated to football. Parcells held a lot of jobs working for a lot of head coaches, but it seems there are a few that had a bigger influence on him – guys like Steve Sloan and Ron Erhardt.
—–
Fleaflicker34 says: Bob, your website is my first and last stop every day, though I never post here, so you should put my question at the top of the list. If brittle Brodie is the better QB and gives the Chiefs the best chance to win, will Matt Cassel still start because of $ invested in him? My brother seems to think that the money matters, I say winning is all that matters and the best player will start here. I'm pulling for Brodie and his hot wife Thanks for the great website Bob.

Bob says: Money talks – it always does. Cassel is always going to get the first opportunities and the most slack when it comes to competing and the investment in him not only in money but a second-round draft choice is the reason. It's pretty hard for a guy like Croyle to perform and lead the team when he doesn't get a chance to play. The only time it came for Brodie, he wasn't able to stay healthy.
——
Tenand6 says: 1.) As a passer, what are Cassel's strengths? 2.) Who will have better production this season, Bowe or Chambers? 3.) Will the Chiefs have one of the top special teams units this year? 4.) Will Corey Mays make the final roster cut? 5.) If/when the Chiefs pick up any players cut from other teams before the beginning of the season, what would be the positions most likely to be upgraded? 6.) Who are the players on offense and defense who make calls besides the QB? Center on the O line? Safety or LB on the D? How does that work and what are their responsibilities to their teammates?

Bob says: When throwing the ball, I think one of Cassel's strengths will be his accuracy, although that wasn't evident last year. All those drops killed his completion percentage. I think Chambers will put up slightly better numbers on the year than Bowe. I think the Chiefs have a chance to be among the best kicking game units in the league. All they were missing was a returner, and with Dexter McCluster and Javier Arenas, they should have that covered. On Mays and whether he'll make the final roster, that's a hard one to gauge right now. If there isn't somebody pushing him, then the Chiefs haven't improved enough at the position. I think they will look for any and all positions on the waiver wire, but nose tackle should be high on the list. Same for wide receiver and offensive tackle. Players making the calls on the field usually include the center for blocking assignments and then the inside or middle linebacker on defense. Sometimes those duties will fall to a safety as well.
—–
Danny W says: Bob, this seriously is a big deal to me. For fifteen or thirty minutes a day I can take my mind off of every crazy thing that is going on in the world and focus on my Chiefs addiction. Thanks. 1.) Do you know what specifically the BYU honor code is? Did those athletes cheat academically, use a banned substance, I've heard of college's kicking out students for using profanity. 2.) Is there a Chief right now who not many people know about that could be a starter or a playmaker in the future? An offensive lineman perhaps or some surprise out there on defense. I know another guy was talking about Derek Lokey, what about the defensive back Travis Daniels, or any other guy who looks like a diamond in the rough? 3.) What is your opinion on Jarred Page exactly? Can you speculate on that and while on that topic it seems the situation out in San Diego is much more complex. Will A.J. Smith seriously let Jackson and McNeil sit half the season for a replacement in Reed and Tra Thomas? I think that would be huge for K.C. but stupid to do. What do you think Bob? 4.) From watching practice so far how do the linebackers look as far as speed goes? Do you think our run defense will be any better at all? Will you speculate on QB hurries and secondary work as well? 5.) Off topic but do think the Skins will trade Haynesworth? Thanks again Bob I know that's a lot.

Bob says: Danny boy, there's a lot to cover from your questions. I'll start from the top. 1.) The BYU honor code covers many things. Here it is so you can see for yourself. I'm sure your question is related to RB Harvey Unga who will be available in the NFL's supplemental draft next week. Unga is out at BYU because of honor code violation. Various websites have reported that Unga fell victim to not living "a chaste and virtuous life." Sex before marriage is a violation of the honor code. 2.) Here's a diamond in the rough that probably won't make the 53-man roster this season, but has a chance with some practice squad time: Canadian LB Cory Greenwood. What an athlete and he appears to be pretty smart. He'll need time, but I think there's something there. 3.) I like Jarrad Page. He's always been a standup guy in the locker room. He could always be counted on to speak after games, even in the tough times. He has some skills, although they are not top shelf. He was successful with his brains. He just does not fit with the Haley led Chiefs and the sooner they consummate this divorce, the better for Page. Nobody with the Chiefs is thinking about Page – on their radar screen, he's already gone. As for San Diego's situation, there's a lot of bluster now from the players and even the Chargers G.M. Somebody will wise up in this deal and get those guys on the field. 4.) I think if Derrick Johnson and Jovan Belcher are on the field, the Chiefs linebackers are faster and quicker and I think that will help against the run, as well as handling the pass. 5.) I don't think right now the Redskins could find a trade partner to dump Haynesworth. Combine his personality, his attitude and his huge contract, few teams are going to step up and grab him.
—–
Mark says: Bob, I have always been of the opinion that the fourth preseason game is pretty much a waste. However it does give coaches a "last chance" look at undrafted free agents prior to the final cut. The first three games have always seemed like a ramp up to the regular season with starters going ¼, ½, and ¾. This gives their bodies a tiered approach of adjusting to hitting and being hit. I personally believe that a two game pre-season will substantially increase the risk of injury to players early in the regular season. Your thoughts?

Bob says: I think the change to an 18-game regular-season schedule has all sorts of trap doors for the players and coaches. The math seems easy to simply take two pre-season and convert them to regular season games. Starting in 1969, teams started playing 20 games – six in the pre-season and 14 in the regular season. In 1978, the league went to a 16-game schedule, but dropped a pair of pre-season games giving us the current 4 and 16 schedules. Over 30 years later, the drum beats to go to 2 and 18 are louder and louder. I think if it happens, there will need to be a total re-evaluation of how a team prepares in the off-season. Veteran players may end up playing as much or more with two pre-season games as they did with four.
—–
Nixa Chief Fan says: Do you see any positions where we will search the waiver wires to find better players? Do we need more depth at any positions?

Bob says: I think right now we should believe Pioli and Haley when they say they won't stop anywhere when it comes to making their roster better. I think the obvious positions where they may look at waiver wire help would be nose tackle, offensive tackle, wide receiver, inside linebacker and tight end. This team desperately needs better depth at offensive tackle.
—–
NFL PERSONNEL & NEWS FILE/WEDNESDAY, JUNE 23

NFL – this year's supplemental draft is set for July 15 and right now it appears there are at the minimum five players involved: Nebraska/Northwestern State RB Quentin Castille, Truman State RB/TE Vaness Emokpae, Oregon QB Jeremiah Masoli, Illinois DT Joshua Price-Brent and BYU RB Harvey Unga.

BUCCANEERS – signed C Donovan Raiola – Tampa Bay is his sixth team since coming out of Wisconsin as an undrafted rookie in 2006. His older brother is Dominic, center for the Lions; released C Jeff Tow-Arnett – an undrafted rookie free agent.
GIANTS – signed 5th-round draft choice G Mitch Petrus to a 4-year contract – out of Arkansas, he was one of the strongest players available in the '10 NFL Draft. After some seasoning, he figures to compete for playing time with New York; signed 7th-round draft choice P Matt Dodge to a 4-year contract – right now he is New York's punter with no competition; claimed WR Chris Davis on waivers from the Bengals – more than likely a pair of hands for Eli Manning to throw to in training camp.
LIONS – signed S Randy Phillips – an undrafted rookie out of the University of Miami.
PACKERS – signed 5th-round OL Marshall Newhouse to a 4-year contract – out of TCU, where he played tackle, Newhouse is moving inside to guard in Green Bay; signed 6th-round draft choice RB James Starks to a 4-year contract – a hamstring injury kept him from getting a lot of work done in the off-season; signed 7th-round draft choice DE C.J. Wilson to a 4-year contract – out of East Carolina, he is a talented pass rusher.
PANTHERS – signed 4th-round draft choice LB Eric Norwood to a 4-year, $2,248,000 contract with a $458,000 signing bonus – South Carolina product was very productive for the Gamecocks.
RAMS – re-signed S O.J. Atogwe to a 5-year, $32 million contract – an unrestricted free agent for three weeks, the best offer Atogwe got was from his old team.
RAVENS – agreed to terms with QB Marc Bulger to a 1-year, $3.8 million contract – he's the veteran backup in case problems pop up with Joe Flacco, Troy Smith and John Beck. Bulger is 33 years old.