As always, you guys have loaded me up with plenty of questions and I plan to have plenty of answers. We'll cover them in the next few days, as well as keeping track of all the personnel movement around the league on an everyday basis.
Here's Volume No. 1 – enjoy!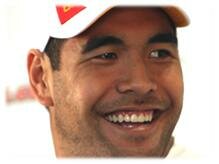 Mike in St Louis says: Just what is/was Tony Moeaki's injury? Do you see him as starting TE Monday night in September? Lastly, with the addition of Weis, do you see Haley now interested in using a TE more often?

Bob says: Mike, I wish I could shed light on what Moeaki's problem was, but it would be easier getting launch codes from the Pentagon. Moeaki told me it wasn't an injury, i.e. knee, or ankle, or hamstring, or shoulder or any limb or joint. That tells me it was some type of illness or irregularity, but it could not have been anything too serious because he was there every day and worked in the rehab zone all the time. When he finally got on the field, he didn't show any type of physical problem. Eventually, we'll find out. I think Moeaki in the starting lineup for the opener is a bit ambitious. I wouldn't rule it out, but that would take a very strong six weeks of camp and pre-season performances. I do believe he'll be on the field a lot in the offense and I think that will start from the get go. I think Haley's interest in getting the tight end involved in the passing game is directly related to whether he has a tight end who he can count on to get open and catch the ball. If Moeaki can do that consistently, or any other tight end can, they'll be on the field. It's not like the Chiefs wide receivers are so strong that a coach wouldn't want to take away some of their chances.
—–
Will says: With Larry Johnson long gone and Jarrad Page sitting out, it appears (based on stories and Haley's comments) that this team is actually becoming a "team." Have you been able to discern a difference in the "energy" or "chemistry" if you will – even though it's just the offseason and can you comment how you think that might carry over into the regular season?

Bob says: Right now the Chiefs are living in a fantasyland that very few NFL teams experience each year. They really have no problem players to deal with, nobody real angry with his contract, and not enough established veterans to roil the waters. There are unhappy players, make no mistake about that, but they are keeping quiet and they are working hard to change somebody's mind, whether it's Todd Haley, or one of his coaches. It's always easy for a team to have good chemistry in the off-season, because they are no defeats; losing it what eats away at an individual's confidence and the group dynamic that comes from that. I think the attitude around the Chiefs is better in this off-season simply because the players have an understanding of what's expected from them. Last year, as with any first season, there were transition problems. Haley did not prove to be very good at making them all understand what was desired. It's like any other situation with any other group – the chances of the group's success improves when every member has a full grasp of expectations. That's where the Chiefs are right now.
—–
Dinomight says: For the last many years with the Chiefs having successive losing seasons, my self-esteem, which is directly related to the Chiefs record, has been so poor that I am having a difficult time finding a romantic interest who will reciprocate. Do you Bob, foresee a better dating life for me in the future?

Bob says: It's pretty hard to support a losing team without getting some of the stink on you. However, you have correctly identified the most important emotional element in your life – your favorite football team. Women come and go, and it sounds like in your situation they mostly go. But as bad as the last three seasons have been, the Chiefs are always there. They don't dodge your calls or ignore your e-mails and texts, and you don't have to buy them dinner. I think the team will be better this year, so there might be a rosier picture for you in the dating world. If I were you, I'd take this down time in the romance department to create a test of Chiefs facts and history, much like you can see in the movie Diner. If you've never seen it, rent it. One of the characters is engaged, but the ceremony won't happen until his fiancé can pass a test on Baltimore Colts trivia. Enjoy two or three dates, but then hit her with the test. If she fails badly, it's time to move on.
—–
Mark Broski says: This is a question about turf, the real kind, grass. My recurring nightmare is that one day the Chiefs go back to an ugly artificial surface at Arrowhead. Do you see that happening? Do you judge football-on-grass to be a superior player-fan experience, or, have recent advances in artificial grass technology rendered the natural stuff obsolete?

Bob says: Nothing beats playing football outside, on grass, in the elements – that's the best football. The fake stuff is much better than it used to be. When Arrowhead first opened n 1972 and for about 15 years they had the same AstroTurf surface that was hard as a rock. Only the genius of George Toma kept that field from becoming one of the worst in the NFL. They went to grass in 1994 and I don't see any reason they would go back. They've been able to play college games in there every year and not have any major problems. Sometimes late in the year the field doesn't look very good, but that's the nature of grass in the Midwest in the winter. Andre Bruce and his guys do a great job of getting that field ready for multiple games in the same weekend. As far as I'm concerned, they need to keep it natural.
—–
RW in the ATL says: Highly subjective, I know but what are your realistic best and probable case scenarios for the 2010 Chiefs in terms of their end of season won-lost record. Also, how would you gauge the team chemistry right now as opposed to what it was during the 2009 campaign?

Bob says: I think best case scenario for the 2010 Chiefs would be an 8-8 record and challenging for a playoff spot right until the middle of December. That would double the victory total from last season. With their schedule and additions to their staff and roster, I think it's realistically something they can achieve. I think the team chemistry right now is pretty good, but as I wrote earlier, the real test comes when the winning and losing starts. How they handle both will establish how good the chemistry is with this group.
—–
Mad Chief says: Do you think Jamaal Charles is glad to have Thomas Jones here? Or, is he pissed at the competition … and having to look over his shoulder? Will there be enough carries to make them both happy? Do you think Casey Wiegmann has enough left "in the tank" to beat out Niswanger for the starting position this year? Unlike our 1st round draft choice last year … will we get Eric Berry signed and to camp on time? Whatever happened to Enrique?

Bob says: Like any skill position player, Charles is going to want to perform and having a back of the quality of Jones around is going to cut into his chances with the ball. I think this still needs to play out. I know Charles believes he proved himself as a featured NFL runner in the second half of last season and wants to be treated as such. I think there are enough carries, but it's a question of how and when they are distributed. We'll have to see. As for Wiegmann, it's so hard to judge based on the off-season work because there is no contact. One thing I know for sure is Wiegmann knows all the tricks and while he may be older, he's not dumber. I would expect Niswanger to start. I think the chances are probably 50-50 that Berry is on the field for the first practice. That's just the shape of things these days. I don't see the Chiefs ever being one of those teams that work outside the system when it comes to signing their top draft pick. They are going to wait and see how the market is set and then react. I can't see them acting and setting the market. As for Enrique, he's back with a new feature that started Sunday. You will soon see more of his Chiefs video collection.
—–
Rob says: In your opinion who will be the starting fullback for the chiefs? Do we keep Mike Cox, or is Tim Castille going to get the nod?

Bob says: First of all, I don't see the FB position getting many snaps with this offense. Haley and Weis want to get the most talented skill position players on the field as often as possible. I would rate the quality of the offensive talent in this order: Jones, Charles, Chris Chambers, Dexter McCluster, Moeaki, Dwayne Bowe, Kestahn Moore, Jerheme Urban and then either Cox or Castille. That's a lot of bodies between them and significant playing time. Whether it matters at this point, do not forget this: Cox is Chan Gailey's fullback, while Castille is part of the Haley culture. If he must pick between them, I think Haley goes with the guy he brought to the team.
—–
There's much more coming up on Wednesday and Thursday.
—–
NFL PERSONNEL & NEWS FILE FOR MONDAY, JUNE 21

BUCCANEERS – claimed S Matt O'Hanlon on waivers from Panthers – he started for two years in Carolina and had six interceptions last year.
CARDINALS – the NFL suspended WR Ed Gant for four games for violating the performance-enhancing drug policy – Gant was a fringe player who spent last season on Arizona's practice squad. He was undrafted in '09 out of North Alabama.
CHARGERS – released NT Ian Scott, FB Cory Jackson, WR Jordyn Jackson and SS Kevin Ellison – Scott was a starter last year, Ellison is a veteran who was recently arrested with 100 Vicodin pills in his possession and Jackson and Jackson were both undrafted free agents.
GIANTS – released TE Carson Butler, S Vince Anderson, LB Micah Johnson, LB Lee Campbell and P Jy Bond – Anderson was on New York's '09 practice squad, Butler has been with four teams, Bond was an Australian rules punter and Johnson and Campbell were undrafted rookie free agents.
PANTHERS – WR Steve Smith suffered a broken arm and may not be ready to practice with the start of Carolina's training camp. Smith's injury occurred while he was playing in a flag football game at his camp on Saturday. It's the same arm that Smith broke late in the '09 season, although it did not happen at the same spot.
RAVENS – signed 4th-round draft choice TE Dennis Pitta to a 3-year contract – the leading receiver in BYU history, Pitta could be a factor early in Baltimore passing game; signed 5th-round draft choice DT Arthur Jones to a 3-year contract – injuries at Syracuse hurt his draft standing and he'll need to stay healthy to have any rookie shot with Baltimore.
SAINTS – released DE Bobby McCray, WR Roy Hall and CB Glenn Sharpe – McCray played all 16 games in '09, but added just 1.5 sacks, Hall has an unknown injury leading to his leaving with a settlement and Sharpe has been with several teams and their practice squads over the last two years.