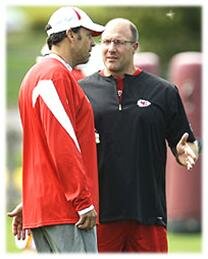 Here's part No. 2 of answers to your questions for Ask Bob. I must say I know it, but these sessions really show me again that the readership here is pretty smart and aware of the Chiefs, the NFL and the game of football.
It's a pleasure to answer these questions. There will be a Part #3 and you should see that Wednesday afternoon at some point.
Enjoy!
—–
JLoyd says: I see a couple of huge changes in what Todd Haley is doing. But, is it driven by the need to win a few more games, or is it Todd and Scott Pioli trying to go from worst to first in one big swoop?
Bob, you have seen it all meshing together from the start. They are doing things a little different and there are a lot of little questions that no one has been able to answer.

Bob says: JLoyd I'm not entirely sure what you are seeing, but let me see if I can answer your questions. There's no doubt that Pioli/Haley are driven to win a few more games. These guys have got to push that four victory total higher in 2010. Remember always the words of Clark Hunt, who said several years ago that he wasn't nearly as patient as his father. He's already shown that, and there's no reason to believe that he's going to extend a lengthy dose of patience if the Chiefs don't begin to win more games. There's no way the Chiefs can go from worst to first in one big swoop, or several smaller swoops. As bad as the Chiefs have been, they have been better over the last three years than St. Louis (six victories) and Detroit (9). If there's a sense they have changed, it's probably because they have. Both feel like they have set in place the type of program they were looking for, so they are going to be less inclined to pick fights on the way things used to be done.
—–
Gump says: Bob, how is your relationship with the Chiefs hierarchy? Has it improved or declined one year into the new front office? Also, do you have any previous relations with either Weis or Crennel?

Bob says: Gumper, it's hard to have any type of relationship with the Chiefs new front office. It all starts and ends with Pioli – there's nobody else allowed to speak for the franchise, at least not publicly. Pioli has no desire to see his quotes in print or on the air, so he's not one of those GMs that makes himself available to the media very often. Listen, he's no hermit and has done more interviews than many thought he would, but he's not the type of guy that's going to wander into the media room to shoot the breeze, or stop by the media during practice to chat. That's too bad because when he talks, he's usually pretty good. But the attitude he outlined on the day he was introduced was that the head coach was going to be the team's spokesman and he's held true to that. I have no previous relations with either Weis or Crennel and it's unlikely any will be created in this situation because they simply are not available to speak. Not available and I sense since both are coming off failed head coaching stints, they have no desire; they've had enough of the media.
—–
Adam in Dallas says: You recently reported Vrabel moving inside in the nickel defense. I hope Vrabel also moves to strong inside linebacker in the 3-4, because of his ability to shed blockers and assist the run defense. This would allow DJ to roam and assist the pass defense. Vrabel played this position with the Patriots for a year, but switched back to outside after Mayo was drafted. Moving Vrabel inside would allow a linebacker with more speed to chase the quarterback or cover the tight end in the 3-4. Please critique this philosophy. Thanks!

Bob says: I like the idea of using Vrabel inside on the nickel. I think right now they should restrict his play inside to that scheme. I like the idea of getting say a Jovan Belcher in on early downs at ILB, and then Andy Studebaker on the edge at OLB in the nickel. It would give those younger guys some play time and experience and a chance to show they are capable of replacing Vrabel in 2011.
—–
Gary in IL says: Bob, I'm not one of those Chiefs fans drinking the Kool-Aid. People are saying they think this team can win nine games, I say 4-6 wins and they tell me I'm a hater. I tell them I'm a realist. The coaching additions are nice but they need the pieces to be effective at their job. I feel they are still 1 year and a free agency and draft away. I feel the defense will be the weak link especially the front seven. Let's not forget that Romeo's defense in New England was at its best until the '03 and '04 seasons, his fourth and fifth in NE. So I'm going to temper my enthusiasm for now. Thanks!

Bob says: Gary, I know you are not a hater, but I also know you aren't easily sold given recent history and the team's lack of winning football. I would agree you are a realist, but that translates to pessimist for most people. Although I know you are in Illinois, you qualify as a Missouri fan – a Show Me man. I think there are many questions that must still be answered about the Chiefs, and the defense is a big one. There was no infusion of talent for the front seven since last year. The only real change has been Crennel. That's not enough to repair a very bad run defense. Pioli and Haley have hung their hats on Crennel having a better defensive plan and the improvement of players on the roster. It's yet to be proven that was enough to make the defense better. Adding Eric Berry helps, but the runner should be on the ground before he gets to the first-round draft choice. If not, it's going to be a long year for the Chiefs defense and thus the red and gold.
—–
Nathan says: Bob, thanks for all the OTA and minicamp updates. They are greatly appreciated particularly by those of us who live hundreds of miles from KC. This question is probably better asked during or after training camp but I'll ask any way. What do you think of the nose tackle situation? I'm guessing Ron Edwards will be the starter again. Do you think the other two nose tackle candidates have enough to step up and do what it takes to make the defensive line stouter? Another question: assuming he is healthy, in your opinion, how much of an impact player is Eric Berry going to be for the Chiefs? There haven't been many 1st round success stories for the Chiefs in the last decade. Are we going to see a superstar in Berry?

Bob says: Nose tackle remains one of the big question marks on this team. The trio of Ron Edwards-Derek Lokey-Shaun Smith would rank among the bottom two or three groups for 3-4 nose tackles in the league. Even if you factor Glenn Dorsey for a move inside it doesn't provide much help. Edwards and Smith are what they are as they've shown us throughout their careers. Lokey is the wildcard and it's hard to imagine after two years of banging around the fringe of the team that he's ready to put a hammerlock on the position. I think Berry will be an impact player for the Chiefs. Whether that happens as a rookie, I'm not sure, but from what I hear about this young man, his skills, his intelligence and his work ethic are all going to lead him to the top of the league. Superstar? That may be a stretch, but anything is possible.
—–
bhive01 says: Does the US have a chance in the World Cup? Seems like that tie with England was a fluke (you did say anything and this is "football" related). Out of everyone on the roster right now, who do you think is going to step up their game the most and make the largest difference on the field? What about off the field? What's D. Bowe up to lately? Staying out of trouble and working on those hands I hope.

Bob says: World Cup? What's that? Some sort of tennis tournament? As who is going to step up their game and make the biggest difference on the field for the Chiefs this year, I'm going to focus on two position groups: offensive line and linebackers. I think Branden Albert is ready to show that what he was able to do at the end of last season was him, not the guy that struggled through the first half of the year. At linebacker, I'm expecting improved play from Derrick Johnson, Jovan Belcher and Andy Studebaker – they just need to be given the opportunity. As for DBowe, heaven knows what he might be up to at this time. For his sake and that of the team, Bowe better be working out, keeping fit and at his proscribed weight.
—–
jimbo says: Hey Bob, when I see a contract that was signed between a player & a team. I notice (as an example) 4 yrs, $1,695,000 with a $355,000 signing bonus. Is that signing bonus part of the $1,695,000 or is it an addition? I'm assuming it allows the player to receive cash prior to the season starting & receiving a pro-rated check weekly after each game. Could you elaborate on how players are paid, when & if they make the team, don't make the team or are released, injured or traded. I'm really just curious if the rookies & UFA's etc. are totally broke until they sign or the regular season starts.
Thank You.

Bob says: That's a lot of questions Jimbo, but I think I can answer most of them. The signing bonus is included in the total contract package. When the player receives his signing bonus and the form it comes in can be different from player to player. Sometimes parts of that signing bonus are deferred. Other times the entire number comes in one check. Based on their contracts, players are paid 17 times during the year – every week that the NFL plays regular-season football. If a player's base salary is say $1.7 million, then he gets a gross pay each week of $100,000. Players all receive uniform payments in training camp and for playing in pre-season and post-season games. Any vested veteran (generally three years of experience or more) that is on the roster for the opening game is guaranteed his base salary for the rest of the year, even if he's cut the day after the opener. Injured players are paid as if they had played. Traded players take their contracts with them. The rookies receive money for taking part in the off-season program, but any big money they have is probably being fronted by their agent. That's how draft picks are able to start driving those blinged out SUVs before they sign their contract. For a player on the fringe, who wasn't a high draft choice or a highly compensated veteran, there is a real juggle when it comes to budgeting pay checks over 52 weeks, even though they only come for 17 weeks.
—–
SG says: Ok Bob Gretz, I have some very important questions for you with regard to training camp … since I am very much considering planning a visit to the KC area … 1.) Do you have info on what practices might be open to the public for 2010? 2.) What tips can you provide on getting best access to players during training camp 2010? 3.) Which BBQ place do you suggest I go to if I am so lucky as to attend a camp 2010 practice? Thanks a bunch!

Bob says: SG, yours was the first of a bunch of questions about 2010 training camp. Some of the questions are simply impossible to answer since there's no template for Missouri Western and what's happened in the past. First of all, the Chiefs announced their practices a few weeks ago (here's the story) and all of those are open to the public. The only time they are in St. Joe that won't be open practices would be a few walkthroughs on the day they travel for the opening pre-season games and any session that's moved indoors by weather. Player access is an unknown. I would expect the Chiefs to continue their tradition of having a position group sign autographs every day. That always seemed to happen after the morning workout, or in the case of just one practice, in the afternoon. Somebody else is going to have to step in and help out on the best BBQ that St. Joe has to offer. I'm sure there's got to be two or three places. Let me know and I'll pass along the recommendations and reviews.
—–
Future Boy says: Hey Bob, I painted my car red and gold, including the windshield. Then I ran it into a silver and black garbage dumpster. Now my tachometer is stuck on 1873, which I am assuming is the number of yards gained from scrimmage by Jamaal Charles during the 2010 NFL season. But I could be way off–it might mean all-purpose yards instead. What do you think?

Bob says: Hey Future Boy, since you ran into a silver and black dumpster, I wonder if 1873 isn't the year that Al Davis was born. I'm not sure Charles will approach that number, but it may be the total combined rushing yards of Charles and Thomas Jones.
—–
Zach S says: Bob, what are your thoughts on the possibility of lengthening the regular NFL season? Would an 18-game season just increase the percentage of injuries? I am against it because it seems that a 16-game season keeps the competition tighter than an 18-game season would. I can see, though, that the teams would probably make more money on Sunday if they turned a pre-season game into a game that counts.

Bob says: I've gone back and forth on this subject in my mind and I'm still not sure I've made a final decision. Right now, I'm against increasing the number of games to 18. This is a decision that seems fait accompli at this point and it's all about money. The league thinks two more weeks of games will bring more money from the TV networks and ticket buying public. The players would rather not, but if it means more money for them, they'll agree to the expansion of the regular season. If I'm the NFL Players Association, increasing the schedule to 18 regular season games would require a major payback of some kind in the new labor agreement.
We will finish up your questions in the next 24 hours, as Answer Bob rolls on.
—–
NFL PERSONNEL & NEWS FILE FOR TUESDAY, JUNE 22

BENGALS – released WR Chris Davis – former member of the Titans who was signed as a street free agent back in March. Tennessee released him after he was arrested on a DUI charge.
CANADIAN FOOTBALL LEAGUE – Former Chargers-Dolphins-Jaguars QB Cleo Lemon will be the starter for the Toronto Argonauts.
COWBOYS – released K Connor Hughes, CB Marquis Floyd, WR Rashaun Greer, TE Nick Tow-Arnett and G Chet Teofilo – Hughes has been trying to make a 53-man roster since '06, Floyd was a veteran of Arena Football and several practice squads over the last six seasons, Greer, Tow-Arnett and Teofilo are undrafted rookie free agents.
GIANTS – signed 4th-round draft choice MLB Phillip Dillard to a 4-year contract – will eventually be New York's middle linebacker; signed 6th-round draft choice OLB Adrian Tracy to a 4-year contract – finished his college career at William & Mary with 31 sacks. He's moving from DE to OLB.
JETS – signed 4th-round draft choice RB Joe McKnight to a 4-year, $2,360,000 contract with ha $575,000 signing bonus – Southern Cal product had tough senior year that dropped him in the draft order. He's got a lot of work ahead of him to make the 53-man roster for the opener; released K Jared Ballman, FS Brannon Condren and DT Mick Williams – all were undrafted rookie free agents.
LIONS – claimed LB Lee Campbell on waivers from the Giants – rookie free agent was a three-year starter at the University of Minnesota.
PANTHERS – signed 6th-round draft choice QB Tony Pike to a 4-year contract – his off-season development was hurt by University of Cincinnati's late graduation.
RAMS – signed ERFAs LB Larry Grant, WR Jordan Kent and OT Ryan McKee, all to 1-year contracts.
SEAHAWKS – claimed SS Kevin Ellison on waivers from the Chargers – Ellison played for Seattle's new head coach Pete Carroll at Southern Cal after he was released by San Diego when he was arrested with 100 Vicodin tablets.