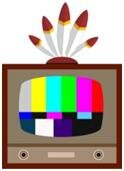 Over the years our man Enrique has rolled video tape on just about anything and everything Chiefs related that was available to him in Mexico. Despite his distance from middle America, he has developed quite a collection of memories from the last 20 years. In this quiet time for Chiefs football, we are going to bring some of these videos to you with commentary from Enrique. Enjoy!
TODAY'S EPISODE: A SALUTE TO JOE DELANEY

 The upper class of the sporting universe is defined by icons. But these, notwithstanding their common excellence, are always separated in different wings. For example, in one place, we can find the characters that have earned our admiration because of their ever-present toughness. Likewise, another section is reserved for those whose guile was good enough to overcome the sheer physical aptitudes of their opponents. And of course, a very special niche is devoted to those who have transcended the boundaries of the playing fields simply because they just wouldn't let the glamour of being professional athletes overtake their basic human traits.
Enter Joe Delaney.
Described in detail by an NFL Films feature that includes our very own Bob Gretz, the history of a man that sacrificed everything just to lend a helping hand, comes back one more time with the express purpose of illustrating the relatively brief — yet wholesome – body of work of the Texas native, both on and off the 360′ x 160′ rectangle.
Blessed with more than adequate competitive skills (as testified by reliable sources – read one more time, Bob Gretz), the Northwestern State product probably could've attained lasting relevance by merely exploiting his refined football talents. A Rookie of the Year award, a Pro Bowl starting berth, and the distinction of integrating the first winning program in his team's last eight campaigns at the time of his NFL debut, undoubtedly provided evidence that Delaney was destined to be a horse of a different color. Clearly, a snap judgment based mainly on the strength of his gridiron accomplishments.
But it's the event that happened by a Louisiana pond on June 29th, 1983 what catapulted Delaney, then a 24-old husband and father of three daughters, into the dominion where only a few are granted an all-access pass, and where the term end zone really means that you've indeed reached the final frontier.
Delaney's heroic attempts to save the lives of three downing boys remains one of the most touching, heart-warming, and exemplary deeds one will ever see — especially when you take into account that the one-time running back did not know how to swim. In spite of the tragedy that embodied the loss of three lives, the fact that Delaney was able to save one of those kids shed a little light on an otherwise horrific incident. That lone silver lining represented an invaluable triumph of the human spirit, and it surely is emblematic of the kind of wonders that any righteous soul could perform. Needless to say, that combined display of mercifulness and courage could never — and should never — be overlooked.
Therefore, it's only appropriate that at least on this day, we could all take a second to recognize the true magnitude of this feat. Thoughts and prayers will always find their accurate destinations, an abundance of praise is not trivial by any means, and a genuine reflection is almost mandatory.
But really … how can you thank a man that unselfishly corroborated the thesis that one can indeed be his brother's keeper? 
What's the exact change that you give back to an individual who, in order to stand up for strangers, paid the ultimate price for his audacity? What do you do to make sure that this man (and his story) doesn't get lost in the unforgiving labyrinths of time?
And more importantly: How do we make justice to the person whose noble action reaffirmed the concept of having faith in our fellow human beings?
The answer to those queries is quite simple: You just remember him forever.