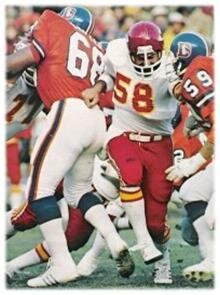 It's always good for those of us who watch pro football to be reminded that the men who play the game are made of flesh and bone.
Chicago Sun-Times columnist Rick Telander has done that with his Friday column.
"On bad days, Jack is halfway crippled, overwhelmed by nerve pain in his arms and spine and throbbing osteoarthritis pain in just about every other joint. One knee is sort of OK, but that is compromised by the four surgeries to replace a damaged right hip joint."

The "Jack" of the story is former Chiefs Pro Bowl C Jack Rudnay. Because he played for so many bad Chiefs teams during his career, Rudnay never got the attention and recognition that he deserved. But for those men who played with him and against him, Rudnay was a warrior. He appeared in four Pro Bowls and won the respect of every man he played against, from Joe Greene to one-time teammate Curley Culp.
Telander wrote: "The warrior code meant Rudnay continued on, out of duty. Indeed, he played in 144 straight NFL games after 30 straight with Northwestern. "I felt it was a sacred obligation with my teammates and my opponents," he says."
But there was a price to pay for that attitude, one that Jack pays on a daily basis and will for the rest of his life. Take the time and read about one of the best players and best men to every wear the red and gold. Here is the link.