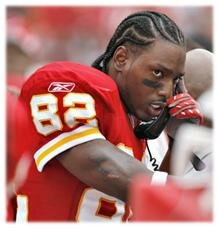 Mistakes are part of life. The only way they can be positive and productive is if something is learned from our failures, generally with the idea of making sure they don't happen again.
This is a concept that apparently Dwayne Bowe has not been able to grasp, despite having numerous opportunities to do so.
The Chiefs wide receiver is at it again. Rather than getting as far away from the controversy involving the ESPN the Magazine article about the road trip habits of his teammates in 2007, Bowe has again opened his yap and breathed new life into what was a dead story.
Speaking on an Atlanta radio station last week while attending a football camp, Bowe again said he was misquoted by the writer of an article about road trip stories from athletes. In that piece, Bowe said in his rookie season on a trip to San Diego, some of his teammates arranged for various women to stay in the team's hotel during the Chiefs visit there. His claims of an entire top floor of women flown in by Chiefs players was scandalous on the surface and ridiculous and likely fabricated in reality.
When asked by the show hosts on 790 the Fan if he took some grief from teammates over the incident, Bowe said:

"No, because now they are finding out that it definitely wasn't me. Definitely, but I took that like a man. People that really know the Dwayne Bowe that clowns but on a serious note won't let anything out of the locker room that is not supposed to be out."
Here's the link to a podcast of the entire interview on the Brandon and Woolvey Show.
Remember that when Bowe first said he was misquoted, the magazine said publicly that they had their conversation with Bowe on tape. They were willing to play the conversation for Bowe or the Chiefs, but they refused to make it available to the media and public.
When word of Bowe's continuing stance hit the media on Tuesday, ESPN the Magazine had something to say, again. Editor-in-Chief Gary Belsky issued a statement:
"As we have said, we will happily allow Mr. Bowe the chance to listen to our recording of his interview, in the event he forgot that he made these comments. He has not asked to do so.
"Despite his persistence in denying having made these comments–unfairly damaging the reputation of one of our best writers–we have consistently avoided releasing the audio from his interview to spare him and others further embarrassment, specifically because the on the recording he offers more lurid details than we published and because he named several teammates as having participated in the off-hours activity in question.
"We do not know why Mr. Bowe persists in denying having made the comments, but out of respect for him, his teammates and the Chiefs we will maintain our position, which we think is the honorable choice. We believe The Magazines' reputation for honesty and integrity speaks for itself."
Wow … so many reactions here. First, it's hard to believe any journalistic enterprise trying to sell magazines didn't go with the more lurid details from the very start. That just doesn't happen in today's world of gotcha journalism. If it's true, then ESPN the Magazine deserves kudos and probably management will fire somebody based on headlines that could have been even bigger.
At this time, the magazine folks need to release the tape. If there are names involved that they don't want to make public, then they can be redacted or beeped out. That's not their problem; they didn't provide the information. If it's on the tape, it came from Bowe. And if they had doubts about the veracity of the information Bowe was giving them, then the magazine should have never used him as a source for the story in the first place.
It would be easy to just ignore all of this and label it the further adventures of a major screw-up. In the bigger picture of the NFL and the smaller picture of the Chiefs, it does not require the formation of committees or the commencement of an investigation.
But this is a problem for the Chiefs. Bowe has again shown that his ability to focus and concentrate on moving on is that of a gnat. Want to know why Bowe drops passes? It's the same reason … no concentration, no focus. Want to know why Bowe forgets his assignment sometimes in the five seconds it takes to leave the huddle and line up? It's the same reason … no concentration, no focus.
Having confidence in oneself is mandatory in the NFL. Tossing around bravado can motivate and push some athletes to new heights of performance. It's not being cocky, if it's true. Dwayne Bowe is nowhere near as good a wide receiver as he thinks he is. He wants to be among the best. He's told head coach Todd Haley that's what he wants. But at this point in time, how can anyone believe anything Dwayne Bowe says?
It's time for ESPN the Magazine to spike this story by releasing the tape.
NEW RADIO VOICE OF MONDAY NIGHT FOOTBALL: KANSAS CITY'S KEVIN HARLAN

The best radio play-by-play voice that ever worked Chiefs games continues to gain more national work. Kevin Harlan – who served as the radio voice of the Chiefs from 1985 through 1993 – was named Tuesday as the Westwood/CBS Radio man in the booth for their Monday night football broadcasts.
Harlan, who still calls Kansas City home with his wife Ann and four kids, succeeds Marv Albert, who was the lead radio play-by-play voice from 2002 through 2009. Harlan filled in for Albert during some of the 2009 season. He will continue his duties as play-by-play man for CBS-TV on Sunday afternoons. The 2010 NFL season will be his 26th consecutive year doing pro football on radio and/or TV. He will also continue his work with TNT on NBA broadcasts.
He is the fifth radio play-by-play voice of Monday Night Football since 1978, when the long-time duo of Jack Buck and former Chiefs head coach Hank Stram did the broadcasts. They were replaced in 1996, by Howard David and Matt Millen. In 2002, Albert took over as the play-by-play voice. Don Criqui was the lead announcer for two years when NBC Radio held the NFL rights to Monday night games.
Harlan's partner in the booth will be former NFL quarterback Boomer Esiason.
NFL PERSONNEL & NEWS FILE FOR TUESDAY, JUNE 29

BENGALS – RB Cedric Benson was arrested on assault charges after an incident that happened in an Austin, Texas bar. Benson says he was only protecting himself in a situation where he was attacked by at least two different men.
CHARGERS – the Drug Enforcement Agency is investigating the records and inventory of controlled drugs that are held by the Chargers. There were 10 search warrants served by the DEA on Tuesday in the San Diego area, including several doctor's offices and pharmacies. The impetus behind the investigation was the recent arrest of former Chargers S Kevin Ellison who was found with 100 Vicodin pills.
CHIEFS – signed 5th-round draft choice FS Kendrick Lewis to a 3-year, $1,370,000 contract with a $155,000 signing bonus.
LIONS – released K Justin Medlock and G Kurt Quarterman – Medlock, the former Chiefs draft choice, has been cut loose by two teams this year as Detroit claimed him off waivers from the Redskins two weeks ago. Quarterman was a first-year player who has done stints with four teams in four seasons since coming out of Louisville.
RAMS – released DE James Wyche, LB K.C. Asiodu, RB DeMaundray Woolridge, CB Danny Gorrer, LS Clint Mower and DT Leger Douzable – Wyche was a former Jaguars draft choice in '06, Asiodu was on the St. Louis practice squad last year while Gorrer, Mower and Douzable were first-year players and Woolridge was an undrafted rookie free agents.
REDSKINS – released WR Marques Hagans – remember is short stay with the Chiefs at the beginning of the '08 season? Then offensive coordinator Chan Gailey envisioned using Hagans in a slash-type role since he had been a QB at the University of Virginia.
SAINTS – assistant defensive line coach Travis Jones has pleaded guilty to being involved in fraudulent financing of two properties in the New Orleans area; claimed CB Danny Gorrer on waivers from the Rams – he started the '09 season on the Saints practice squad before heading to the Rams.
SEAHAWKS – re-signed S Kevin Ellison, who they released two days earlier by Seattle. At the time the team said he had not passed a physical. Apparently, the situation involved contractual issues with Ellison, his arrest, his release by the Chargers and the earlier release by the Seahawks.
STEELERS – in the last week Pittsburgh has lost two offensive linemen to injuries that could knock them out for the rest of the season. On Wednesday, OT Willie Colon will undergo surgery on a torn Achilles tendon that he suffered during a workout Monday at the team's facility. He's likely done for the season. Rookie OT Chris Scott suffered a foot injury last week while working out at his alma mater the University of Tennessee and will also undergo surgery on Wednesday.
VIKINGS – released QB R.J. Archer – an undrafted rookie free agent out of William & Mary.