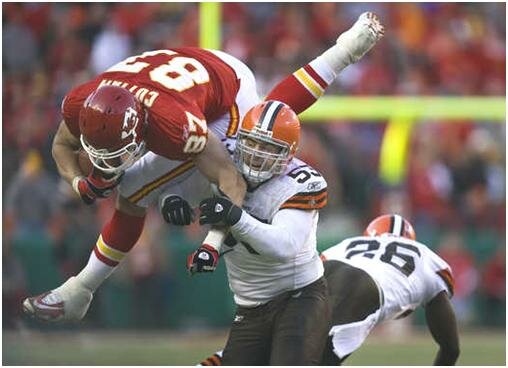 Take a look at the picture above. It's from the Chiefs and Browns game last December at Arrowhead Stadium. TE Brad Cottam has the ball. He's obviously airborne after being hit by S Abram Elam (26) and OLB Matt Roth (53).
But it looks just like every other play that goes down in an NFL game, more than 100 in a single game and over 1,500 in a given pro football weekend. Keep doing the math and that's the nature of the game, thousands of collisions.
What this picture does not show is how the play ended, how Cottam came back to terra firma. He kept pitching forward after Roth hit him and the first thing that hit the ground was the top of Cottam's head.
Even in the aftermath of the play, it did not seem any different than most moments. Cottam appeared dazed, but was helped to his feet by teammate Leonard Pope. He even went back into the game moments later.
He went back into the game with a broken neck.
"It hurt," Cottam said remembering the moment. "But I didn't think it was going to be that big of a problem. You take a breath and you go back and play. That's football.
"I was up in the air and I couldn't maneuver my landing after he (Roth) hit me. For a split second I might have blacked out, but I came too and adrenalin keeps you going. I'm very lucky it wasn't a lot worse."
After the game, Cottam underwent an x-ray, grabbed a shower and got dressed. It was a few hours after the game before they came in and told him what the x-ray showed. The words "broken neck" conjure up images that no player – heck no person – likes to deal with.
Did his career flash before his eyes?
"Sure it does," said Cottam. "When they are telling you something like that, football suddenly becomes not as important. It sets your priorities straight and you realize how lucky you were. I just know it could have been a whole, whole lot worse."
Cottam was taken to a Kansas City hospital and within days underwent surgery on his neck. For a little over three months he wore a collar around his neck and was limited in most of his physical activity.
There was no doubt in his mind what he was going to do when the collar came off.
"If I thought there was any increased chance of something bad happening because of the injury, I would not have come back," Cottam said. "They tell me I'll be able to play without any more concerns than normal. As long as that's the case, I'll be on the field."
Since being given the go ahead to train, Cottam has thrown himself into the weight lifting and running that are so much a part of the Chiefs off-season schedule. But during a dozen OTA practices and the three-day mini-camp, he spent his time in the rehab zone, otherwise known by head coach Todd Haley as "no man's land."
"I hate it, I hate watching," said Cottam, who sensed he would not be given the go ahead to full practice until the start of training camp at the earliest. "I know it's part of the situation that I have to deal with and it's frustrating. But obviously it could have been something much more frustrating if I couldn't try again."
There's no guarantee that doctors will give Cottam the go ahead to play again. His neck and the surgery to repair the damage may need more time to heal. That would bring more frustration.
He'll deal with whatever happens.
"It's not something you can tape up and run back on the field," Cottam said. "When it's time, when it's right, I'll be out there."
NFL PERSONNEL & NEWS FILE/FRIDAY-SATURDAY-SUNDAY

BENGALS – released DB Keiwan Ratliff, RB Walter Mendenhall, DB DeAngelo Willingham, S Bryan Evans and P Jake Richardson – Ratliff is an NFL veteran, Willingham has now been with four teams as has Mendenhall and Evans and Richardson were undrafted rookies.
BUCCANEERS – signed 7th-round draft choice DE Erik Lorig to a 4-year contract, terms undisclosed – a Stanford product, he has battled a chest injury in the spring; signed 7th-round draft choice LB Dekoda Watson to a 4-year contract, terms undisclosed – out of Florida State, he'll backup at weak-side LB; released LB Angelo Crowell, S Emanuel Cook and LS Chris Mauriello – Crowell's career has stalled due to knee problems, Cook was on Tampa's practice squad last year and Mauriello was an undrafted rookie.
DOLPHINS – signed LS John Denney to a 3-year contract extension, locking him up through 2013 – he's a six-year veteran and solid on the snaps; signed P Brandon Fields to a 2-year contract extension through 2012 – his gross average of 46.3 yards and net average of 39.8 make Fields one of the better punters in the league.
FALCONS – signed 3rd-round draft choice G Mike Johnson to a 4-year contract – versatile blocker who will soon be in Atlanta's starting lineup, somewhere.
49ERS – released CB Keith Smith – a 7-year veteran who started with the Lions and spent last year with the Niners.
PACKERS – released QB Noah Shepard, CB Trevor Ford, S Khalil Jones and LB Timothy Knicky – Ford played in '09 for Green Bay, Jones was on the practice squad at the end of the season and Shepard and Knicky were undrafted rookies.
RAIDERS – Franchise player DE Richard Seymour signed his club offer, a 1-year, $12,398,000 contract – he had just four sacks with Oakland last year and then skipped the off-season work.
RAVENS – released G Daniel Sanders and DE John Fletcher – Sanders was with the Rams last year and Fletcher was an undrafted rookie out of Wyoming.
REDSKINS – acquired OT Jammal Brown in a trade with the Saints for a conditional '11 draft choice – Brown was a restricted free agent, coming off hip and groin injuries last season. Compensation to the Saints will be either a third or fourth-round choice. Brown is expected to play right tackle, with first-round draft choice Trent Williams working at left tackle; claimed DB Ramzee Robinson on waivers from the Browns – in his short NFL career he's played for the Lions, Eagles and Browns before Washington; released DE Greg Peterson – he spent last season with the Jaguars; released DB Melvin Stephenson – undrafted rookie out of Texas-El Paso.
agreed to terms with 4th-round LB Perry Riley on a 4-year, $2,320,000 contract with a $530,000 signing bonus – out of LSU, he's expected to play at inside LB in Washington's 3-4 defense.
SAINTS – RFA WR Lance Moore signed his tender offer, a 1-year, $1,759,000 contract – coming off an injury filled '09, playing just 7 games; released RB Christian Ducre – undrafted rookie out of Mississippi State.
SEAHAWKS – released WR Reggie Williams – signed back in April, he did nothing to impress the Seattle coaching staff.