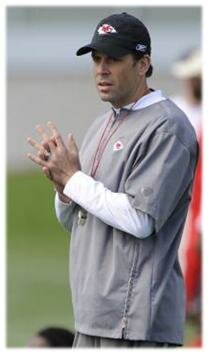 From the Truman Sports Complex

The draft choices that were part of the Chiefs rookie camp were all singing the same tune over the weekend.
And it was music to the ears of head coach Todd Haley:
"Wherever Coach Haley needs me to be, that's where I'm going to be … wherever he puts me, you're going to get the same guy … whatever I'm told to do is what I am going to do …. Do whatever I can to make the team better and make the team at this point … I'm just trying to make the team and learn the playbook … whatever the coaches want me to do, I will do."

All seven of the Chiefs draft choices spoke to the media for a few moments during the rookie camp, and all of them repeatedly used words like compete, opportunity, willing to contribute, do anything I'm asked. It almost made you think they were scripted.
They weren't. Certainly they said things they knew the head coach and organization would like to hear. But that would be the cynical outlook on their words. Those that prefer a bit more optimism and hope should consider this: they were seven players from seven different college football programs but they all have the same goals and desires, and it would seem personalities.
They all took to heart one thing that Haley told them during their first meeting of the camp: you don't know what you don't know. As Bill Parcells would say – and maybe Haley did too – you are rookies, act like it.
And they won over their head coach.
"I think these guys have a good energy about them," Haley said Sunday afternoon as the players left Kansas City and headed home for two weeks. "There are some good personalities in this group which is important – you've got to have some personality on teams and I would say I like that about these guys. They're fun; it's nice, pleasant to be around these guys.
"I should say, it doesn't appear too big right now for them, which is a good sign."
Call it the deer in the headlights look – that's what happens to some rookies when they find themselves in an NFL locker room. Last year's sixth-round pick Quinten Lawrence came out of McNeese State and in those first days, pro football was too big for him. It's not so much fear – although sometimes it's just that – as it is the moment of realization best exemplified by Dorothy in the Wizard of Oz when he realizes "we aren't in Kansas anymore."
With the possible exception of tryout DE Jeffrey Fitzgerald of Kansas State, none of the rookies in town for this camp saw any bit of Kansas. They were very busy from morning to night learning the playbook, learning the rules and regulations, listening to presentations on the team's strength and conditioning program, the off-field player programs, NFL security and assorted other items. As Haley said, the players were going to be evaluated even during a Friday night dinner they enjoyed with the staff.
As second-round WR/RB Dexter McCluster said: "You're always being judged around here, so you've got to be on your Ps and Qs at all times."
It was a learning experience for the players, and it was a learning experience for the coaches.
"We're chomping at the bit too, as a staff," said Haley. "For instance with McCluster, we orientated him into multiple areas so it was important to us to see how he handled that – being in a different classroom, different meetings or different spots. That's just an example, but we're learning as much as they are, and it's important. We now have a couple weeks to get prepared and put our ducks in a row and be ready to roll here when the OTAs start."
That's Monday, May 17th when the Organized Team Activities begin. According to Haley, all of the team's rookies will be able to attend that workout. By NFL rule, they cannot return until May 16th or the day after their school holds graduation. One change this year allows players who have already earned their degree to take part even if their school hasn't held graduation. That will allow TE Tony Moeaki to come back for the first OTA, even though Iowa won't have held graduation; he already has his diploma.
Once they get back, the rookies will have to survive with the veterans. And they will be behind – way behind – in what Haley thinks is maybe the most important aspect of the off-season: strength and conditioning.
"By the time they get back they will be officially 26 workouts behind and in most cases, with the way these guys were working, 32 workouts, which are significant workouts, each one of them," Haley said. "When you get into the actual repetitions, the pulls, the pushes, squats, lifts and cleans, that our guys will have had under our belt, it is like money. If you lose two-hundred thousand dollars, you are not getting it back. There is no way to make it up; you will always be playing catch up.
"If they do what they are supposed to do over these next couple of weeks. It will give them a chance to come back in better shape."
OBSERVATIONS FROM A MINI-CAMP WEEKEND

The 33 players in town for the camp went through four practices – Friday, a double-dip on Saturday and then Sunday. For three of those workouts, the media was allowed to watch about 25 minutes, essentially the pre-practice stretch and individual position drills.
But on Saturday afternoon, Haley allowed the assembled media to watch the entire practice session, so there's a bit more we can tell you about what we saw and in some cases didn't see during camp:
– None of the players was wildly out of shape, but few of the players were in the type of shape that Haley demands. As the head coach said, running on the treadmill in an air-conditioned health club is not going to get these guys ready for Chiefs football. Most of the players who spoke seemed to understand that. Those that don't will be very sorry later this month. Very sorry and very sore.
– Haley made it clear there were no major injury problems with Eric Berry and Javier Arenas. Those two pretty much watched the Saturday afternoon session because of what the coach called "lingering problems." He didn't provide any details, but Berry injured his toe at his Pro Day workout in Knoxville back in March. You might remember that defensive coordinator Romeo Crennel was there to run the position drills and Berry went down early with a bum big toe on his right foot. Arenas pulled a hamstring at the NFL Combine after running his first 40-yard dash and did not continue.
– Speaking of Crennel, he won the award as the quiet coordinator in this mini-camp; his voice was seldom heard on the sideline. Offensive coordinator Charlie Weis was heard and heard often. He's not shy with his instant analysis.
– It hasn't taken Hall of Famer Emmitt Thomas long to connect with his rookie DBS. When they were not on the field taking part in the work, Berry, Arenas and fifth-round pick Kendrick Lewis surrounded him like chicks flocking to a mother hen.
– It doesn't take too many snaps to see what the Chiefs – and the rest of the NFL – saw in McCluster. Forget his 40-yard dash numbers. In these workouts, he just exploded at times and can stop and change directions on a dime. Haley gave an indication that he and Weis will be spending many hours trying to find different ways to torment opposing defenses. In the Saturday practice, McCluster worked at just about every position but wildcat quarterback. The hardest task Haley will have is making sure they don't wear this kid out in August in St. Joe.
– Let me preface this by saying it's early May and these are not practices so much as organized workouts. But if he can stay healthy, the Chiefs may have found something special with Moeaki. The young man's strength is supposed to be blocking, which again we didn't get to see much of in the camp. But he did show very good athletic skills in running deep patterns and being able to adjust to the thrown ball and still catch it in his hands. That's not easy to do for any tight end, let alone a rookie in his first camp. I will go out on a limb and say this: he's already the best pass catcher among the tight ends on the Chiefs roster. Don't pencil No. 81 into the first chair at tight end yet. But if he keeps this up and handles the mental part of the game, he has a chance for extended playing time.
– There's so little that can be gained from watching the linemen in these types of practices because of the lack of pads and real hitting. One guy who looked good on the pass rush was first-year DE Bobby Greenwood. Signed last year as an undrafted free agent out of Alabama, Greenwood spent the year on the practice squad. It will be interesting to track is development here in the next six weeks.
– Kendrick Lewis looks like safety, standing deep and he moves very well. Again, his 40-yard dash time was something that cost him draft position, but he looked quick and agile in the secondary.
– Converted DE now OLB Cameron Sheffield looked good going forward, not so good going backwards in coverage. That's only to be expected for a guy making that type of position change.
– At inside linebacker were free agent Mike Johnson and tryout guy Boris Lee. Johnson is out of North Alabama and he's a bit stiff in his movements. Not so with Lee, who played at Troy with Sheffield. Lee has some bend in him and I would not be surprised to see him added to the roster.
– Haley said he thought the Chiefs would sign "a couple or three" of the tryout players. I didn't see enough practice time to be able to intelligently guess on who those players might be, so I'll make a dumb stab and say Lee, Fitzgerald and possibly Notre Dame WR David Grimes.
– It's very doubtful that QB Bill Stull will be one of the tryout guys signed, but I'll be he gets a look from another team. Despite the fact he was the only passer in camp, he seemed to throw the ball well; there were not a lot of foul balls in the passing drills that we saw. Stull was a late bloomer at Pitt and he may be one of those college QBs who is trending upward.
– On draft day Eric Berry said his initial purchase as an NFL first-round draft choice would be a 2010 Camaro. Well, that happened and Berry said the vehicle is being customized right now; he should have it when he returns in two weeks.