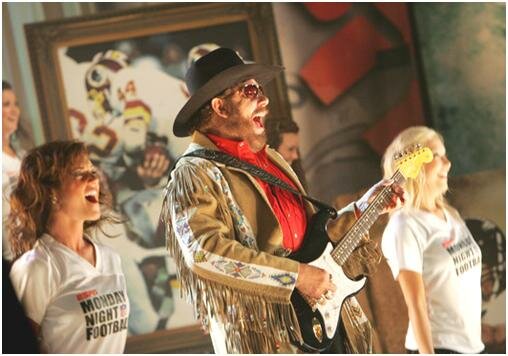 That's Hank Williams Jr. above, and he was in a Nashville studio last week recording show openings for ESPN's broadcasts of Monday Night Football.
Williams' ditty "Are You Ready For Some Football" has been the Monday night opening for many seasons now, written after his hit "All My Rowdy Friends (Have Settled Down)." It will be part of the show open on September 13 when the Chiefs and Chargers at Arrowhead Stadium are the second game of the opening Monday doubleheader.
Over the years, Williams and his song have taken on different forms and presentations. In the 1990s, Williams won four Emmy awards for music on television.
Williams was also a good friend of the late Chiefs LB Derrick Thomas.
We are now 70 days away from the 2010 season opener.