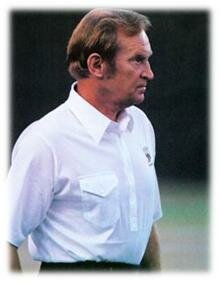 The world of football coaching has always attracted a very diverse group of men. I'm sure if they allowed women to coach, it would attract a very diverse group of women as well.
There are various pigeon holes that coaches can be placed in, you know the boy wonder types, the long-time assistants finally getting a shot, Joe College coach trying to make it in the NFL, the schemer types, the nice guy types, the coaches who would have sold their first born if it got them a head coaching job.
And then there was Don Coryell. He didn't fit any of the pre-conceived notions of what type of personality the leader of a football team should be, other than the fact he could win games. He was the first man to win 100 games or more in college football and pro football.
But he was different. Coryell hated whistles. The shrill tweet ran down his spine like dragging fingernails on a chalkboard.
"I hate whistles, just hate'em," Coryell said one day when he was doing a telephone conference call with the Kansas City media before a Chargers-Chiefs game. "I don't use it, don't want it."
The man who many think started the passing game revolution in pro football with his Air Coryell offense with the Chargers in the 1980s passed away on Thursday. He was 85 years old and in poor health.
There are so many Coryell stories I could tell, and I wasn't around the man on an everyday basis at either of his NFL head coaching stints with the St. Louis Cardinals and in San Diego. Still, he was as memorable a man as you could find in the business.
He was the classic absent minded professor. Coryell was wrapped up in football; some would say he was wrapped up too tightly in the game. Men that worked for him said they seldom had a conversation with him where football wasn't the subject matter. Had he been coaching in this era, he still wouldn't have figured out the Internet yet, let alone Face Book and Twitter. He used to tell those concerned about the game-day schedule on road trips, "Do what you want; just tell me what time the bus leaves."
There are the stories of the time his wife asked him to take their daughter to school. She got in the backseat and Dad took off from the driveway and drove in silence all the way to the Chargers offices. He was out of the car and headed in to work before his daughter made a sound.
Out in San Diego there was a gathering spot for football types at a restaurant called Casa di Baffi – that's the house of the mustache in Italian. It was owned and run by a gregarious Italian from Pennsylvania named George Pernicano, who wore a very well manicured handlebar mustache. When the Chargers moved to San Diego from Los Angeles in 1961, then owner Barron Hilton was looking for locals to buy into team ownership. Pernicano was one of those guys and to this day, he retains a three percent sliver of the Chargers.
During the halcyon days of the American Football League, Casa di Baffi was where all the players, league officials and media would visit on the night before the game. Hollywood stars as well. If the Jets were in town, more than likely Joe Namath was there. He called the place "Pork Chop Hill."
Things were no different by the 1980s when I made my first of many trips to San Diego with the Chiefs media corps. Back then on Saturday evening the team's public relations man Bob Sprenger would gather up the media humpheads and take them to Pernicano's for a feast that featured the best pork chops I've ever tasted. I don't like pork chops per say, but George (left) and his chef Mike had some secret to how he prepared his chops that made them mandatory at these meals, along with pasta, other meats, cheeses, wine.
So enamored were we with the joint that in 1982, when the Chiefs played in Anaheim against the then Los Angeles Rams, we rented a car and drove the two hours from Orange County to San Diego to have a Saturday night meal at Pernicano's.
We strolled into the restaurant and who was there but Coryell, with his wife and a few assistant coaches. He recognized us as we stopped to stay hello and he bolted straight up out of his seat.
"What are you guys doing here?" he said in that lisp that made his spoken words so memorable. "Jiminy Christmas, we spent all week getting ready to play the Broncos! You mean the Chiefs are in town." It took plenty of convincing before Coryell felt better. Still an hour later, he was shaking his head, trying to make sure he and his staff hadn't prepared for the wrong team.
Back in 1979, the Pittsburgh Steelers were headed to San Diego to play the Chargers. At the time, the Steelers were 9-2 and on their way to their fourth Super Bowl in six seasons. Coryell did a conference call with the Pittsburgh media and no matter what question came his way that day, his answers were all the same:
"This Pittsburgh team is the greatest of all time, just the greatest … I don't know how we can stop them or score on that defense … They are unbeatable. They are so good and even their jayvees (backups) could probably beat us … Oh, it's going to be a long day for us … I'm not sure how we can prepare to face a team that is the greatest of all time."

That Sunday, the Chargers smashed the Steelers 35-7 in the worst beating Chuck Noll's team took in the decade of the 1970s. I'm sure the old sandbagger Coryell got a charge out of that one.
Back in the 1980s the teams of the AFC West would hold a spring meeting every year where the five head coaches would come together in one of the cities and spend two days talking with the media. One year Coryell sat at table in a hotel meeting room and took questions. Somebody asked him what his defensive philosophy was.
"If you can't stop them, let'em score quick so we can get the ball back," said Coryell, with no hint that he was joking. He never cracked a smile as he talked about always wanting to make sure his offense got the last crack at the ball.
That attitude towards defense is probably the biggest reason Coryell is not in the Pro Football Hall of Fame. He certainly is worthy of consideration, as he was this past February, because of his offensive innovations. But the lack of a championship – due largely to the lack of a consistent defense – left a hole in his resume.
But that does not diminish the remarkable achievements of this man. His offensive philosophy of attacking with the passing game was revolutionary back the 1980s and changed the way the game is played. When he was an assistant coach at Southern Cal he helped John McKay install the I-formation, which created two plays – Student Body Right and Student Body Left – that helped the Trojans win many games and SC backs win many Heisman Trophies. Sometime after he was done coaching it was discovered that Coryell was dyslexic – the letters on the printed page didn't all go together correctly for him. Somehow, he had figured out a way to not only work, but excel at his craft for decades without anybody knowing, including himself.
And then there was the lisp. In the rough and tumble world of pro football, it's hard to imagine a man rallying his team with a pre-game or half-time speech spoken with that lisp. Yet, his players loved him, and to this day if you talk with a member of one his teams, they have nothing but love for the man.
Don Coryell did not follow in the coaching steps of another. The footprints he left on the game were originals. He wasn't just a character. He wasn't just a man with character. He was a character with character, a true one-of-a-kind.
RIP coach.