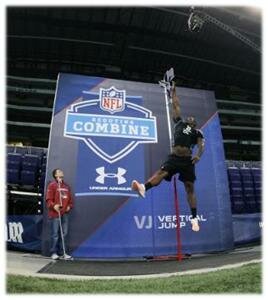 From Indianapolis, Indiana

Wide receivers will hit the field today at Lucas Oil Stadium to run the 40-yard dash and go through other drills as part of the NFL Combine.
The Chiefs will be paying close attention; they need some young receiver help in the 2010 NFL Draft.
"It's a good group," head coach Todd Haley said on Saturday. "We can find something there."
What's noteworthy about the group of 44 wide receivers in town for the four-day Combine is the presence of so many pass catchers out of the Big 12 Conference. At every level of prospective talent among the receivers there are familiar names to college football fans in the Midwest.
The best receiver in the draft is thought to be Dez Bryant, a product of Oklahoma State who did not play in the 2009 season for the Cowboys because of an NCAA suspension. Bryant will be a first-round selection.
At the next level, considered anywhere from second to fourth-round talents are Dezmon Briscoe out of Kansas and Jordan Shipley from Texas.
Just behind them – but only because of a recent injury – is Missouri's Danarrio Alexander. He'll likely go in the fourth to sixth rounds. Same with Baylor's David Gettis.
And then there's Missouri's Jared Perry, KU's Kerry Meier and K-State's Brandon Banks, who are considered draftable players, likely in the sixth or seventh round. Even if they are not selected, all three will get the chance to make an NFL team as undrafted free agents.
All are here for the Combine and most will take the field at Lucas Oil Stadium on Sunday.
"They are some of the best wide receivers," said Meier. "If Dez Bryant and these other guys are the top guys in the draft, you can see yourself with similar play and similar qualities. It makes you believe you are made to play at this level.
"You can definitely feel that. Hopefully I can come out tomorrow and just cut loose and have fun."
Projected 1st-round selection: Dez Bryant, Oklahoma State, 6-2, 220 pounds.
Bryant played 28 college games and scored 29 touchdowns. Those are numbers that will catch the attention of any NFL coach or scout.
Big, strong and athletic with good speed, Bryant began the 2009 college football season as one of the top five prospective selections in the '10 NFL Draft. Then, problems came with the NCAA. Bryant lied to investigators for the association about his relationship with Deion Sanders.
That earned him a suspension for the last nine games of Oklahoma State's season. And, it will generate a great many questions from NFL teams during the Combine.
"Whatever's asked, I'm going to answer it," Bryant said. "I just tell them I misled the NCAA about going out to Deion Sanders' house. I apologized for it and I'm back on track and ready to go."
There was no reason for Bryant to lie, because the visit to Sanders home in Dallas was not in itself any sort of NCAA violation. Not so with lying to the governing body of college athletics. That's why they brought the hammer down on the Texas native.
"It was a bad mistake," he said. "But I'm a great person. I enjoy the opportunity to make people smile. I'm good at making people smile. People that know me, they know it was a mistake."
What wasn't a mistake was his short but brilliant on-field career with the Cowboys. He finished with 117 catches for 2,425 yards and those 29 touchdowns. The math on that resume is impressive – an average of 20.7 yards per catch and a touchdowns for every four receptions. He also returned 19 punts for an average of 16.8 yards a return with a pair of TDs.
Bryant compares himself with Larry Fitzgerald because of his ability to go up and grab the football. That's quite a statement, but most of the NFL seems to believe he has the tools to back that up.
"He's really fun to watch," said Briscoe, who was being called the Big 12's other Dez around the Combine this weekend. "When a guy has that kind of talent, I don't mind being the other Dez."
But when the receivers work out on Sunday, Bryant will not be among them. He tweaked a hamstring while working out last week he said, so he will wait until March 10 at the Oklahoma State pro day in Stillwater to perform for scouts.
Projected 2nd-3rd round selection: Jordan Shipley, Texas, 5-11, 193 pounds.

Finally, Shipley is leaving Austin. He arrived in the summer of 2004 and spent six football seasons around the Longhorns program. It was 2006 before he actually got on the field, as he had to fight through knee and hamstring injuries that wiped out the 2004 and 2005 seasons for him.
That makes him 24 years old right now and he'll celebrate his 25th birthday in December. That's pretty old for a rookie, but Shipley doesn't see it as a determent of any kind.
"I'm really only a year older than most of the guys who are here," Shipley said. "A year and a couple of months older. Nobody (from an NFL team) has asked about it."
Once he got on the field, Shipley was one of the most productive players in University of Texas history. He played in 55 games, catching 248 passes for 3,191 yards and 33 touchdowns. He returned 30 punts for an average of 12.5 yards a return and three touchdowns. He also had 19 kickoff returns for an average of 24.6 yards and a touchdown.
In his just completed final year of eligibility that ended with an appearance in the BCS Championship Game against Alabama, Shipley caught 116 passes for 1,485 yards and 12 touchdowns. Against the Crimson Tide, he caught 10 passes for 122 yards and two scores.
Shipley can play any and all of the wide receiver positions in the NFL, but he's gotten a lot of attention as a probable slot receiver because of his stature and lack of top-end speed.
"I've played inside and outside," he said. "I'm pretty comfortable in the slot."
His standing in April's draft may depend on how fast he runs the 40-yard dash on Sunday. Anything at 4.5 and under will likely put him in the second round. Above that and he'll find himself available in the third or fourth round.
Projected 3rd-4th round selection: Dezmon Briscoe, Kansas, 6-2, 207 pounds.

The need for speed is what Briscoe has been working on ever since he declared for the NFL Draft after his 37-game career with the Jayhawks.
"Near as I can tell, the Combine is about your 40-time for wide receivers," Briscoe said. "People really put an emphasis on it. It's a big deal, so I'm going to go out there and perform my best. I feel like I play faster than my 40-time, but I understand it's an important number.
At KU, Briscoe caught 219 passes for 3,240 yards and 31 touchdowns. That included the '09 season with 84 catches for 1,337 yards and nine TDs. Playing against Missouri at Arrowhead Stadium he caught 14 passes for 242 yards and two TDs.
There's no question that Briscoe can catch the ball. What the NFL wonders about is his speed and whether he can separate from coverage. That's what sent Briscoe back to his native Texas in the last few months to work with former Olympic champion Michael Johnson.
"He's definitely helped me with my starts, as far as getting my elbows bent and driving my knees forward and keeping my torso straight and stuff I didn't know about," said Briscoe.
What Briscoe knows he must do is impress the scouts and coaches who will watch him go through drills on Sunday.
"I think I can help every team in the league if given the chance," Briscoe said. "I just want to fit in and help whoever drafts me win a lot of games and championships."
Projected 5th-round choice: Danarrio Alexander, Missouri, 6-5, 215-pounds.

Even guys on crutches come to the Combine, especially if they are talents like Alexander. He made his way through Lucas Oil Stadium on the sticks, after surgery last week on his left knee. It will keep him from doing anything on the field not only this weekend in Indy, but before the draft in late April.
"I was down at first," Alexander said. "I've got to stay positive and get back into it as soon as possible. I'll be ready by training camp. Hopefully, my film was good enough for them."
It should be. Alexander was No. 1 in major college football in the '09 season, averaging 137 receiving yards per game. It was all part of his 113-catch, 1,781-yard season with 14 TD catches. Over 47 games with the Tigers, he caught 191 passes for 2,778 yards and 22 scores.
Without the injury, Alexander may have been able to jump into the late first round. With the injury, he'll be in the middle of the draft because he can't workout for teams.
"I've got to be patient and rehab this knee and then show them what I can do," Alexander said of the team that selects him. "If they have faith, I'll show them they didn't make a mistake."
Projected 5th-round choice: David Gettis, Baylor, 6-3, 217 pounds.

The league wants to see as much of Gettis as they can, because there are some very big athletic skills there with this big, fast man out Dorsey High School in Los Angeles. He became the first schoolboy athlete to win three straight California titles in the 400 meters. In his senior season, he ran it in 45.84 seconds.
Gettis has also been times at 4.35 seconds in the 40-yard dash. For a man with his size, that's a remarkable number. If he can reproduce that on Sunday at Lucas Oil Stadium, it could move him up the draft board.
Over 43 games with the Bears, Gettis caught 116 passes for 1,555 yards and four TDs. He also returned 41 kickoffs for an average of 22.7 yards and a touchdown.
Projected 7th-round choices: Brandon Banks, Kansas State, 5-7, 150 pounds ; Kerry Meier, Kansas, 6-3, 220 pounds : Jared Perry, Missouri, 6-1, 178 pounds.

BANKS: As he walks among the other players here in Indy, Banks looks like a junior high kid who snuck in the back door. It seems like a good stiff winter wind outside the stadium would knock him over. But Banks has shown the ability on the Big 12 level to catch the football, return kickoffs for touchdowns and run fast; very fast. Banks said he planned to run the 40-yard dash under 4.3 seconds when he's timed on Sunday. "I can do that," Banks said. "Absolutely doable." As a high school sprinter in North Carolina, he ran the 100 meters in 10.42 seconds and the 200 meters in 21.42 seconds. At K-State, the JUCO transfer from Bakersfield caught 123 passes for 1,754 yards and 10 TDs in 24 games. He also returned 57 kickoffs for an average of 28.5 yards with five scores. Banks has spoken with Darren Sproles and he believes he can play in the NFL. "I'm a little bit taller than him, but his body is bigger," he said of Sproles. "I operate by the motto they can't hit what they can't catch."
MEIER: Once a quarterback, always a quarterback. That's what Meier believes. But moving to wide receiver when KU coach Mark Mangino gave the starting QB job to Todd Reesing has opened up a door to pro football for the Pittsburg, Kansas native. He'd love to follow in the footsteps of h is older brother Shad, a tight end who played at Kansas State and was selected in the third round of the 2001 NFL Draft by Tennessee. Shad Meier spent six seasons in the NFL. In 47 games at KU, Kerry Meier caught 226 passes for 2,309 yards and 18 TDs. His background as a quarterback and his experience on special teams (as a holder and backup punter) should make him valuable for any team in the league. "I think my special teams history will be very helpful for me," Meier said.
PERRY: A hairline fracture of his right tibia knocked Perry out of two games at the end of the '09 season. But he came back and played in the Tigers bowl game and the Texas native hopes that shows the NFL that he's a tough player. "I think I can bring toughness to any NFL team at wide receiver," said Perry. "I know I bring the work ethic. That's something you learn at Missouri under Coach Pinkel. "Perry played in 52 games, catching 137 passes for 1,844 yards and 13 TDs. In the '09 season, he caught 46 passes for 696 yards and six scores. He's prepared to do whatever it takes to make a place for himself in the NFL. That will start with getting his 40-yard dash time under 4.5 seconds. "I can get t hat done," Perry said.
CLAUSEN SINGS THE PRAISES OF CHARLIE WEIS

Chiefs GM Scott Pioli says the Chiefs have a quarterback in Matt Cassel, indicating they are not likely to use an early draft choice on a passer.
Too bad for Notre Dame's Jimmy Clausen (left); he made it plain on Saturday at Lucas Oil Stadium that he would love a reunion with his Fighting Irish mentor.
"He's a great quarterback coach," Clausen said when asked about Weis. "He's probably the smartest coach I've ever been around. Coach Weis definitely knows what he's doing. He puts me in a great position to go out there and just play football and make plays.
"I've been in Coach Weis' system the past three years. I'm familiar with the west coast offense. We played under center for the past three years. We've been in shotgun, so I've been a lot of different variety of offenses."
NOTES AND QUOTES FROM AROUND THE COMBINE

Maryland OT Bruce Campbell wowed the NFL types during his workout on Sunday. At 6-6, 314 pounds, he ran the 40-yard dash in 4.85 seconds. Combined with a 38 inch vertical jump and 34 reps on the bench press with 225 pounds, it was a remarkable display of fast twitch muscle fiber.
Dorin Dickerson (right), a tight end out of Pitt, also had those watching talking about his 4.47 time in the 40-yard dash. Dickerson also had a 42-inch vertical leap and did 24 reps on the bench press. He's 6-1 ½, 226 pounds. For any team looking for a receiving tight end, Dickerson would seem to be an obvious consideration. No way 99 percent of the linebackers could cover somebody that fast.
Alabama DT Terrence Cody showed up at the Senior Bowl a couple weeks ago and weighed in at 374 pounds. He weighed in on Saturday at the Combine 20 pounds lighter. If he can lose more and get his weight under control, Cody will realize a lot of extra dollars.
ALL THOSE PERSONNEL MOVES & OTHER STUFF FROM AROUND THE LEAGUE

BILLS – have decided not to offer contracts to WR Terrell Owens, DE Ryan Denney and WR Josh Reed.
COLTS – hired Ron Turner as wide receivers coach.
JETS – will release veteran RB Thomas Jones next week. Jones has refused to re-structure his contract.