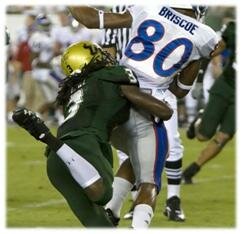 NAME – Jerome Murphy
Position – Cornerback/safety.
College – South Florida.
Status – Redshirt Senior.
Size/Weight – 6-0¼, 196 pounds.
Important numbers – 4.52 seconds in 40-yard dash, 16 reps in the bench press, 38-inch vertical jump, 10-feet 5-inch broad jump.
Age – 23.
Honors – 2nd-team All-Big East in '09.
College career – Nobody in the history of South Florida football played as any games for the Bulls as Murphy did over the last four seasons. He was very active on defense,  as he took part in 15 takeaways and was frequently one of the team leaders in tacklers each week. Showed himself to be a contributor on special teams, not only in the return game, but in blocking kicks.
Stats of note – 52 games/25 starts … 202 total tackles, 7 tackles for loss, ½ sack … 8 INTs, 19 passes broken up … 4 forced fumbles and 3 fumbles recovered … averaged 24.2 yards on kick returns and 11.7 on punt returns … 4 blocked kicks including two in one game.
STRENGTHS – A physical player who is willing to stick his shoulder in against the running game … Murphy is a good tackler and wraps up when he brings down the man with the ball … good speed and he closes fast on ball and receiver … Murphy has a cornerback mentality and puts the last play behind him.
WEAKNESSES – Technique needs a lot of work, especially in pass coverage … overaggressive at times, falling victim to double moves and fakes … gives up too much ground when dropping into coverage and sometimes is slow getting to the ball.
THE RIGHT 53? – Murphy likes to compete and he especially likes to go against the better receivers and offenses. What coach wouldn't want a guy like that? No off-field problems have reared their ugly head.
What he said – "I could've gone to Rutgers, West Virginia and others. Myself, I wanted to go and play in the South because they said that's where the best players are at."

End game – There's a lot to like about Murphy, and he can help whatever team selects him in the third or fourth round immediately with his work on special teams.
ON THE CHIEFS LIST? – When it comes to their first five picks, Murphy does not seem to fit well for the Chiefs. There's a lot to like about his aggressiveness, but he's not an elite cornerback and doesn't figure to be somebody that Pioli/Haley would aggressively chase.