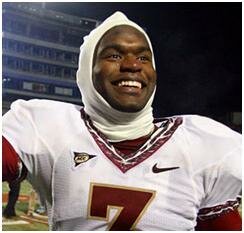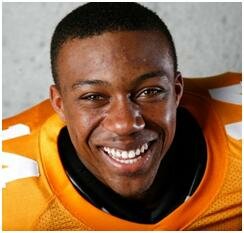 From Indianapolis, Indiana

Some might call it wacky, others could use a word like crazy, but I've dealt with evaluations like that before, and sometimes they've even been correct.
Over the weekend here at the NFL Combine I had a revelation. Maybe it's been too much time in Lucas Oil Stadium over the last few days and too many interviews and too many adult beverages after hours and too … I'll stop there.
I know what the Chiefs should do with at least two of their early picks in April's 2010 NFL Draft.
They need to use their first-round choice on Tennessee safety Eric Berry. He's the smiling guy above on the right. With one of their selections in the second, third or fourth rounds, they need to draft Florida State safety Myron Rolle. He's the smiling guy above on the left.
Two safeties? Yeah, sounds kooky I know. But let me tell you this. After meeting and speaking with Berry and Rolle, I'm willing to roll the dice and say these two guys are locks to make it and make it big in the NFL. Over the last four days, more than 100 players have been brought to meet with the media. There have been some impressive young men, like QBs Tim Tebow, Sam Bradford and Colt McCoy. Defensive tackles Ndamukong Suh and Gerald McCoy were outstanding.
But nobody left an impression on me more than Berry and Rolle.
They are physically gifted. They are smart. They project common sense and leadership skills. They are tough. Did I mention smart? Remember, Rolle is a Rhodes Scholar who spent last fall at Oxford.
If Pioli/Haley would follow my plan, they could settle the safety position for the next decade, and do it with guys who can lift up the other nine guys on defense. There would be more sacks, more interceptions and more fumbles caused. The opponent's running game would not blast the Chiefs defense the way the Titans did in '08 and the Browns did in '09.
I don't know if these guys qualify under the "right 53″ but I bet they do. They both love football. It's important to them. They are dedicated, intelligent and very good players. If that's not the "right 53″ then there's a problem with the criteria.
When asked if he was going to take part in all the drills, running and lifting when the defensive backs hit the field on Tuesday, Berry said: "This is the Combine, not a fashion show. I'm doing everything." So is Rolle, who got up at 6 a.m. in London to lift weights and train with the Oxford Rugby team during the fall when he was pursuing his Masters in Medical Anthropology.
At Tennessee, the 5-11, 203-pound Berry won the Jim Thorpe and Jack Tatum Awards as the best college defensive back in 2009. It was his second consecutive Tatum Award. He was twice a unanimous All-America selection. The Georgia native finished his career with 245 tackles, three sacks, 14 interceptions, with 494 interception return yards and three touchdowns.
There was no defensive back better than Berry the last two seasons, maybe no better player on defense. Listen to Berry answer this question from the media horde: what would you tell a team if they asked why they should draft you?
"If you want a complete defensive back, I'm your guy," Berry said. "I can play free or strong safety. I can play the nickel and left or right corner. I've played against some of the best players in the country. I played against Percy Harvin (Florida). I picked off last year's No. 1 pick Matt Stafford (Georgia). I've hit Knowshon Moreno (Georgia).
"I'm good character guy off the field. I was voted sophomore captain by my teammates and then with a new coaching staff I was voted captain as a junior.
"I think I'm the best p layer in the draft. I bring a lot to the table. I can do pretty much anything a coach asks me too. You don't have to bring in the nickel package for me. I can cover the slot. As soon as I stepped on campus, I was a starter. I've never missed a game, never missed a snap."
It all sounds cocky in print but it wasn't delivered in that manner. Rather, it was said as a matter of fact and it's hard to argue with Berry's assessment. Most NFL teams have him ranked as a top five player. He's up there with Suh, McCoy, Bradford, QB Jimmy Clausen and OT Russell Okung. If he's still available with the fifth pick, the Chiefs would have to take him there if they wanted him.
Rolle is not rated quite as high, especially given the fact he did not play in '09 as he was busy at Oxford with his studies. That's led to questions about how serious he wants to play football. His goal is to ultimately become a neurosurgeon and he has the grades, background and intelligence to get into any med school in the country, make that world.
But Rolle is very convincing when he talks about his plan to play football for about 10 or 12 years, and then go to med school, where it will take him another dozen years to achieve his goals in the field of medicine.
"Football has been part of my life since I was six years old," Rolle said. "I want it (a pro football career.) I want it as much as anybody who is out here this week. I'm here to prove that during the drills and when I talk to the teams. This is a very important time in my life and I'm looking forward to stepping up to the challenge."
At Florida State, Rolle played in 38 games over three seasons, with 35 starts. He finished with 206 total tackles, one sack and one interception. He was known for his hitting more than his ball hawking. At 6-2, 218 pounds, he brings a wallop.
And he graduated in just 2.5 years with a 3.76 GPA and a degree in exercise science. Rolle also completed all of the requirements for a pre-med student.
"I think my pursuits academically have helped me in football," Rolle said. "You learn discipline, you learn structure, you learn time management, you learn organization. As a football player, those are things that you need to be great."
Yes, Rolle has big goals in life. One of those is to play in the NFL.
"Football is part of what I am," Rolle said. "I can demonstrate to them (NFL teams) in these next few months my love of football and my desire with my actions. Coming here for the Senior Bowl, coming here for the Combine, the workouts I'm involved with six days a week … I can tell them, but they can see by the steps I'm taking. I want to play football. I'm not done."
OK, I know this isn't going to happen. I'm aware the Chiefs have needs far greater than safety, although they certainly need help on the back line as well.
But when you meet young men like Eric Berry and Myron Rolle, and then you watch tape of them playing at the highest level of college football and do it with excellence – it would be a wonderful combination to lead the Chiefs into the next decade.
BUSY DAY AT LUCAS OIL AS THE NFL COMBINE CHUGS ALONG

The need was speed on Sunday down on the playing surface and there were some impressive numbers turned in by the skill position guys who were going through those drills.
The fastest time of the Combine so far was turned in by Clemson WR Jacoby Ford, who was timed at 4.28 seconds in the 40-yard dash. That's the second fastest time since 2000. Notre Dame WR Golden Tate was timed at 4.36. K-State's Brandon Banks nailed a run at 4.37 seconds. Among the running backs, California's Jahvid Best turned in a 4.35 run and Clemson's C.J. Spiller was right behind at 4.37 seconds.
Most impressive however, was the 40-yard time turned in by QB Tim Tebow (above). He finished in 4.72 seconds. For his size, that's remarkable. He also turned in a vertical leap of 38.5 and he did the three cones drill in 6.66 seconds, the fourth best time of the day.
The big guys were lifting and Georgia DT Jeff Owen ripped off 44 reps on the bench press with 225 pounds. Suh had 32, while McCoy had just 26 reps.
A GOOD KNIGHT FOR SOUTHERN CAL FOOTBALL

New Southern Cal head coach Lane Kiffin announced over the weekend that former Chiefs safety Sammy Knight (right) will join his team as a graduate assistant coach.
Knight played his college ball at USC, as did two of his brothers. He then played 12 seasons in the NFL with the Saints, Dolphins, Chiefs, Giants and Jaguars. During his two seasons (2005-06) with the Chiefs, Knight started 33 games at strong safety, including the '06 playoffs against the Colts. In those two seasons, he had 205 total tackles, four sacks, three interceptions and three forced fumbles. Knight also returned a fumble 80 yards for a touchdown against Washington in '05.
Grad assistant is an entry level job in coaching. Knight has all the tools to be a very good coach, as he was able to play for a dozen seasons in the NFL despite the fact he wasn't very fast. When it came to angles and the like, Knight was outstanding. Plus he had a nose for the ball as he finished his career with 42 interceptions.