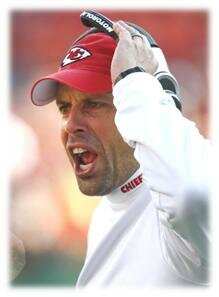 It was at last year's rookie mini-camp that we got our first exposure to Todd Haley and his coaching style.
There had been hints here and there thanks to grumbling from veteran players about his demeanor and of course there was that incident/fantasy involving Brian Waters and the supposed "guys off the street" comment.
But when the rookies and tryout guys showed up at the Chiefs facility, they got an earful on the practice field. In helmets and shorts, Haley and his staff were very vocal in demanding quicker and faster plays. Mental mistakes were discouraged in a very loud and sometimes profane manner. Those of us allowed to view some of the workouts found out that Haley's practices were going to be a lot different than Herm Edwards and Dick Vermeil before him.
Well, it's another year and another crop of draft picks, free agents and tryout guys will hit the field on Friday afternoon at the Truman Sports Complex. They are scheduled for four practices on the weekend: one Friday, two on Saturday and then a finale on Sunday. More than likely they'll undergo some physical testing on Friday morning.
And there's been no indication that Haley has mellowed, certainly not with the addition of grouchy coordinators like Charlie Weis and Romeo Crennel. The head coach will establish the Chiefs mentality very quickly, right down to his first conversation with these guys.
Haley doesn't reveal what he says to the players or even prospective players, but we've got an idea of what this opening talk might be like. That's thanks to his mentor Bill Parcells.
As the Big Tuna was exiting the head coaching job with the New York Jets back in the 1999 season, he did a book with the late Boston sportswriter Will McDonough. Part of the book was comments he made to his young players upon their first arrival at the Jets Complex.
If not word-for-word, I'm willing to bet that what the Chiefs rookies hear will be very similar. That nice guy on the end of the phone who asked them if they were ready to be a member of the Chiefs on draft day will be replaced by the spirit of Parcells.
Here's some of that speech from the book The Final Season – My Last Year As Head Coach In The NFL:
"This weekend is an orientation of sorts. This is a time where we try to get to know you guys and explain to you the best of our ability how we do things and what we expect from you. To try to teach you in a short period of time the things we think will assist you in your efforts to make the team. In my experience those people who accept these ideas succeed. Those that don't accept them usually have very little chance. It's in both of our best interests that every one of you players succeed. So we're gonna try to be on the same page with you.

"We're not interested in players who have problems. We want you to put all the problems you have behind you. I don't need guys who have pregnant girlfriends that are calling them on the phone and all that shit. I am told old for it and I don't care about it. I want guys who can concentrate on being a football player. Get focused … put the problems away.

"When you come back for training camp we have a conditioning test. If you don't pass the test, you're probably not gonna be here very long. It's important to me as the head coach. I want well-conditioned players at the proper weight with good stamina and endurance. Everything you do from here on out is evaluated. Don't try to be inconspicuous because we're gonna look for you. Everything you do is part of the evaluation process. We base our evaluations on a few things.

"First of all, we don't feel responsible as a coaching staff to come to the hotel and wake you up to make sure you're where you're supposed to be … my coaches and I, all we do is coach. We don't go out and we don't recruit, or talk to alumni groups like your college coaches did. We don't do anything but coach professional football. We are here to win games. We try to win every game we play.

"Now don't come in here and say 'Bill you owe me a chance.' I don't owe you anything. You make your own chances … if you do not know what to do you're not going to play. You need to study. If you don't know, you do not sit there and pretend you do.

"Execution is also important. Now, gentlemen, if our receivers coach Todd Haley tells you to run a fifteen-yard comeback but you run a twelve and you are open before we are ready to throw it, he will correct you … do what we tell you, not what is instinctive to you.

"The next thing is, can you be the same person every day? Do I see some of you guys come out to practice and one day you look like a world beater; the next day you're just a little too tired and just can't keep up? Training camp is hard. You have to have some staying power.

"You are young players. You don't know what to expect. You don't know where the camp is going. You don't know anything about the competition. You don't know anything about anything. You are just out there trying to do it and those of you that have got the drive to hang in there and execute the way we need, we will start noticing.

"Item number four: stamina … we will run you more than you've ever run before. You'll run more patterns, more drills and more routes. We're only going to have three deep at a position, maybe four at most, so we need guys who can endure.

"The last thing is talent. The first four things should be equal for everybody in this room. Everybody should know what to do, everybody should try to follow their assignments, everybody should be reliable and dependable and consistent and everybody should be in condition.

"Now let me tell you this: everyone on this team is going to have a reporting weight. We're gonna test some of you to see if you can lose some weight, just to see if you've got enough discipline to do it and train and get in shape and run and lose a few pounds. If you don't lose the weight and you come in overweight, it's $93 per pound, per day.

"Fellas, I want you to be on time. I want you to pay attention when you're here and I want you to help us win games. Some guys get onto pro football teams and they start walking around thinking they're important because they play for the New York Jets. I don't like guys that think they're important. I don't like guys hanging out in the bars with New York Jets shit on, walking around like you did something. You haven't done anything yet. I don't want any party guys.

"Tomorrow will be your first exposure to the media. I don't want to hear anything about how you're going to do about how great you are, or who you're gonna beat out. All of you are just trying to make a contribution to the team. You're gonna do the best you can. You're gonna try to get an understanding of what it takes to play pro football. You're rookie players. Act like rookie players. There's no shame in that.

"If you're sensitive, you're gonna have a hard time around here. I have a bad temper. I swear, I yell, I do a lot of things. If you're sensitive, you're gonna have a hard time. If you're not sensitive, you'll get along fine. I'm not asking you to be a tin soldier. Just be who you are, but pay attention, be on time, be in shape and try to help us win games."

There are certain parts of that speech that have come out of Haley's mouth frequently during his time as the Chiefs head coach. This weekend the rookies will hear it all for the first time.
And, it won't be the last.
PERSONNEL FILE/THURSDAY, APRIL 28

BENGALS – claimed S DeAngelo Williams off waivers (Seahawks).
BRONCOS – re-signed UFA LB Nick Greisen.
CARDINALS – signed UFA DT Bryan Robinson.
CHARGERS – signed K Nick Novak.
COWBOYS – signed ERFA CB Alan Ball.
EAGLES – signed QB Kevin Kolb to a one-year contract extension for $12.25 million in guaranteed money.
GIANTS – P Jeff Feagles announced his retirement.
LIONS – signed '08 draft choice DB Caleb Campbell (Army).
REDSKINS – signed UFA WR Bobby Wade (Chiefs).
SEAHAWKS – LT Walter Jones will announce his retirement on Friday.