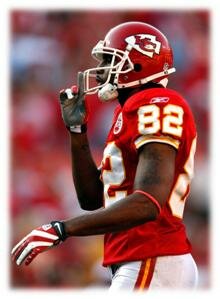 This is the finale of our four-part evaluation of the Chiefs roster a month ahead of the teams trip to St. Joseph and the start of 2010 training camp.
Understand this about the rankings – they are meant to provide information and create talk. I've based the grades and whether a player's career is going up or down based on what I've seen and what I've heard about each of those 81 players. The difference in numbers is negligible. Whether a man is rated No. 12 or No. 18 doesn't matter so much as the designation that they are part of the top 20 players and should be major contributors to what Scott Pioli and Todd Haley are building at Arrowhead Stadium.
That's why I've included the rookies in these rankings because there's no question they are going to be an important part of what happens with this team in the coming season.
So give or take a slot or two, here are the top 20 players on the Chiefs roster.
19

G Ryan Lilja


Evaluation – Beginning his seventh season in the NFL, Lilja is set to play his first regular season with the Chiefs. After six years with the Colts and winning a Super Bowl ring, Lilja was cut loose after the team's disappointing loss in last February's Super Bowl to New Orleans. At 6-2, 290 pounds, he's built the way Haley would like his interior linemen to be – not so heavy and more mobile. The question is after a couple of knee injuries will be how mobile Lilja remains. The Colts do not make many personnel mistakes with veteran players, so the decision to let Lilja go tells us they thought his run was over. Considering his entrance to the league as an undrafted rookie, Lilja's career is remarkable not only because he became a starter, but that he's lasted this long. He will be 29 in October- can he go another year? The Chiefs are counting on it.
18

WR/RB Dexter McCluster

Evaluation – Quite possibly one of the most exciting additions to the offensive roster in many, many years, McCluster's impact on the Chiefs in his rookie season will depend on how much work he can handle. The coaching staff saw enough in the off-season to know that whether it's at running back, wide receiver or in the slot, and whether it's catching, running or handing off, McCluster can impact the game. And, that doesn't even cover his abilities in the return game. But, how long will his 5-8, 170-pound body hold up?
17

G Brian Waters

Evaluation – When it comes to knowledge, leadership and heart, Waters is at the top of the Chiefs chart. But he's 33 and coming off a season where his play slipped due to an ankle/foot injury that would have shelved most players. He sucked it up and played all season, although he wasn't always as effective as previous seasons. He was flagged eight times for penalties (false start and holding), after having just six in the previous three seasons combined. Waters is a mauler in the running game and last year he allowed just 1.5 sacks making him tops in pass protection among the starting offensive line. He can still be effective, but the clock will soon run out on his career.
16

DE Wallace Gilberry

Evaluation – Coming off the corner, Gilberry is the best pass rusher on the defensive line, although that's not saying a lot with this roster. He's got a nice burst off the snap and some developed pass rush moves that got him to the passer 4.5 times last season. That's not huge, but it was second on the Chiefs last year behind Tamba Hali and came in limited snaps, as he worked almost exclusively out of the nickel pass rush. If he can follow up his improvement of last year with another step forward this year, Gilberry will become a defensive force and will get more snaps and chances in the base defense.
15

OLB Mike Vrabel

Evaluation – When it comes to knowledge, leadership and heart, Vrabel would be No. 1 or No. 2 on this team just like Waters. Those factors are diminished by his soon to be 35-year old physical skills. Vrabel can still play and get it done. But the clock is ticking and at this point in his career, it can happen at any moment. If this is the year, then it will hurt the Chiefs defense. If Vrabel has one more season as a reliable contributor to the defense, then it could pay dividends down the road – that would come from the knowledge of the Romeo Crennel defense that the veteran linebacker can pass along. Whether he plays inside or outside, Vrabel can help. He's not going to produce a lot of big plays –last year he had two sacks, no interceptions and a pair of forced fumbles. That was the least productive big-play season of his last eight.
14

K Ryan Succop

Evaluation – This is way too high for a kicker coming off a rookie season. But the relative lack of talent on the Chiefs roster, combined with one of the best first years by a kicker in the last quarter-century makes the future very, very bright for Succop. Physically he's a big man for a kicker at 6-2, 220 pounds. His leg is strong and he was accurate in '09, hitting 86.2 percent of his field goals. Inside the 40-yard line, he hit 17 of 17. He was solid and dependable and that's all any team wants from a kicker. If he continues to grow, he'll be one of the league's better kickers.
13

S Eric Berry

Evaluation – There is no doubt this is too high a ranking for someone who has yet to play a down in an NFL game. But then, that's the nature of the problems the Chiefs have had with their roster in recent seasons. There's no doubt that adding a player with the athletic ability that Berry possesses is huge for Pioli/Haley. We are speaking here of size/speed/strength/quickness. But on top of that he brings smarts, dedication, an understanding of defensive concepts far above his age and standing in the game. Berry will not be perfect and he will make mistakes, but when those moments come, he'll be going a thousand miles per hour, minimizing the effect.
12

CB Brandon Carr

Evaluation – From Division II to a starting job in the NFL was a helluva jump for Carr as a rookie and he pulled it off with great aplomb. He followed it up last year with a performance that showed marginal improvement. Carr must show more improvement in his third season. His physical package is a good one, with nice size (6-0, 207), good speed and a willingness to mix things up. Despite the fact he's battled some injuries in the last two years, he's durable, playing and starting in all 32 games. Carr does not have the closing speed of teammate Brandon Flowers, so he must be more technically sound on every ball thrown into his area. Last year he saw 86 passes in his direction. He knocked down 19 of those throws and gave up four touchdown passes. Carr is intelligent and puts in the time. He wants to be good.
11

DE Glenn Dorsey

Evaluation – Dorsey is one of the favorite whipping boys of the fans and some football pundits. They view his spot as a top five draft choice and his performance over the last two seasons and pieces that do not fit together. But his two-year career has not been nearly as poor as some think. It also hasn't been outstanding, and he needs to continue to improve, of that there is no doubt. He'll be 25 in August and this third season is huge for him and his future. Dorsey is essentially miscast as a DE in the 3-4. His fit wouldn't be much better if he moved to nose tackle. Dorsey is a tough guy, who played through his first two seasons with a sore leg that might have forced other players to the injured reserve list. Without a doubt, he must be stronger on the edge when it comes to stopping the run and there needs to be more consistency on the pass rush. There's a lot of upside with Dorsey.
10

QB Matt Cassel

Evaluation – He has just 30 starts in the NFL. In fact, Cassel has just 30 starts over the last 10 years of pro and college football. That's 30 starts in a decade. His body may be 28, but Cassel's body of work is that of a 23 or 24-year old quarterback, meaning he's still making mistakes of inexperience. There are times he holds on to the ball too long, or floats a pass into a situation where the ball should never have left his hand. Cassel's arm strength is good enough; he has good mobility coming out of the pocket, but needs to improve his feel for the pressure while in the pocket. When it comes to understanding the offense, understanding his options, there are no obvious problems and when it comes to intangibles, the guy is off the chart. The locker room is decidedly in his corner going into the '10 season; most of his teammates understand he needs more help. Last season, Cassel completed 55 percent of his passes. If the Chiefs sliced their total of 49 dropped passes in half, his percentage would climb to 60 percent. He averaged a paltry 5.93 yards per attempt, but then only two receivers averaged more than 13.3 yards per catch. Cassel will never be a superstar, but he has enough talent and intangibles to lead a team to the playoffs. He must raise his level of play to be among the top five players on the Chiefs.
9

WR Dwayne Bowe

Evaluation – In another situation, another coach and another offense, Bowe could be among the NFL's best receivers. With the Chiefs, he may not be the top catcher on his own team. Consistency and mistakes stand between Bowe and being one of the game's marquee pair of hands. There is a real problem with focus, concentration and consistency with Bowe, and all are categories that drive the head coach crazy. If Haley has been an offensive line coach or running backs coach, he might not be so picky with his receivers. But that's where he built his expertise as a pro coach and he understands the position and its fundamentals. Bowe has also had aley'shis problem with catching the passes thrown his way. Last year, Bowe was the target 87 times in the 11 games that he played. He caught 47 of those passes. He dropped 11; no other WR dropped more throws and no other receiver had a higher percentage of drops than he did. There was nothing new with this performance. Over the last two seasons, Bowe has been the target 244 times; he caught 133 passes and has dropped 24 throws. That means he drops one in every 10 passes thrown his way, or a little under one per game. Bowe will fight for jump balls, he will go across the middle, he will tap his toes on the sidelines and he can run over people. None of that matters when he loses his focus, whether on or off the field. The more it happens, the more it seems to be a problem that can't be fixed.

8

WR Chris Chambers (right)

Evaluation – On a better team, he would be farther down the list, somewhere between 10 and 15. Chambers has never been a No. 1 receiver and he'll be 32 years old in August. Given the situation in San Diego with Vincent Jackson, there's a good chance that Chargers G.M. A.J. Smith is second-guessing his decision to dump Chambers at mid-season in '09. There's no doubt Chambers is going to be an important part of the Chiefs '10 offense; but for how many more years to come? It's doubtful that there's much of an upside beyond what he showed in the second half of last season. As receiver poor as the Chiefs are right now, that's still good enough to be the best pass catcher on the team.
7

LB Derrick Johnson

Evaluation – Based on natural ability, Johnson should be No. 1 or 2 on this list. His combination of size and speed is what every team seeks from linebackers. Based on production over his career, he lands in the bottom half of the top 10; what's happened on the field has never matched up with the potential. D.J. will be 28 in November and should have several good seasons left. Right now he needs opportunity and when it comes, he must produce. As under-achieving as he's been, he's still a playmaker on defense and he needs to be on the field for all situations, not just in the nickel defense. It will be interesting to see just what type of chances he gets in Romeo Crennel's scheme.
6

P Dustin Colquitt

Evaluation – It says something about Colquitt that he ranks this high. It also says something about the lack of talent on the Chiefs roster that he would even be in the top 10 going to camp. No matter, Colquitt is one of the best weapons on the roster and when he's consistent, few are better in placement, distance and hang time. His ability to manipulate the football on his kicks also makes him a major threat to cause returners to fumble the ball or fail to grab the ball after it bounces. Each season, Colquitt has improved his directional punting, while still having one of the league's most powerful legs.
5

OLB Tamba Hali

Evaluation – As hard as he works – and there are few on the team that put in more sweat equity to their careers – it's unlikely there will ever be a time when Hali will be considered a complete OLB. Although his coverage skills have improved over 50 percent from last season, it remains a duty that does not suit him. But everything else is there in the package – ability to handle blockers, pass rushing skills, intelligence and intensity. Last year he made the difficult transition from playing with his hand down to playing standing up and week-by-week he got better. He's unlikely to ever lead the NFL in sacks, but there's no reason that Hali should not average 10 sacks a season for the next few years. A pass rusher on the other side would make that very possible.
4

RB Thomas Jones

Evaluation – As with most backs over the age of 30, when the end comes for Jones it will show itself quickly. For the soon to be 32-year old, there has been nothing visible to indicate he will be any less effective in '10 than he was last year, when he had the best rushing season of his career. Jones has enough speed, more than enough power and the experience of handling a running game so there isn't much he can't provide the offense when he's on the field. He's a very good counter-point to Charles with the way he runs the football. His leadership skills are excellent. This guy is a warrior. His arrow is heading downward because the end of his career is near. But his mindset and moxie are very important additions to the Chiefs this year.
3

OT Branden Albert

Evaluation – Last year was a roller coaster for the young man out of Virginia. His ride started low and finished high. What has not diminished are Albert's skills to play the tough left tackle spot. Sometimes he tries too hard to do things the exact way he was taught. When he fails, he's too hard on himself and too self-critical while hearing the analysis of his coaches rattling around in his head. Offensive linemen are asked to block and control a man or a gap on the field. How that happens isn't as important as it happening. Sometimes when a guy is in the scrum of the line of scrimmage, anything short of homicide is OK as long as it gets the job done. Albert has all the physical tools to get done anything asked of him at left tackle. His best football should be in front of him.
2

RB Jamaal Charles

Evaluation – In half of the '09 season, Charles showed he has all the qualities a team looks for in a featured back with the exception of size. He's just 23 years old and with judicious use Charles should be effective for six or seven seasons. The Texas native is at his best when he's headed for the corner and running in the open field. In a blink, he's up to speed and running past people. But the key is that when he must run between the tackles, he's more than willing to do so. He'll put down his head and bury it into the chest of a defensive back trying to tackle him. When it comes to throwing a block in pass protection, he's willing and more than able. With more work, Charles can become a consistent receiver on those little dump passes; right now he's just as liable to drop the ball as catch it. Right now, he's the most talented and complete back in the AFC West.

1
CB Brandon Flowers (left)
Evaluation – A healthy season with an end to shoulder problems is the only thing holding back this young man from rising to the top levels of AFC corners. He's 24-years old, with excellent speed and that cornerback maturity to forget the last play. He also has just a hint of cockiness that any coach loves to see in one of his corners. His ability to be beaten of the line of scrimmage and then make up the distance between himself and the receiver is rare. Flowers ball skills are good and once he has the ball in his hands, he has the speed and moves to be able to take it back for a score. The only negative with Flowers is his 5-9 size and whether his body can holdup for 16+ games season after season. There's no doubt about his personality – he's tough, hard-nosed and willing to throw his body around.