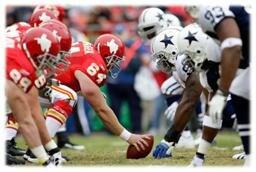 Four weeks from Friday the Chiefs will be on the field for their first practice of 2010 training camp at Missouri Western.
The franchise has 81 players under its control. It's a roster built more on the future than the past, more on what might be than what has been.
How this group of players is whittled down to 53 is what training camp and the pre-season will be all about. Just how much better that group of 53 is from the 4-12 team of last season is what the season will be about.
The next four days provide an opportunity to evaluate the group that will travel up I-29 to St. Joe. It starts at the bottom, as today comes an evaluation of players No. 81 through No. 60, as rated by your trusted observer. On Saturday, we'll hit No. 40 through 59, with Sunday bringing No. 20 through 39 and then on Monday, No. 1 through 19.
A few notes on the evaluations – they are based on performances of the past and potential for the future. One thing everyone involved in football learns to do is trust their eyes. My evaluations are based on what I've seen, not what I was supposed to see. Plus, in the NFL a player or a team is either getting better or getting worse. They are either moving up or moving down. For any player who has played in an NFL game, our evaluation comes with an arrow indicating the direction of the player's career. If they are an ascending player, or one at the top of his game, the arrow points up. An arrow down indicates a descending player, who may still be able to perform and contribute, but has most of his career visible in the rear-view mirror.
The rookies and first-year players who have not played a regular season game don't get an arrow.
No. 76 through 81

RB Tervaris Johnson, WR David Grimes, WR Rich Gunnell, TE Cody Slate, OL Tyler Eastman and OL Lemuel Jeanpierre

Evaluation – These six players really didn't provide much of a picture for evaluation during the OTAs and mini-camps. Johnson is a big back at 6-2, 248 pounds, but he did not get many opportunities to show his talents. Grimes dealt with a bad hamstring, Slate was signed late due to TE injuries, while Eastman and Jeanpierre got their time with the No. 3 offensive line. These guys would all qualify as unknowns at this point.
71 through 75

WR Jeremy Horne, OL Andrew Lewis, DL Garrett Brown, DL Jeffrey Fitzgerald and S Ricky Price.

Evaluation – At one time or another during the off-season, these guys showed a flash of athletic ability or an understanding of their assignment that lifted them just a shade above some of the other inexperienced youngsters. Horne is a tall receiver with good hands, Lewis has versatility inside on the O-Line, and Brown has some good skills inside on the defense, while Fitzgerald has outside abilities. Price was around last year on the practice squad but the safety position is deeper and better than it was a year ago. Surviving to the final 53 will require these players have to one of the best training camps and pre-season performances in recent Chiefs history.
70

RB Javarris Williams

Evaluation – It's hard to see where last year's seventh-rounder fits in with the 2010 Chiefs. Last season he did not have enough opportunities in the pre-season to really show if his skills translate to the NFL. In the OTAs, he was running with the fourth or fifth team. Not particularly big, not particularly fast, Williams was on the active roster for five games at the end of '09, playing in four and carrying the ball six times for six yards.
69

TE Jake O'Connell

Evaluation – On the active roster for all 16 games last season, O'Connell played in four games, starting twice when the Chiefs opened the game in a two TE alignment. Another seventh-round selection from the '09 NFL Draft, he displayed very little of his skills when given the opportunity. His hands are unreliable, as he tends to drop a lot of balls, something that continued in the off-season program. It's hard to see him beating out rookie Tony Moeaki or a healthy Brad Cottam.
68

C/G Darryl Harris

Evaluation – An undrafted rookie free agent last year, Harris spent 13 weeks on the practice squad and then three games on the active roster, appearing in one game. His fight last year to even work his way into consideration for the developmental team was impressive. But coming back this year, he seemed the forgotten man along the offensive line. He did not work with second team, and sometimes wasn't part of the third team. After working on snaps a lot during the '09 season, he seldom was with the centers this spring when they got together with the quarterbacks.
67

WR Quinten Lawrence

Evaluation – Speed is why Lawrence was selected in the sixth round of last year's draft. Speed is how he made the opening day roster and played in the first two games of the '09 season. It wasn't because of his pass catching, production, or showing that he could contribute on the special teams. He ended up being on the active roster for 11 games, three games on the practice squad and two games he was off the roster completely. Lawrence played most of the season with a bum shoulder that led to off-season surgery, so he had some toughness about him. Unless he's ready to jump to the head of the receiving line, the only thing that gives him a chance is that speed.
66

DL Bobby Greenwood

Evaluation – An undrafted rookie last year out of Alabama, Greenwood spent the season on the practice squad. While he's a bit light at 278 pounds for a defensive end in the 3-4, he shown in the past year that he has some good base skills to play the game at the NFL level. His motor seldom starts, he seems to assimilate the information without any problems and he has displayed a move or two when he's gotten loose on the edge when rushing the passer. Realistically, there's one spot open at defensive end on the final 53, and Greenwood has a chance.
65

S Reshard Langford

Evaluation – Signed off the street on Christmas Day, Langford spent two weeks on the Chiefs active roster, but was inactive for both games at the end of the '09 season. He entered the NFL last year as an undrafted rookie out of Vanderbilt, where he was a very productive player. Langford was on the Eagles practice squad when he was signed by the Chiefs. There was an impression made during the off-season on the coaching staff, and Langford bounced back and forth from the first team, to the second and third secondary units. He's got a lot of bodies to fight through at safety¸ so he needs pre-season production.
64

LB Cameron Sheffield

Evaluation – During the mini-camps and OTA sessions, Sheffield was the draft choice that was least impressive. That's not to say he doesn't have a chance to make the team – more than likely he will as a fifth-round pick. But there was no apparent area where Sheffield stood out. That can change once the pads go on at training camp. There just wasn't much visible in his pass rush off the corner, or in his ability to drop into coverage. Again, all that could be very different when the shoulder pads go on.
63

OL Colin Brown (right)

Evaluation – Last year's fifth-round choice out of Mizzou, Brown spent the '09 season on the injured reserve list because of a knee injury. That was good for Brown, because he wasn't ready to play in the NFL last year. He was coming off playing in the Missouri spread offense, to having to put his hand on the ground. Plus, he moved from tackle inside to guard. Brown was around all through last year, attending meetings and that work will help him as he tries to corral one of the backup O-Line spots.
62

LB Pierre Walters

Evaluation – Watch Walters walk off the practice field and he looks like a football player should look – tall at 6-5, well built at 269 pounds, long arms and legs. He made the roster last year as an undrafted rookie and played three games and was inactive for the remaining 13 games. A year in an NFL weight program has made him stronger and improved his chances of being able to hold down the edge of the defense against the run. As a pass rusher, he has a little pop but nowhere near the ability of Tamba Hali or the experience or knowledge of Mike Vrabel. Undrafted rookies work so hard that first year to get over the hump. They have to come back the next year, work even harder and produce. That's what Walters will need to do in camp and the pre-season games – he needs to be in the middle of things.
61

CB Jackie Bates

Evaluation – Scrappy undrafted rookie from last season out of Hampton University, Bates spent the entire '09 season on the practice squad. He returned in this off-season and in some of the OTAs he flashed some good coverage skills. But his lack of size and bulk (5-10, 180) work against him, although he seems to have good speed and quickness when working in coverage. Like other second-year undrafted guys, Bates will need a huge camp and pre-season to be able to fight through the corners ahead of him.
60

S Donald Washington

Evaluation – Last year's fourth-round draft choice was the biggest disappointment in the '09 draft class. Washington barely left any imprint on the Chiefs season. He played in eight games and was on the active roster for all 16 games. His contribution was three tackles on defense and two on special teams. Washington fell behind early as a rookie because Ohio State did not have graduation until mid-June. He never dug himself out of that hole. Early in the season, he had the chance to establish himself as the nickel back, but after he blew the coverage on his first snap, almost giving up a touchdown, he was yanked. Washington has top-shelf athletic skills, but there's been nothing else visible in his package. A move to safety may help him find a niche, but it's crowded back there right now.
(Evaluations of Chiefs players No. 40-59 coming on Saturday)

NFL PERSONNEL & NEWS FILE FOR THURSDAY, JULY 1

NFL – announced several suspensions, including a three-game hiatus to Chargers WR Vincent Jackson for his two DUI arrests. Also, free agent DT Hollis Thomas was given an eight-game suspension for his second violation of the league's performance enhancing drug rules. Thomas played last year with Carolina. And, free agent RB LenDale White was suspended four games for violating the PED rules. White was traded earlier this year by the Titans to the Seahawks and then released by Seattle.
JURISPRUDENCE – Titans QB Chris Simms was arrested in New York City for operating a vehicle while impaired by marijuana. It went down at 1 a.m. Thursday in the West Village at a NYPD checkpoint. In the car with Simms was his wife Danielle, who is eight months pregnant. During his arraignment in Manhattan Criminal Court a prosecutor said Simms told officers "I was smoking marijuana in the car earlier." He reeked of marijuana and had red eyes, a flushed face and slurred speech when stopped. No grass or other drugs was found in the '09 Mercedes Benz that he was driving.
CHARGERS – former head coach Don Coryell passed away on Thursday. He was 85 years old. Coryell was 72-60 as the Chargers head coach, after serving as head coach of the St. Louis Cardinals and before that San Diego State. He was one of the most innovative offensive head coaches in the history of the game. Air Coryell featured QB Dan Fouts, WRs Charlie Joiner and John Jefferson and TE Kellen Winslow.
LIONS – agreed to terms with 7th-round draft choice WR Tim Toone to a 3-year contract – this year's Mr. Irrelevant left Weber State as the program's all-time leading receiver; signed K Aaron Pettrey – undrafted rookie free agent out of Ohio State.