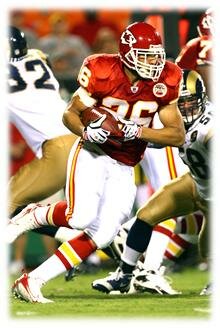 Our evaluation of the Chiefs 2010 training camp roster continues on this Saturday. In Friday's edition, we looked at the very bottom of the roster, those players ranked No. 60 through 81. If you missed that, here's the link.
Today, the focus is on the lower middle of the roster. These are guys that all have a legitimate shot at making the final 53-man roster. Generally, there isn't a lot of difference between slots in the rankings with the middle ground. A guy could be No. 57, or just as easily be No. 47. These players can contribute, but for the most part they are not going to be key performers.
On Sunday the Fourth of July comes players rated No. 20 through 39 and then on Monday, No. 1 through 19.
Again, a reminder about the evaluations – they are based on performances of the past and potential for the future. One thing everyone involved in football learns to do is trust their eyes. My evaluations are based on what I've seen, not what I was supposed to see. Plus, in the NFL a player or a team is either getting better or getting worse. They are either moving up or moving down. For any player who has played in an NFL game, our evaluation comes with an arrow indicating the direction of the player's career. If they are an ascending player, or one at the top of his game, the arrow points up. An arrow down indicates a descending player, who may still be able to perform and contribute, but has most of his career visible in the rear-view mirror.
The rookies and first-year players who have not played a regular season game don't get an arrow.
Here's No. 59 through 40.
59

DL Dion Gales

Evaluation – When Gales signed as an undrafted rookie free agent last year, he showed up at 6-5 and a doughy 275 pounds or so. As he went through the rookie mini-camp, it was hard to see how he was going to survive until the full squad mini-camp. Somehow, he did. He spent a dozen games on the practice squad because the Chiefs liked what they saw with his size and quickness. Eventually, he was activated and played in three games, while being a game-day inactive in a fourth. Gales has put on weight and it appears to be good weight, now rolling onto the field at 310 pounds. Last year, he was listed at 259 pounds, a highly suspect number from the start. His ability to play both inside and outside is a major plus for him. The inside situation is very much up in the air and that helps him.
58

WR Lance Long

Evaluation – Long's entire off-season was spent rehabbing a leg injury and he could not practice. Those types of snaps and visibility are something a player like Long cannot afford to lose. He's small (5-11, 185 pounds), not necessarily fast, but owns a big heart and a barrel of desire. On a 4-12 team a guy like that can find a spot on the roster. If the Chiefs are going to be an improved team, there should not be a spot for Long. Last year, he spent five weeks on the practice squad, was activated and played in seven games before being inactive for the last three games. He caught eight passes for 74 yards against Jacksonville. After that, he struggled to make an impact.
57

LB Justin Cole

Evaluation – An undrafted rookie free agent out of San Jose State, Cole was one of the more impressive unknown players during the off-season. He's got good size at 6-3, 242 pounds and a history of playing on the edge, where he showed in the off-season the ability to run. How big an upside Cole carries will depend on his ability to produce and perform in camp and the pre-season games.
56

LB Cory Greenwood

Evaluation – One does not need to be Scott Pioli or Todd Haley to see that Greenwood has a world of talent. The Canadian college player is a talented athlete, dedicated to strength and conditioning and seems to be able to pick things up mentally in a quick manner. Every off-season practice he seemed to be more and more comfortable. There's a real chance for him to be a special teams demon.
55

LB David Herron

Evaluation – Herron joined the team at the end of September last year and made his contributions strictly on special teams, where he finished with 11 tackles. Herron plays the inside on defense, but saw action there just once during the '09 schedule. An undrafted free agent out of Michigan State in '07, Herron's work in the kicking game is his only ticket to the roster.
54

S DaJuan Morgan

Evaluation – It's make-or-break time for the third-year safety. In his first season, he had limited opportunities as the coaches did not want to overload him as a junior coming out of North Carolina State. Last season in year No. 2, he got a chance to start game No. 8 and did nothing to impress the coaches; he was inactive the next game. Overall, he played in 13 games, made two starts and finished the season on the injured-reserve list with a chest injury. Morgan had 15 tackles on defense and only six in the kicking game. A talented athlete, Morgan reacts quickly to the offense and frequently with a play-action fake that gets him out of position and leaves part of the deep middle open. He's a hitter, not a coverage safety. Eric Berry, Kendrick Lewis, Jon McGraw and possibly Donald Washington are all ahead of him in the roster race.
53

G/T Ikechuku Ndukwe

Evaluation – It's hard to believe based on what we saw from Ndukwe last year that he'll have a roster spot again for the '10 season. There's a reason Bill Parcells was willing to trade him to his son-in-law – he wasn't going to make the Dolphins roster. Very early, Ndukwe was found wanting as a tackle; he got three starts but was yanked in favor of Ryan O'Callaghan. The next two weeks he was inactive and played sparingly over the rest of the season. He's not particularly strong, or quick of foot. He brings smarts and can play both guard and tackle; that versatility is the only ticket he really has to the 53-man roster.
52

FB Mike Cox

Evaluation – A tough, gutty player, Cox does not have a toolbox full of skills he can provide. He can block, he can catch the ball on occasion out of the backfield and he's durable. An undrafted rookie three years ago out of Georgia Tech, Cox is one of those guys that aware that any minute the phone call may come to see the head coach and bring his playbook. Roster decisions at fullback will be tied in the '10 season to what happens at tight end.
51

RB Jackie Battle

Evaluation – For three seasons, Battle played in three, nine and five games, a total of 17. Last year, he was five games into the '09 season when he went to the injured reserve list with a shoulder problem. At that point, he was making a contribution not on offense, but on special teams, where he had six tackles. In the last two seasons, Battle has started strong in training camp, only to peter out as the weeks flew off the schedule. With Jamaal Charles, Thomas Jones and the young Kestahn Moore all running ahead of him, Battle will again have to make himself known in the kicking game if he wants to survive another year.
50

DT Shaun Smith

Evaluation – Maybe Smith makes the roster because he's Romeo Crennel's guy. Maybe he's one of those veteran players that have problems getting excited about the off-season. Or, maybe he's simply not very good. There's little that Smith showed during the team's mini-camp and OTAs that screams he must be on the final 53-man roster. He was demoted to the third team by June. Smith's profile during his six-year career is that of a roller coaster player, or just the type of guy that Haley is trying to weed out of the Chiefs locker room. However, never count out a veteran survivor like Smith, especially one that weighs 325 pounds and can play the nose for a team that needs improved play at the position.
49

CB Mike Richardson

Evaluation – A former New England draft pick, Richardson signed on at the end of September and played in 11 games, most of that time on special teams. He contributed a dozen tackles in the kicking game, making him one of the top special teams performers last season. As for coverage, Richardson would rank fifth or sixth on the depth chart based on what we saw last season and in this off-season. He'll likely be a roster factor right down to the final cut down date because of that special teams experience and production. There's not much that he offers the defense.
48

OT Barry Richardson

Evaluation – Another third-year player who faces a make-or-break season. There were opportunities last year for Richardson to establish himself at right tackle in the Chiefs offensive line, but he wasn't able to lock down the job. He's gotten stronger over the past two seasons, which was one of the negatives on him coming out of Clemson. There's frequently a breakthrough moment for offensive lineman where they struggle and then boom, it falls together. Richardson needs that moment to happen in '10. He has the athletic ability to challenge Ryan O'Callaghan for the starting spot at right tackle.
47

QB Tyler Palko

Evaluation – Haley really likes what he's seen during this off-season from Palko, but sometimes it was hard to understand why. He was not especially accurate throwing the ball, was sometimes slow in delivering the pass and frequently heard from offensive coordinator Charlie Weis about decision making. Palko will be 27 years old in August. He's not especially big (6-1, 215) and while he's spent time with New Orleans, Arizona and Pittsburgh, his contributions haven't been seen on the field. The release of Matt Gutierrez effectively gave Palko the No. 3 QB position, but he should continue to rent, rather than buy.
46

LB Demorrio Williams

Evaluation – That Williams played all 16 games last season was a remarkable testimony to his toughness. He battled a knee injury from training camp on and was never at 100 percent. Still, he led the team with 142 total tackles, while playing only on early run downs. The fact the Chiefs were 31st in the league against the run is not a chip in his favor. Williams has shown in this off-season that he's healthy. But in his seventh NFL season, he doesn't bring much to the party. He's not quick or fast or strong or a particularly heady ballplayer. Williams is tough and he'll stick his nose in a hole, if he can get there. The Chiefs need inside linebackers that can get there.
45

DT Derek Lokey

Evaluation – Can an undrafted free agent, who in two NFL seasons has played a total of three games and not made a tackle really be the Chiefs best nose tackle? At the end of the off-season practices he was. Lokey was running with the first team, all 6-1, 300 pounds of him. What does he bring to the defense? He's got a strong motor that he never turns off. He's an intelligent player, who understands his role. Whether or not he's a talented enough athletically to hold down two gaps in the K.C. run defense is something Lokey must prove.
44

CB Travis Daniels

Evaluation – Much has been expected from Daniels since he left LSU, went to Miami and then Cleveland. Along the way, his opportunities did not lead to consistent playing time on the corner. He started 14 games as a rookie for the Dolphins and in four seasons since, he's started 14 more games. Daniels has good size, good speed and he seems to have a good understanding of defense. During the team's mini-camp in June, Daniels was the best player on the field for those five practices, as he was consistently knocking down passes and even grabbed several interceptions. That must be transferred to August in St. Joe and then on the field in the fall.
43

WR Terrance Copper

Evaluation – Copper was one of the best special teams performers on the field for the Chiefs last year, specifically in coverage and blocking. It wasn't until the final game of the season, when he made a real dent in the offense when he hooked up with QB Matt Cassel on a 50-yard pass and run play against the Broncos. He had only three other catches during the season for a total of 18 yards. But he did have 16 tackles in the kicking game. In his seventh season, Copper still has the ability to step on the gas and gain separation. But last year in a season where the Chiefs were signing receivers off the street on almost a weekly basis, Copper couldn't get an edge and more playing time on offense.
42

LB Corey Mays

Evaluation – Give Mays all the credit in the world – he was signed last year as a free agent from the Bengals due to his prowess in the kicking game. But a dearth of talent at inside linebacker gave him the opportunity to play defense and he took advantage. Mays started 13 games and finished as the team's No. 2 tackler with 100. He ended up with only three special teams tackles. This will be his fifth NFL season and Mays does not bring great athletic skills to the position. He does have one characteristic that all good linebackers must have – he is willing to hit.
41

LS Thomas Gafford

Evaluation – As a long snapper, Gafford is solid in getting the ball back for PATs, FGs and punts. Last year, he added four tackles in punt coverage and that showed he's not an offensive lineman. He had one bad snap last season. Gafford is diligent and works hard at sharpening his skills.
40

S Jarrad Page

Evaluation – Page's boycott of the team's off-season program and his request to be traded have him living off the Chiefs radar screen going into the '10 season. Page made a place in the NFL due to a good overall level of athletic skills and intelligence. It had nothing to do with great speed or quickness, and he wasn't an especially vicious tackler. He and Haley got tangled up last year in Page's frequent muscle pulls and the like; the head coach felt he should be practicing, the player thought otherwise. There's no future for Page in Kansas City and if the Chiefs had not been burned by releasing Bernard Pollard last year, Page would already be on the street trying to find another job in the NFL, which he will.
(Evaluations of Chiefs players No. 20-39 coming on Sunday)

NFL PERSONNEL & NEWS FILE FOR FRIDAY JULY 2

LIONS – signed CB Dre Bly to a 2-year contract – this is Bly's second tour with Detroit, and his signing has everything to do with insurance for the young Lions defense should injuries crop up during the pre-season. He was a nickel back last year with the 49ers and is 33 years old; released DB Paul Pratt – undrafted free agent from Nevada who was released to open up a roster spot for Bly.
RAVENS – agreed to terms with 3rd-round draft choice TE Ed Dickson to a 3-year contract – an Oregon product that caught 42 passes and six TDs last year for the Ducks. He's big, with good speed and athletic hands.