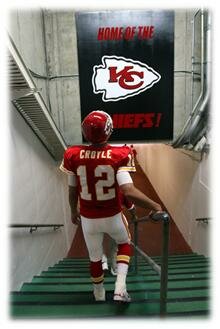 Hopefully you are enjoying the Fourth of July weekend. Once the smoke and noise clears from the fireworks the ticking clock of NFL training camps will be even louder.
The evaluation of the 81 players that the Chiefs continues today as we get to the top-half of the roster with the middle 20 players and what they have and can provide the team.
As we've noted throughout this series, each player with NFL experience has been given an arrow up and an arrow down. Those going up are ascending players or guys that have potential to make great improvement. Those with arrows headed down are descending players.
Here we go.
39

DE Alex Magee

Evaluation – His rookie season for the 3rd-round draft choice in '09 was a disappointment. Magee played in 15 games and contributed eight total tackles and two sacks. At one point near mid-season it seemed like everything was falling together for him, as he had sacks in back-to-back November games. From that point on, he had no sacks and three tackles in five games. Late in the season he picked up a hamstring injury and how long he dealt with that is something outsiders do not know. Magee worked hard in the off-season and he'll need to show that progress in camp and the pre-season. If he can be stout enough to anchor one end of the defense against the run, he'll shoot up the charts and rankings. None of that was very visible last year in his part-time play.
38

C Casey Wiegmann

Evaluation – Never rule out a wily veteran of the lineage of Wiegmann, but how much is left in his tank is a question only training camp and the pre-season will answer. In his 15th season, Wiegmann is two years older, with two more years of playing on his bones since he was last snapping for the Chiefs. He's not any bigger or stronger and will likely give up 30 to 40 pounds to any nose tackle he faces. What Wiegmann has going for him is that experience and all the tricks of the trade that he's learned over the years. But it's hard to see how Wiegmann would be an upgrade over the man who replaced him two years ago, Rudy Niswanger.
37

OT Ryan O'Callaghan (left)

Evaluation – The waiver-claim from the Patriots is huge, but he does not move very well. Through the '09 season, once he jumped into the starting lineup in game No. 4, he did improve in what was the longest stretch of game action he'd seen in his short career. O'Callaghan allowed four sacks last year and frequently lost the outside edge to the faster pass rushers. If he's going to have a career at Arrowhead Stadium, this coming season will have to be huge for him. He needs to show major improvement. The problem is that right now, there's no one visibly pressuring him to keep his job. Average at best, he needs competition if he's going to get to that level.
36

TE Brad Cottam

Evaluation – Cottam was one of those players who struggled with the transition to the attitudes and approach of Haley last year. There were times in his first season with the Chiefs when there wasn't the sense of urgency in Cottam's approach that Haley demands every minute. That forced some adjustments for the tight end like a lot of other guys he was on the game-day active roller coaster: he played, sat, played, sat, dressed by did not play, sat for three weeks and then finally in the middle of November he got a chance to play every week, right up until he suffered a broken neck against Cleveland in the middle of December. That was a setback for Cottam, as he was not allowed to practice in the off-season program. He was able to work out and he may be in the best shape of his life. But right now it's a real question mark how he bounces back.
35

NT Ron Edwards

Evaluation – The 10-year veteran has made a career for himself by being big and playing average football on the inside of the defense. Edwards has the size and personality to be one of those nose tackles who ties up two gaps and doesn't complain. The problem is there hasn't been much production from him. The Chiefs have not been very good stopping the run, Edwards doesn't rack up a lot of tackles (29 last season), he doesn't force fumbles and he's a marginal pass rusher, failing to record a sack last season. Edwards has been durable and hasn't missed a game in the last four seasons. But he'll turn 31 in about a week and ended up getting pushed out of the No. 1 defensive line in the spring.
34

S Kendrick Lewis

Evaluation – There are a lot of things that Lewis has going for him when it comes to making the transition from Ole Miss and the SEC to the Chiefs and the NFL. He's intelligent, football smart, dedicated to getting better, a student of the game and a guy who doesn't mind colliding with a guy in the other colored jersey. But he was drafted in the 5th-round because he's not very big – a notch under his listed 6-feet – and he's not very fast. Lewis is going to get a chance to play and/or start in the '10 season. For it to happen, he has to make sure he doesn't fumble the chance.
33

FB Tim Castille

Evaluation – Castille joined the Chiefs off the street in November, after he was a pre-season casualty of the Cardinals. Because of Haley's familiarity with him, he got a chance to play immediately. It was with mixed production. Castille is big (238 pounds) and powerful and if he can get his hands on a defender, he can block. One thing the Alabama product has going for him is the fact he could also play halfback if he was needed. There isn't a lot of upside with Castille.
32

RB Kestahn Moore

Evaluation – During his college career at Florida, the Gators coaches, players and fans kept waiting for the big, breakthrough season from Moore. It never came. He spent time last year as an undrafted rookie with the Broncos and Chargers and it didn't come there either. The Chiefs picked him up at the end of the '09 season and in this off-season he's made a push for a roster spot. Built in a similar manner as veteran Thomas Jones, Moore runs with power and he has a wiggle as he breaks through the hole. He can also catch the ball. If needs to perform in camp and the pre-season to save his career.
31

C/G Jon Asamoah

Evaluation – The third-round pick will be fun to watch once the pads go on in St. Joe. In the off-season work it was obvious what the Chiefs saw in him athletically. He's got good feet, seems to be fundamentally sound and has got the size the team is looking for inside. But one of the traits that drew the Chiefs to Asamoah was his nastiness on the field. He's a go to the whistle and then some guy and he's said there's nothing he enjoys more than making a defensive player a pancake with one of his blocks. Mobility and nastiness – that's what Haley's looking for on his offensive line.
30

QB Brodie Croyle

Evaluation – What to say about Croyle, who is now in his fifth NFL season and still hasn't been able to direct a winning effort as a pro starter. Nobody gave him any chance to stay with the team when Pioli and Haley took over. He doesn't fit the GM's size standard for a quarterback and his inability to stay healthy was not something Haley was happy about. But Croyle has grown on the new guys because he continues to work hard and when he had to play in the '09 opener, he did a good job. Whether he's good enough to lead a successful NFL team remains to be seen, but he's now 27 and time is running out on his opportunity.
29

C Rudy Niswanger

Evaluation – When Niswanger suffered a knee injury in the game before the bye week last season, he was expected to miss three or four weeks. By the time the Chiefs returned from their bye week respite, he had the knee in a brace and did not miss a beat. This is one tough hombre and he's smart too. What he doesn't have is top-level athletic skills and he has constant battles to get leverage with his 6-5 frame against smaller, but powerful defensive tackles. As an undrafted free agent coming into the league, Niswanger's roster spot will always be in doubt. Whether Wiegmann, or even rookie Asamoah can challenge him for the starting spot is doubtful.
28

WR Jerheme Urban

Evaluation – A six-year veteran who came over from the Cardinals, Urban doesn't bring any one special thing to the Chiefs offense. He's got good size (6-3, 207), nice speed and quickness and inconsistent hands. Urban comes across as an intelligent guy who knows what to do on the field, whether it's on offense or special teams. Compared to say Bobby Wade who was in last year's receiver mix, he's an upgrade. Whether it's enough of an improvement in the team's talent level remains to be seen. It tells us something that Arizona lost WR Anquan Boldin, but weren't worried about losing a replacement in Urban.
27

TE Leonard Pope

Evaluation – At 6-8, Pope is a huge target but when it comes to catching the ball, that's not his strength. In 13 games last year with the Chiefs, Pope caught 20 passes, at an average of 8.7 yards a catch. It's tough for him to get deep down the seam, as he runs very mechanically. But Pope can block and he provided a lot of help for Jamaal Charles in the second half of the season.
26

DE Tyson Jackson

Evaluation – It's hard to imagine a defensive end can play in 16 games, start 14 of those and not have a sack or turnover to show on his stat sheet. Jackson averaged less than two tackles per game and was not involved in any big plays last year. It's not like his presence made other players better, as the Chiefs struggled on defense, especially against the run when they finished No. 31 in the league. That Jackson made it through the season without going down speaks to his personality. There wasn't anything lackadaisical in his approach or manner; he just didn't get anything done. That's not good and Jackson needs to bounce back in '10 with a big year. Potential is there, but based on what the eyes saw last year; it's hard to give him an arrow up at this time.
25

S Jon McGraw (right)

Evaluation – Last year McGraw did enough things well that he was given Jarrad Page's starting job near mid-season and stayed there for the rest of the schedule. The 31-year old Kansas native still has some top-notch athletic skills; they allow him to make big contributions in the kicking game like last season when he blocked a Baltimore punt and then recovered in the end zone for a TD in the season opener. However, defensively he doesn't end up in the vicinity of big plays very often. Last year he had one interception and one sack. It's likely we've seen the best of Jon McGraw.
24

TE Tony Moeaki

Evaluation – When he got on the field in the off-season practices, Moeaki showed quickly and often that he's got talents that can be an immediate difference in the Chiefs offense. He has the ability to get down the seam and open up the deep secondary. He can run at full speed and catch the ball from difficult angles, a true sign of an athletic TE. Plus, what little we were able to see in the practices, he can block. He seems to know what he's doing and how to get it done. If he can stay on the field and healthy, this ranking may be too low. If he falls into the pattern he had at Iowa and gets hurt then this ranking may be too high. For Moeaki, the great ability he can have for the '10 Chiefs will be his availability.
23

CB Javier Arenas

Evaluation – The 2nd-round pick out of Alabama can be a factor in two of the team's three phases, and not just a factor, but a game-changing force. Arenas ability to return punts and kicks and his quick grasp of the nickel position on defense, are going to give him opportunities with the ball in his hands. When those moments occur, Arenas has shown he will make a difference.

22

OLB Andy Studebaker

Evaluation – After last season it's hard to know how serious to take Studebaker and his potential. When finally given a chance to contribute, he burst on the scene against Pittsburgh and intercepted two passes, almost taking one back for a touchdown. The Division III product got his TD later in the year when he recovered a fumbled punt snap in the end zone for six points. Studebaker is physically a stud and is solid a 6-3, 248 pounds as you'll find in the NFL. He's strong, quick, aggressive and intent on causing mayhem, otherwise everything a team is looking for from an outside backer. His lack of big-time competition hindered his growth, but that's in the past now. If there's something there behind those muscles, it's time for him to show it and time for him to get the opportunity to play.
21

CB Maurice Leggett

Evaluation – It will be interesting to see if there remains an upside to Leggett's NFL career in his third season. His '09 was cut short by a shoulder injury that required surgery, but he was full-go in the off-season program. An undrafted free agent from the Division II level, Leggett was able to make plays in his rookie season. Can he get back to that spot, whether it's at cornerback or safety, where he's taking some snaps as well? When he made the team three seasons ago, there was a dearth of secondary talent. That's no longer the case.
20

ILB Jovan Belcher

Evaluation – A real find last year as an undrafted rookie out of Maine, Belcher grew and grew into the role and by the end of the season was a regular on the nickel defense and was getting some time with the base No. 1 group. While he's not very big (6-2, 228), Belcher can deliver a blow and he's got the quickness to make it explosive. His athletic ability could be seen on special teams, where he was the Chiefs leading tackler. Whether Belcher's time is now, it will come in the next few seasons. If he can improve like he did as a rookie, he'll be on the field with the defense.
(Evaluations of Chiefs players No. 1-19 coming on Sunday)