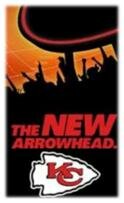 The New Arrowhead Stadium will debut at the end of August when the Chiefs host Philadelphia in a pre-season game. After 38 seasons of Chiefs home games, the building has been updated with 21st Century amenities.

Remaining within the stadium shell are memories of the hundreds of games that have been played there since the summer of 1972. Within those games have been some memorable performances by members of the Chiefs and the visiting teams that will be featured over the next weeks leading up to the opening of the new Arrowhead.

Today, it's the longest running plays in Arrowhead Stadium history.
Longest Running Plays In Arrowhead Stadium (1972-2009)

| | | | | |
| --- | --- | --- | --- | --- |
| Player | Team | Opponent | Date | Yards |
| Joe Delaney | Chiefs | Denver | 10/18/81 | 82t |
| Derrick Alexander | Chiefs | Pittsburgh | 12/18/99 | 82t |
| LenDale White | Tennessee | Chiefs | 10/19/08 | 80t |
| Archie Griffin | Cincinnati | Chiefs | 11/21/76 | 77t |
| Dominic Rhodes | Indianapolis | Chiefs | 10/25/01 | 77t |
| Jamaal Charles | Chiefs | Buffalo | 12/13/09 | 76t |
| Tony Galbreath | New Orleans | Chiefs | 9/26/76 | 74t |
| Joe Dawkins | Denver | Chiefs | 10/7/73 | 72t |
| Natrone Means | San Diego | Chiefs | 9/20/98 | 72t |
| DeShaun Foster | Carolina | Chiefs | 9/19/04 | 71 |
| Jerome Harrison | Cleveland | Chiefs | 12/20/09 | 71t |
| Ted McKnight | Chiefs | Baltimore | 9/2/79 | 70 |
| Kimble Anders | Chiefs | St. Louis | 10/22/00 | 69 |
| Herman Heard | Chiefs | San Diego | 10/14/84 | 69t |
| Chris Johnson | Tennessee | Chiefs | 10/19/08 | 66t |
| Greg Pruitt | Cleveland | Chiefs | 12/2/73 | 65t |
| Larry Brunson | Chiefs | Denver | 10/26/75 | 65 |
| Terrell Davis | Denver | Chiefs | 9/22/96 | 65t |
| Clinton Portis | Denver | Chiefs | 10/5/03 | 65t |
| Larry Johnson | Chiefs | Denver | 9/28/08 | 65 |
| Fred Taylor | Jacksonville | Chiefs | 9/15/02 | 63t |
| Larry Johnson | Chiefs | Buffalo | 1/23/08 | 63 |
| Paul Palmer | Dallas | Chiefs | 11/22/89 | 63t |