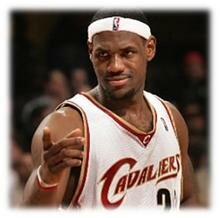 The LeBron James Sweepstakes will come to a conclusion Thursday evening with a one-hour special broadcast on ESPN.
For those planning their evening, it will start at 8 p.m. CDT. Supposedly, James will announce his decision within the first 10 minutes of the show that will originate from the Boys & Girls Club in Greenwich, Connecticut. Various ESPN talking heads will appear in the program, probably more than we can imagine as James' decision on his future employer will be dissected and analyzed.
OK, so if you are not an NBA fan, you are wondering what's the fuss. James is a free agent and he will collect millions of dollars whether he stays in Cleveland, or moves on to New York, New Jersey, Miami, Los Angeles or Chicago. Those were the teams that all made trips to Cleveland last weekend to speak with James and his advisors.
Just where James stands in the history of the game is a determination that's years from being made. Right now he's one of the two or three best players in the league. He'll soon be 25 years old, so if he can stay healthy, James has many years remaining to write the chapters of a career that could finish among the greatest the game has ever seen. Where he lands and how much he scores at the pay window are items that will cause ramifications for every team and player in the NBA.
So his situation is important and newsworthy. But it is not unique. I heard one of the sports talk radio yakkers say the other day that the James Sweepstakes is something that's never happened before in the world of American sports. Typical comment coming from somebody just a few years removed from his senior prom and with no sense of history.
It was 17 years ago when the late Reggie White went on a free agency tour that in many ways was bigger than what we've seen in the last week with James. The late Hall of Fame defensive lineman did not stick to one place and have the teams come to visit him. White had a seven-city, 37-day tour where he flew all over the country meeting with NFL teams, with the media trailing behind.
 With stops in Detroit, Cleveland, Washington, New York, Atlanta, Seattle and Green Bay, Reggie and his wife Sara were wined and dined by everyone from the Governor of Georgia to the Mayor of Cleveland. There were private jets, Presidential suites, press conferences, fan rallies. Some 30 percent of the league's 28 teams at the time were involved in the free agent chase.
White was able to shop his services after the 1992 season thanks to the settlement of various legal actions against the NFL by the players. White was one of those players that filed an anti-trust suit against the league for restrictive rules involving free agency. New York Jets RB Freeman McNeil was the lead player in another suit, Raiders RB Marcus Allen filed an anti-trust suit against the Raiders and Chargers in Los Angeles and Chiefs CB Albert Lewis filed a suit against the league in Washington D.C. Over the period of three years, some two dozen players had gone to court with actions against the NFL, including another member of the Chiefs, CB Kevin Ross.
When a Minneapolis jury ruled in favor of McNeil in his suit against the league, it forced the owners to return to the bargaining table and that eventually led to the labor agreement that brought unrestricted free agency to the league in 1993 and the salary cap in 1994. Those features were in place through the 2009 season.
After having played with the Eagles for seasons, White said he wanted a chance to play for a contender in a city where he could continue his inner-city ministry. That wasn't going to be Philadelphia, where owner Norman Braman wasn't interested in paying any type of big-money contract to White. Despite several rallies by Eagles fans pleading for White to stay, he began his free agency tour.
When he was done, White's decision surprised everyone. He signed with the Packers, a four-year deal for $17 million that at the time was one of the largest contracts in NFL history. For James to match the shock of that deal, he would have to sign with the Los Angeles Clippers.
Green Bay was in the rebuilding stage with GM Ron Wolf and head coach Mike Holmgren. White said he was waiting for a sign from God as to the right place for him. Holmgren at one point called White, got his voice mail and left the following message: "Reggie, this is God. Go to Green Bay." His addition helped the Packers go to two straight Super Bowls after the 1996-97 seasons, with a victory in the '96 title game. In the history of free agent signings in the NFL, the marriage of White and Green Bay was the most successful.
His tour and his decision was the subject of magazine stories, in-depth television reports and the like. One can only imagine what it would be like today with the media world populated by so many "information" men. They would have blown up Twitter with coverage of the free agency tour. The Internet would be in overdrive with the stories being generated from various forums and ESPN would not only have a one-hour special, but all-day – heck all week – coverage of the decision.
The only thing that really changes in the world of sports is the size of the money that owners are willing to pay players. When Reggie White signed that Packers contract for $17 million it was considered a remarkable sum for a defensive lineman. When LeBron James announces his decision it will be for a contract that totals $126 million over six years if he stays with Cleveland and around $96 million over five years if he goes to another team.
Both of those potential deals would pay James more in one season than White got over his entire contract.
RAIDERS DEFEND THEMSELVES IN RUSSELL SITUATION

The Oakland Raiders and Al Davis generally do not stand back and allow anybody to slap them, even when it's the media. That's why they came out on Wednesday with a statement in reaction to criticism involving their handling of QB JaMarcus Russell.
The former No. 1 pick in the entire NFL Draft was released in May by the Raiders after three tumultuous seasons where he struggled to live up to the hype of being selected the top player. On Monday, Russell was arrested at his home in Alabama and charged with possession of a controlled substance – codeine syrup – without a prescription.
The Raiders statement read:
"We did all that we could to intervene and assist with a myriad of issues with JaMarcus Russell. NFL policy restricts our ability to comment publicly at this time. Therefore, those in the media who declare what the Raiders knew or should have known or what the Raiders did or should have done, are reckless, irresponsible and offensive, and do a disservice to all concerned, including the public."

After releasing Russell, the Raiders filed a grievance against him, seeking $9.55 million. The team says that money was advances on base salary to be paid on the 2010-12 seasons.
In 25 starts, Russell led the Raiders to only seven victories. Over his career he threw 18 TDs to 23 INTs, with a completion percentage of 52 percent
NFL PERSONNEL & NEWS FILE FOR WEDNESDAY, JULY 7

BENGALS – signed 5th-round draft choice G Otis Hudson to a 4-year, $1,972,000 contract with a $182,000 signing bonus – a product of Eastern Illinois, where he played right tackle.
BRONCOS – claimed OT Kirk Barton on waivers from the Lions – a former draft pick of the Bears, he's also been with the Dolphins, 49ers, Bengals and Lions.
BROWNS – signed 6th-round draft choice WR Carlton Mitchell to a 4-year, $1,903,000 contract with a $115,000 signing bonus – a big receiver out of South Florida with good speed, he'll have the chance to play immediately in Cleveland.
JAGUARS – released DE Reggie Hayward, OL Cameron Stephenson, P Robert Malone, CB Chris Hawkins, WR Chris McGaha and FB Ben Stallings – Heyward spent five seasons with Jax and played in 45 games, Stephenson was on the Jaguars practice squad in '09 and Malone, Hawkins, McGaha and Stallings were undrafted rookies.
JETS – agreed to terms on a contract extension with starting LT D'Brickashaw Ferguson for $60 million over 6 years, with $35 million in guaranteed money; signed 2nd-round draft choice G Vladimir Ducasse to a 4-year, $3,250,000 contract with a $1.46 million in guaranteed money – the big man out of UMass has been working with the No. 1 line at left guard.
LIONS – placed DE Copeland Bryan on the injured-reserve list with a knee injury – a five-year veteran who has only 21 total tackles on defense in his career.