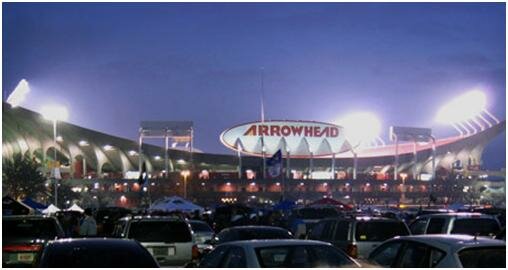 The Hunt Family asked the NFL schedule makers for a national TV broadcast to highlight the first regular season game in the revamped Arrowhead Stadium.
They got their wish, as the Chiefs will open at home against the San Diego Chargers in the second-game of the opening weekend Monday night doubleheader. Kickoff is 9:15 p.m. CDT and the broadcast will be on ESPN.
It's the Chiefs first home Monday night game since November 22, 2004 when they hosted the New England Patriots.
The remainder of the Chiefs home schedule all features noon kickoffs at this point. Flex scheduling at the end of the season could change that, but the remainder of the home games against Denver, Oakland, Arizona, Buffalo, Jacksonville, San Francisco and Tennessee will all be early Sunday games.
Two of those home games come in the season's final weeks, against Tennessee and Oakland. They also open with two of their first three at home against the Chargers and San Francisco.
Toughest road stretch comes in November and early December when they have road games in five of seven weeks. Other than their home games, the Chiefs don't face much in the way of bad weather games on the road, with Cleveland coming in September and Denver in mid-November. The Chiefs play just once in the Eastern Time Zone, at Indianapolis on October, 10.
The Chiefs schedule includes just four games against three opponents who made the playoffs last season: San Diego twice, Arizona and the Colts.
Here's the Chiefs 2010 schedule:
SEPTEMBER

| | | | | |
| --- | --- | --- | --- | --- |
| Monday | 14 | San Diego | 9:15p | ESPN |
| Sunday | 20 | @ Cleveland | Noon | CBS |
| Sunday | 27 | San Francisco | Noon | FOX |
OCTOBER

| | | | | |
| --- | --- | --- | --- | --- |
| Sunday | 3 | BYE WEEK |   |   |
| Sunday | 10 | @ Indianapolis | Noon | CBS |
| Sunday | 17 | @ Houston | Noon | CBS |
| Sunday | 24 | Jacksonville | Noon | CBS |
| Sunday | 31 | Buffalo | Noon | CBS |
NOVEMBER

| | | | | |
| --- | --- | --- | --- | --- |
| Sunday | 7 | @ Oakland | 3:15p | CBS |
| Sunday | 14 | @ Denver | 3:05p | CBS |
| Sunday | 21 | Arizona | Noon | FOX |
| Sunday | 28 | @ Seattle | 3:05p | CBS |
DECEMBER

| | | | | |
| --- | --- | --- | --- | --- |
| Sunday | 5 | Denver | Noon | CBS |
| Sunday | 12 | @ San Diego | 3:15p | CBS |
| Sunday | 19 | @ St. Louis | Noon | CBS |
| Sunday | 26 | Tennessee | Noon | CBS |
JANUARY

| | | | | |
| --- | --- | --- | --- | --- |
| Sunday | 2 | Oakland | Noon | CBS |