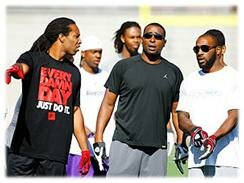 It will be three weeks from Friday when the Chiefs will step on the practice fields of Missouri Western State University for the first practice of 2010 training camp.
The scene around the football side of the Chiefs facility remained very quiet this past week as coaches and players are still scattered around the country either working out or resting up for the start of camp.
That doesn't mean there isn't plenty going on in the league. Here's a grab bag of news and notes.
YES, THAT'S DWAYNE BOWE TALKING AGAIN

I know it must seem like football pundits like me are picking on Chiefs WR Dwayne Bowe. Let me assure you that I don't go looking for Bowe news every week, but it seems to flow in nonetheless and almost always what comes is a statement or words that should never have left Bowe's mouth.
Bowe popped up in Minneapolis on Thursday according to the Minneapolis Star-Tribune. He was there to take part in Larry Fitzgerald's workout program. That's Fitzgerald above on the left, talking with former All-Pro receiver Cris Carter, wearing the dark shirt.
Many of the league's top pass catchers get together and work on their craft with Fitzgerald each summer. This is the first time Bowe has shown up. The sessions started on Tuesday, but Bowe did not get there until Thursday.
He admitted that he had taken 12 days off from workouts after he struggled in running 100-yard sprints with the other players. The group ran 14 100-yard dashes and then four 50-yarders.
"Can you imagine your first day coming back to 14 100s?" Bowe told the Star-Tribune. "Man, it was like college again. I've never done this intensive competing, conditioning and technique in one day."
First, why in heavens name after all the work that Bowe put in as part of the Chiefs off-season program would he then sit on his ass for nearly two weeks without working out? Second, why was this the first time he did such intense "competing, conditioning and technique" work in one day?  
Wonder why a guy like Larry Fitzgerald is Larry Fitzgerald and why a guy like Dwayne Bowe is not a Larry Fitzgerald? Fitzgerald never stops working. He would never take a dozen days off from workouts, no matter the time of year.
"Complacency is a terrible thing to have in our business," Fitzgerald told SI.com. "Todd Haley talked to me about that our first year together [in Arizona]. It's kind of the worst thing you can ever have in sports — complacency in losing, complacency in winning. You must never forget the hard work that it takes to be successful out there."
The morning sessions are on-field skull sessions where ideas are exchanged. There's also plenty of conditioning work, with the campers working on different factors like improving speed, agility, strength and/or technique.
Also at the workouts this week were Hall of Fame WRs Jerry Rice and Michael Irvin, along with Carter. They spent time talking with Bowe. In fact, Carter said somebody from the Chiefs front office asked him to spend some time talking with Bowe.
"Some people in Kansas City as far as their administration kind of knew I was going to be here," Carter told the Star-Tribune. "We kind of let them know that I would be here for Bowe."
LEWIS LIKES THE TELEVISION TASTE OF NEW ORLEANS

Chiefs S Kendrick Lewis is a native of New Orleans, who joined his extended family in evacuating the city five years ago during Hurricane Katrina. Lewis finished his high school career in Georgia, spent four years at the University of Mississippi and will now make Kansas City his home.
While he's gotten back to the Big Easy only a few times in recent years, he can still get a taste of home thanks to the HBO series Treme. In fact, he has an uncle who appeared in one of the episodes, based on the musicians and residents of the Treme neighborhood of New Orleans.
"My uncle is an Indian, Lionel Delpit and he played Indian Chief Blackfeathers as part of the Mardi Gras Indians," said Lewis. "I thought he did a good job. I think the show does a pretty good job of showing you a part of the city that people who only visit the French Quarter or Garden District never see."
CHIEFS DRAFT PICKS STILL WITHOUT CONTRACTS

The Chiefs have not announced any more deals with their six remaining unsigned 2010 draft choices. They made public their agreement with 5th-round S Kendrick Lewis last week and then silence.
But then the team's first practice of training camp remains three weeks away.
At the close of business on Thursday, there were 124 of the 255 draft choices with contracts. That includes the announcement on Thursday of the highest draft choice agreeing to terms so far: 2nd-round G Vladimir Ducasse, who was taken with pick No. 61 by the Jets.
By rounds, there are no first-rounder signed, just one contract in the second round, 14 in the third round, 23 in both the fourth and fifth rounds, 28 in the sixth round and 35 of the seventh-round choices.
There are five teams without a draft choices signed: Dallas, Indianapolis, Jacksonville, New Orleans and Oakland.
CHECKING ON THE SUPPLEMENTALS

Next Thursday the NFL will hold its Supplemental Draft and two of the four players that will be available held workouts over the last two days.
In Provo, Utah, former Brigham Young RB Harvey Unga worked out with 20 teams watching, including the Chiefs. He measured 6-1, weighed 244 pounds, had a 35-inch vertical jump, a time of 4.62 seconds in the 40-yard dash and he bench pressed 225 pounds 19 times.
Unga finished his career as BYU's all-time leading rusher. He left the program due to a violation of the school's honor code; his situation involved having pre-marital sexual relations. Last weekend, Unga flew to Chicago for the birth of his son Jackson with former BYU women's basketball player Keiliani Moeaki. She's the sister of Chiefs draft choice TE Tony Moeaki.
DT Joshua Price-Brent held his workout on Wednesday in Champagne, Illinois at the University of Illinois. Some 18 teams had observers at the session. Price-Brent measured 6-1¾, 321 pounds, had a 29-inch vertical jump, a time of 5.38 seconds in the 40-yard dash and he bench pressed 225 pounds 22 times.
He declared for the supplemental draft after being kicked off the Illini squad for poor academic performance. Earlier Price-Brent had been suspended by head coach Ron Zook after a DUI arrest.
One other Supplemental Draft note: Oregon QB Jeremiah Masoli will not be in this year's Supplemental draft. Masoli was booted out of the Ducks program after two arrests in the off-season. The Oregonian newspaper reported that he's looking to transfer, possibly to a Division I-AA program where he can play this fall.
Besides Unga and Brent-Price, the players who have declared for the Supplemental Draft were Northwestern State's (LA) Quentin Castille and Vince Emokpae of Truman State
NFL PERSONNEL & NEWS FILE FOR THURSDAY, JULY 8

BROWNS – signed WR Bobby Engram – when last we saw Engram he was with the Chiefs for 5 games last year before he was released. He's a year older and a year slower now, as he hooks up again with Cleveland's team president Mike Holmgren; they were together in Seattle.
FALCONS – LB Robert James was suspended for four games by the NFL in a violation of the league's performance enhancing drugs – James was drafted in '08 but has spent most of his time on the injured-reserve list or the practice squad. He played in one game last year.
LIONS – released S Daniel Bullocks – a former GM Matt Millen draft choice and there aren't many of those left in Detroit. A serious knee injury in '07 hurt his development.
PANTHERS – signed 3rd-round draft choice WR Armanti Edwards to a 4-year, $2.5 million contract with a $702,000 signing bonus – Edwards is coming out of East Carolina where he was a quarterback. He'll be the Panthers third receiver and handle kickoff returns.
RAIDERS – released LB Isaiah Ekejiuba – he was largely a special teams performer over the last three years for Oakland; hired Craig Dickenson as assistant special teams coach – Dickenson was hired in April, but the Raiders didn't tell anybody. He spent the last eight years in the Canadian Football League.