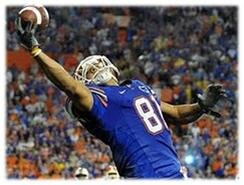 NAME – Aaron Hernandez
Position – Tight end.
College – Florida.
Status – Junior.
Size/Weight – 6-2 5/8, 245 pounds.
Important numbers – 4.63 seconds in the 40-yard dash, 30 reps on bench press, 33-inch vertical jump, 9-foot 3-inch broad jump.
Age – 20, will turn 21 in November.
Honors – First-team All-America '09 … John Mackey Award winner for college football's best tight end '09 … first-team All-SEC offense '09.
College career – In three years with the Gators, Hernandez grew and improved each season, becoming Tim Tebow's go-to target in '09 with 68 catches for 850 yards and 5 TDs. Picked Florida over UConn and Iowa after an impressive schoolboy career in Connecticut.
Stats of note – 40 games/29 starts … 111 catches for 1,382 yards and 12 TDs … 1 run for 16 yards.
STRENGTHS – Hernandez has quickness and the hands to get off press coverage … excellent hands and doesn't catch so much as pluck balls from the air … good concentration and can adjust to poorly thrown balls … very good after the catch, and can run away from LBs … breaks arm tackles.
WEAKNESSES – Does not have prototypical size and can get pushed around … never asked to be much of a blocker; he struggles with those duties … not an outstanding route runner; most of his routes for the Gators were short slants … needs work on all fundamentals of the position.
THE RIGHT 53? – The young man has overcome a lot during his time with Florida, including the death of his father. He struggled in the year after his passing and ran into some unknown troubles during his first year in college. With the help of Florida coach Urban Meyer, he worked through the situation and came out the other end.
What he said – "The difference between the impossible and the possible lies on a person's determination" – tattoo on his arm.
End game – Teams will get caught up in what Hernandez is not: big, experienced, mature. But some team will look at what he is: great hands, good athlete and a big upside. A team like the Colts might grab him to groom as a replacement for Dallas Clark.
ON THE CHIEFS LIST? – There will be some consideration because of his athletic gifts. But his lack of versatility as a tight end makes him less attractive for the Chiefs offense at this time.