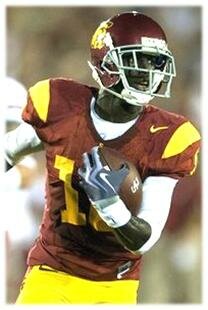 NAME – Damian Williams
Position – Wide receiver/Punt returner
College – Southern Cal.
Status – Transfer junior, graduated in December '09 with degree in sociology.
Size/Weight – 6-0 5/8, 197 pounds.
Important numbers – 4.53 seconds in 40-yard dash, 19 reps on bench press, 38-inch vertical jump, 9-feet 10-inch broad jump.
Age – 22 in May.
Honors – Third-team All-America '09 … First-team All-Pac 10 receiver and returner '09 … Southern Cal MVP in '09 … Honorable-mention All-Pac 10 receiver '08.
College career – An Arkansas native, Williams began his college career with the Razorbacks but transferred after his freshman season to Southern Cal. After sitting out the '07 season under NCAA rules, he became a starter with the Trojans offense in '08 and put up 128 catches over two seasons with 15 TDs.
Stats of note – 38 games/26 starts … 147 catches for 2,114 yards, 17 TDs … 7 rushes for 64 yards … 25 punt returns for 339 yards and 2 TDs … 3 fumbles, 1 lost fumble.
STRENGTHS – Quick and has great balance on the run … reliable in catching the ball and has great concentration … outstanding route runner, who gets in and out of breaks quickly … very good vision and can squeeze his way through small openings.
WEAKNESSES – Lacks top end speed and will not run away from anybody … has trouble with press coverage because of his size … struggles as a blocker … questions about his durability … although he's a good leaper, he doesn't do well in outfighting defensive backs for jump balls.
THE RIGHT 53? – Nothing but good things said about the character of this young man. He and schoolboy QB Mitch Mustain formed a bible study group at Southern Cal. He's graduated and did it in four years,
What he said – "I just want to make sure I stay consistent. That's one thing people, especially receivers, struggle with–being consistent. So that's what I want to do."
End game – Williams will never be a No. 1 receiver, but he could play a long time as a complimentary catcher, especially working out of the slot as a possession receiver. Will not be a deep threat, but will be consistently good on short, shallow routes. He should be an early second-round selection.
ON THE CHIEFS LIST? – Yes, because of his ability as a returner as well as a receiver. He will get second-round consideration.