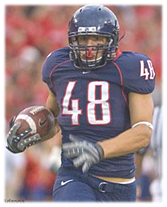 NAME – Rob Gronkowski
Position – Tight end.
College – Arizona.
Status – Junior.
Size/Weight – 6-6¼, 258 pounds
Important numbers – 4.68 seconds in 40-yard dash, 23 reps on bench press, 33.4-inch vertical jump, 9-foot 11-inch broad jump.
Age – 21 in May.
Honors – Third-team All-America '08 … first-team All-Pac 10 offense '08.
College career – Gronkowski sat out the entire '09 season at Arizona after back surgery. This came after his strong '08 season when he caught 47 passes for 672 yards and 10 TDs, earning all-conference and All-America mentions. During his two seasons on the field, he showed the ability to block and catch.
Stats of note – 22 games … 75 catches for 1,197 yards and 16 TDs.
STRENGTHS – Good size, paired with good athletic ability … huge hands, but they are soft and he's a very reliable receiver … runs good routes and is a threat on short and intermediate patterns; finds holes in zone coverage … very good blocker with agility and power.
WEAKNESSES – He's not elusive in any fashion and makes his yards after the catch with power … not much of a vertical threat … inexperience throws up a question mark with just two seasons of college ball … health and durability a major concern.
THE RIGHT 53? – Gronkowski had a microdiscectomy on his back to relieve pressure on his sciatic nerve before the '09 season."Basically the doctor just shaves off the disk that's sticking out onto the spinal cord," Gronkowski said. "It's a minimal invasion surgery. It's a three-to-five month recovery rate. It's been more than five months, and I'm ready to go." He also missed three games in his freshman year because of mono. Those 16 misses concern NFL teams, especially given the fact he didn't play at all last season. Reporters two weeks ago said that NFL teams had "red-flagged" Gronkowski because of stenosis, a narrowing of the spine. His agent Drew Rosenhaus denied that saying there was no issue.
What he said – "I believe I have great hands. I'll catch anything in my path. I would say I'm the top tight end because I bring the whole package. I'm ready to take on the big D-ends. I'm ready to go out there and catch some passes."
End game – Without his back surgery and if Gronkowski had put up another good season with Arizona, he would be a certain first-round choice. But teams are going to tiptoe careful around him because of the back. Ultimately, team doctors are going to have a big say on whether a team selects him or not. He should still go in the second or third round.
ON THE CHIEFS LIST? – Yes, but with that red flag because of his back. If the Chiefs doctors think he's recovered and has no long term problems, Gronkowski would be a good choice in the second round because he's the most complete tight end in this draft. But guys like him become available every season and if there's even a shadow of a doubt, they should pass.