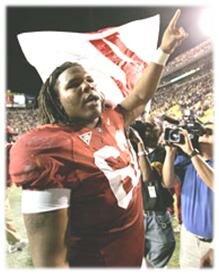 NAME – Terrence Cody
Position – Nose tackle.
College – Alabama.
Status – Senior.
Size/Weight – 6-3 5/8, 354 pounds.
Important numbers – 5.62 seconds in 40-yard dash, 22 reps in bench press, 22-inch vertical jump, 7-foot 9-inch broad jump.
Age – 22 in June.
Honors – First-team All-America '08-'09 … first-team All-SEC defense '08-'09 … first-team All-America Junior College '07.
College career – Known as Mount Cody because of his size, the Florida native rolled into Tuscaloosa in 2008 and became an immediate force in Nick Saban's defense at nose tackle. In the '09 season, the Tide defense was No. 1 against the run in the country and No. 3 in fewest yards allowed. Cody faces a minimum of two blockers on each play, thus he didn't produce much in the way of statistics, but he was a dominating force that helped the rest of the defense.
Stats of note (at Alabama) – 26 games/starts … 52 total tackles, 10.5 tackles for loss, 1 sack … 1 forced fumble, 2 recovered fumbles, 2 blocked kicks.
STRENGTHS – Remarkably athletic for a man his size, with very quick feet … when he establishes himself along the line of scrimmage, he was unmovable by one, ever two blockers … doesn't make a lot of tackles, but contributes to just about every tackle made by his teammates.
WEAKNESSES – Pros question whether he can handle the nose in the NFL by himself; question his stamina and he may have to rotate at the spot … no factor in the pass rush … he can collapse pocket with strength, but doesn't have quicks to get to QB … needs work on fundamentals.
THE RIGHT 53? – Nick Saban does nothing but rave about Cody and his character and work ethic. The fact he left juco ball at 410 pounds and has gotten himself down to 348 at his Pro Day a few weeks ago is testimony to his ability to get the job done when he puts effort into it. The questions come with whether he can keep control of his weight and get in better condition.
What he said – "After the Senior Bowl, all the critics said I'm not going to do it (lose weight), I'm not disciplined, I'm like another Andre (Smith). I took that kind of personal. I came in the combine light (354 pounds.) It's a big difference, I moved a lot better. I feel a lot better. I accomplished a lot since I left the Senior Bowl."
End game – There are a few unique athletes in this year's draft class, but Cody is the most unique. If a team plays the 3-4 defense, he's the prototypical nose tackle and those guys are very hard to find. At least good ones are hard to find, and Cody has shown enough that he might be a very good one in a few years. Based on his lack of stamina and numbers, he's probably a second or third-round pick. Based on his size and skills, he's a late first-rounder for a team playing the 3-4 defensive scheme.
ON THE CHIEFS LIST? – Absolutely, and ranked very high I would bet. If he was available with the 36th choice, it would be hard to pass him up. The question is whether the Chiefs would try to trade into the back end of the first round to try and get him. Again, whether Cody becomes a future All-Pro who knows, but it's hard enough to find players like him and when the opportunity presents itself a team has to make the move.