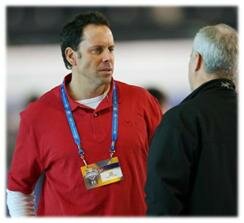 From Indianapolis, Indiana

A year ago, Todd Haley's world was going so fast he doesn't remember much about the NFL Combine.
This weekend, things have slowed down and the guy who grew up in a household where judging football players coming into the NFL paid the bills, is feeling good about wearing a personnel man's hat again at Lucas Oil Stadium.
"I enjoy this time of year a bunch," Haley told the media assembled for the 2010 NFL Combine. "Coach (Bill) Parcells has always told me that to be an effective coach in the NFL, you have to know personnel. I'm very fortunate to have been raised by the man I was raised by who I think was pretty good at finding guys that could play football.
"I'm happy that this time of year we're not really in full scramble mode probably trying to fill six or seven spots on the staff; so I really didn't get to enjoy or get into this process as much as I would have liked to last year. I'm in a much more settled position where I can really put my head into finding players, which is fun for me."
Haley covered a lot of ground in his comments to the media. Most of it was not knew to Chiefs fans who have heard the head coach's comments since the end of the 2009 season.
"You can feel that things are going in the right direction and that has us all really encouraged and excited," Haley said. "We've got a core of guys on this team that I think we can go forward with. When you win four games you obviously have needs in a lot of areas. For us to specify one particular need or another … we just need to add good football players that like to play and have ability and think the way we think.
"Any position would be open to address one way or another. Across the board we have needs and we have to do a good job of finding players however we get them."
Haley is also excited by the atmosphere created with the new faces on his coaching staff and the give and take that's now going on as the staff puts together the plan for the 2010 season.
"Our entire building now, you can go to the personnel side and the coaching side … we are all like minded thinkers which is priceless," he said.
He was asked specifically about what offense the Chiefs will run this coming season. Will it be Haley's playbook? Or, will it be the playbook of new offensive coordinator Charlie Weis?
"It'll be our playbook," Haley answered. "The great thing about where we're at right now is the familiarity. Charlie and I shared about a six-by-six foot office in New York and we learned under the same mentors and the same offensive philosophy.
"Over the years, as you go different directions, that gets diluted and the system has things added, which is natural with any system. But what we've been working real hard at is getting back to the basis of the system as we knew it back then and really trying to clean up and get back to the purist form of our system that we believe in.
"It's refreshing. We sit in there and you've got a lot bright guys, I'm not putting myself in that group, but those guys that are bright, it's fun and we're having fun with it. That's the best way to term it, our playbook and again for a bunch of coaches, that's what they know. Though they may know other systems, that is what they know and believe in most and that's what's exciting."
Other items he touched on:
Situation at running back after Jamaal Charles: "One way or another we need to give him some help. He's 200 pounds soaking wet. That's something he's working on; this is an important off-season for Jamaal. In this day and age you have to give somebody some help or the time will be short."
WR Dwayne Bowe and his future: "I've talked a bunch to Dwayne since the season ended and I think he's got his expectations where they have to be, which is high, and he knows he needs to be better. I think as long as he's thinking that way and understands what the big picture is, he'll come into this off-season better than he was last off-season and then that's the way you get ahead of the bar."
Is Branden Albert's future at left tackle, right tackle or guard?: "Good thing about Brandon is he's got some versatility. We need all of our players to improve. I think there were enough encouraging signs, even though it was an up and down year that he can play the toughest position there. We will do whatever we have to do get better. There are a lot of variables, when we come to those situations and Brandon has versatility. That's not to say he can't handle the toughest position out there, because he's shown he can.
Whether he wants to see LB Mike Vrabel back for another season? "I think the world of Mike. I think he's a heck of a player and he was a heck of a positive influence for me as a first-year head coach in multiple areas. He's just a tremendous football player that is fun to be around."
On the progress made last year by DE Glenn Dorsey: "We were clearly a better team when he was playing than when he wasn't. I think it's a big off-season for Glenn. His mind is in the right place. He wants to be a top player. When a player is thinking that way and his expectations are where they need to be, you have a chance."